Salman Khan was yesterday convicted in the 1998 case of poaching blackbucks by the Jodhpur court. While the actor's legal counsel has appealed for bail, the hearing of the same was adjourned till tomorrow with the judgement being reserved. Back home in Mumbai, friends and industry heavyweights have been dropping by Salman Khan's residence and a few have even taken to twitter seeking a little leniency for the actor. Well now joining them is the TV's funny man Kapil Sharma, who over the past few months has been finding himself at the raw end of most deals. Though other celebrity appeals on twitter have been courteous, Kapil's latest series of tweet lambasting a media publication will certainly leave a bad taste.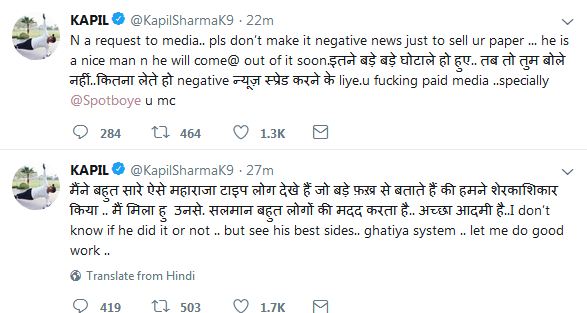 Taking to the micro blogging website, Kapil Sharma belted out a series of abusive tweets dissing those who have claimed Salman Khan was rightly convicted. In basic crude language Kapil went on to add, "I have seen a lot of these Maharaja type of people who boast of going hunting and take great pride in saying that they have hunted down tigers. I have even met such people. Salman helps people, he is a good man. I don't know if he did it or not... but see his best sides...ghatiya system.. let me do good work..." If that wasn't all Sharma went on to further criticize one media publication saying, "N a request to media... pls dont make it negative news just to see ur paper... he is a nice man n he will come out of it soon. There have been so many and such huge scams but at that time no one said a word... How much do you charge to spread negative news. u fu****g paid media... specially @spotboye u m*"
Continuing his rant, Kapil Sharma attacked one journalist in particular. "According to sources this is the news... u motherf****r why dont u tell who r ur sources. @Spotboye Vicky lalwani.. u r a mother f****r lier... who only spread negativity about me for a very little money... N I know who is giving u money.. mehnat ki kha.. tattti matt kha mada****d .. u know what .. I can pay u more then ur worth .. but i dont want to pay u." tweeted the comedy man talking about the negative coverage. Not stopping there, Sharma also cursed the system saying, "Maa ch**a Gaya yahan ka system.. Saale ghatiya log .. Agar main prime minister hota to fake news banane walo ko faansi laga deta.. saale ghatiya".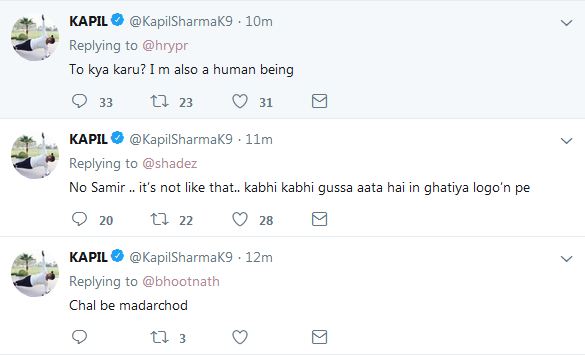 Seemingly, this verbose and crude series of tweets didn't sit too well with some with a few calling out Sharma for the use of abusive language. However, one twitter user ended up drawing the funny man's ire when he retorted saying, "Chal b**sdi ke.. Pehle apna original I'd laga.. sala Chu***a". While another user seemed to have got an actual reason for Sharma's rant, "No Samir .. it's not like that.. kabhi kabhi gussa aata hai in ghatiya logo'n pe".

However, with realisation dawning Kapil soon deleted the series of abusive tweets but only after firing off a final salvo that read, "I earned money with my hard work.. I paid tax in india .. whether I m earning from usa or Pakistan.. but I am boosting indian econimy.. u motherf****r ... how can u forget my hard work?"
Well, whatever be the case, though we are glad better sense prevailed with Kapil Sharma deleting his tweets, we certainly were shocked to see such blatant and uncensored tweets from a celebrity.
BOLLYWOOD NEWS