We told you first that the Raid director Rajkumar Gupta was looking at signing Arjun Kapoor and Hrithik Roshan for two thrillers. We also revealed that Arjun is set to play a RAW agent in Gupta's ambitious next and has already given a nod to the project titled India's Most Wanted. Now, the makers of the film have confirmed this news and a formal announcement reads: @arjunk26 stars in Rajkumar Gupta's #IndiasMostWanted, a thriller based on India's 2012 secret mission to capture country's most wanted terrorist. Arjun to play an intelligence officer. The film to be shot in July in #Nepal & Delhi. @foxstarhindi production!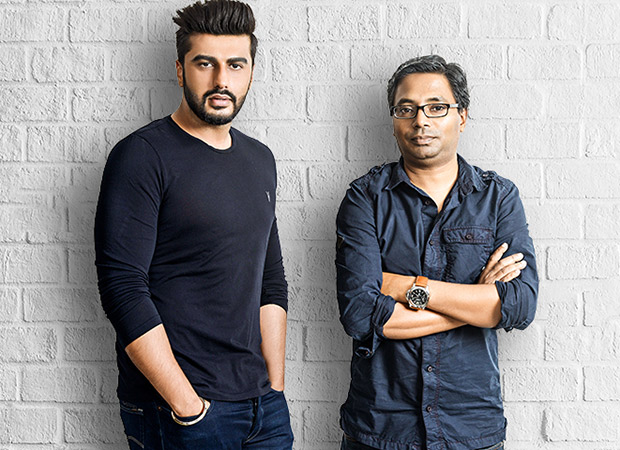 For the uninitiated, Arjun and Rajkumar were supposed to collaborate a long time ago for adaptation of Chetan Bhagat's Revolution 2020 but the project did not happen. Though they vowed to work together since. As this opportunity presents itself to Arjun, it is said that he has given bulk dates to his director as the film will be shot in an intense start to finish sequence. Hence, it is required that Arjun gives his total attention to this one project.
Our inside sources suggested that the film's time period is contemporary and is based on real incidents. Arjun is on a mission to catch most wanted terrorist and he does so without a single gunshot being fired and that is the crux of the story. The plot is both gripping and interesting and we hope to see Kapoor in a never seen before avatar.
Talking about the film, Rajkumar Gupta added, "I have been working on the script of India's Most Wanted for past three years. It's an inspiring story that has touched and moved me. I am looking forward to my collaboration with Fox Star Studios and Arjun Kapoor on this film. Arjun is a sincere and hardworking actor and suited the character."
"Working with Raj Kumar sir obviously excited me. His films are raw, gritty, they talk about true events, true heroes. When he narrated India's Most Wanted to me I was moved, I was proud of my motherland and its unsung heroes. It is a film that will inspire patriotism within all of us. To play a character that might not be known to everybody but needs to be known by everybody was exciting. It's always been something that has been at the back of mind. To play a character straight out of a real life incident and that it was not just a biopic - that's where I think India's Most Wanted really appealed to me. It's actually an event that transpired very recently but not a lot of people know much details about it. It intrigues me as an actor to play this role but it excites me as an audience that I will be getting a chance to see this story unfold on the big screen", added Arjun Kapoor.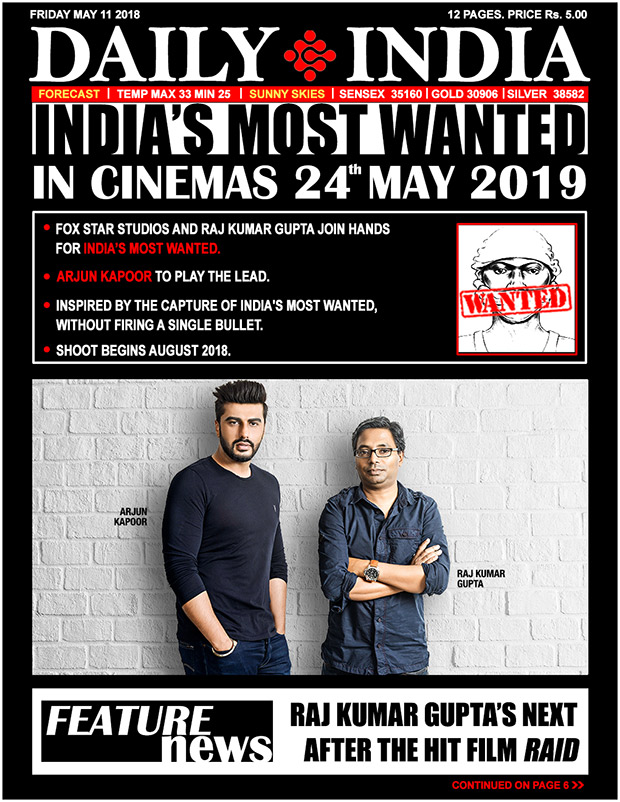 If that wasn't all, Arjun, who is fascinated with Raj Kumar's brand of film-making and is also extremely fond of him went on to say, "I think Raj Kumar sir is one of my most favourite people and directors. He was the first director who called me after watching Ishaqzaade. He is the first person who called me to his office and said I am looking forward to working with you soon. He has done Aamir, No one killed Jessica and now Raid and there is no one else who could have taken up the subject of India's Most Wanted and done a film with it."
He adds, "I am completely sold by the fact that I am going to be working with a director who knows his craft in this sort of a gritty, real film and that's very important in the story telling. In a true event film, you need to make sure you balance out the commerce and the realism, the grit and the glamour, the emotion as well as the honesty of the characters. So, he is the perfect director for this material. He is raring to go after Raid and I am fully charged to work with him."
"Raj Kumar has excelled in telling stories based on true events. And India's Most Wanted is a film straight out of the headlines. He brings us an amazing story told in his special style once again. We're extremely happy to have Arjun Kapoor play the lead in this extraordinary story that needs to be told", says Rucha Pathak, Chief Creative Officer, Fox Star Studios.
Currently, Arjun Kapoor is shooting for Namaste England with Parineeti Chopra. He was in the news for actively being involved in cousin Sonam Kapoor's marriage ceremony.
Also Read: REVEALED: After Arjun Kapoor, Kriti Sanon takes horse riding lessons for Panipat (see pic)
BOLLYWOOD NEWS