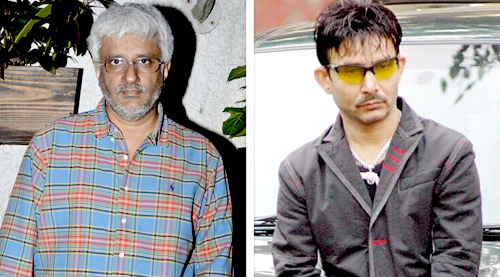 Earlier this month, we had reported that filmmaker Vikram Bhatt had sent Kamaal R. Khan a legal notice for defamation. Post this notice, what followed was a rant by Kamaal R. Khan on twitter comprising of rather serious allegations directed at Vikram Bhatt. However, despite being silent for a while, Bhatt finally decided to speak out about his reason for sending Khan a legal notice. Posting about the same on his FaceBook page Bhatt wrote:
Vikram Bhatt reveals why he sent legal notice to Kamaal R. Khan
'KAMAAL R. KHAN AND MY IMMINENT MUD WRESTLE!
It all started with a Twitter duel between Mr Kamaal R. Khan and me after the release of my film 'Love Games'. Then, came his review of the film '1920 London'. Though I did not produce the film, direct it, write the dialogue or the screenplay, he decided to do a review of me instead of the film. He made absurd insinuations-- called me a fraud, a pimp and other unsavory names. I couldn't care less; When you have made a business of ranting, then ranting is what you got to do!
Two hours later, I found my daughter crying in the corner. She was hurt. As I took her little body wracked with sobs in my arms, I saw things more clearly...
When you don't stand up and fight the rumors that are being perpetrated about you, your silence gives these rumors the fodder they need to seem like the truth to the people around you. I knew then that I had to fight, if not for for anything else then at least my daughter's tears.
When the news of my sending Mr Kamal R. Khan a defamation notice became known, I received a lot of calls and messages from concerned friends and colleagues. They advised me against continuing with this fight. When you fight filth you get filthy yourself, they warned, and they are right.
But by the time the defamation notice reached Mr Khan, something had changed. I will tell you what had. Enraged by the notice, Mr. Khan went on a Twitter rant, "Now I will reveal in the court how Vikram Bhatt tried to supply Meera Chopra to a well known producer by many dirty tricks (sic)."
I have been called many things before, but here he was saying that I am a pimp and Meera is a whore. And while there were many on Twitter who thought this was in bad taste, there were many who were also entertained.
One person's tragedy has always been another's entertainment. But can you really call a young, female colleague of mine a whore and get away with it?
I was perturbed to put it mildly, and conferred with my friend and lawyer Rizwan Siddiquee . He not only agreed with me, but was equally enraged by Mr. Khan's derogatory remark. I told him that he did this on a regular basis and every time he did, I was spurred to take him to court. But the people around me always stopped me, saying, "When the ladies about whom he is saying such repulsive things are quiet, how can you fight, they have to file a complaint first?" Rizwan explained the law to me. He clarified that even if the ladies concerned decided to not confront the issue, we could.
So we have!
Here are some of the things Mr Kamal R. Khan has been saying about our ladies. And this is just the tip of the iceberg:
On Sunny Leone: "I request to Digvijay Singh Ji to have a strip show of Sunny Leone in the function of his marriage and I will pay Rs 1 crore to the Congress party fund."
On Bipasha Basu: Posting a picture of papayas on Twitter, he wrote, "These are as big as bipasha ke in bipasha song. ?#?Jodibreakers? ." He further added, "Believe me I go crazy when Bipasha move her boobs on the song Bipasha of Jodi breakers." ??
On Nargis Fakhri: "Nargis Fakhri says- My butt is bigger than my lips. Yes yes I know this yar but kabhi milo Tho Sahi yaar. @NargisFakhri." There was more: "How mny tims in week U have @NargisFakhri How long can a woman go without sex? We r supposed 2have sex n don't lie 2me tat nobody wants it.[sic]."
On Malaika Arora: "There comes an Item.song from an Old lady Malaika Arora Khan who still dances at her best with hotness and curves, it was fun watching this dance."
On Priyanka Chopra: "I want to ask only one question to @priyankachopra ji Madam ji are you also a virgin like Rakhi Sawant? ?#?JustAsking?(sic)."??
On Huma Qureshi: "I want to ask you one question if you will not feel bad? I want to have sex with you. Hahaha." He then addded, "Now watching Gangs of Wasseypur 2 for the 2nd time n only for Human Qureshi and dialogue Kahke Loonga"
On Madhuri Dixit: "Ye lo buddhi Madhuri Dixit will again try to become no.1 actress. Madam ji just learn something from Sridevi."
On Alia Bhatt: "Alia looks so bacchi in panty but still some people keep forcing her to wear it."
On Parineeti Chopra: "There was a time when she was really hottest girl in Bollywood. Aur aaj Dekho, Bechari Uzdaa chaman Ho gayee."
My grandfather, Vijay Bhatt, made one of the biggest hits of his time, a film called 'Ram Rajya', the only film Mahatma Gandhi watched in his lifetime. It was on the life of Ram. I would sit by my grandfather's side and listen to him talk about Ram and the great epic, Ramayan. I remember him saying that when evil takes away the good, like Ravan took away Sita, then sometimes you have to go to the heart of the evil, like Ram went to Lanka, to bring the good back. His words have never left me!
I am no Ram, in fact far from it. But I have decided to go to the heart of this evil to bring back what is good. If I have to fight filth and get filthy, then so be it. But fight I must! With me is my able lawyer and an equally incensed citizen of this city, Rizwan Siddiquee. He is willing to get even more filthy than me!
We must fight because all those who found Salman Khan's one comment on rape distasteful have been quiet about this man for years. I don't understand why... We must fight because the NGOs and the Women's Commission which should safeguard the ladies of my fraternity have not found anything disrespectful about this man's comments. I don't understand why...
We must fight because Twitter India has not taken this account down and thinks Mr. Khan's comments are free speech. I don't understand why...
We must fight because the people who fight for the deletion of cuss words in our films have no problems with cuss words being used in real life. I don't understand why...
We must fight because the ladies in my fraternity are being abused and the various film associations think it is all right. I don't understand why...
We must fight because so many in my fraternity feel the need to befriend Mr Khan just so that he keeps quiet. I feel betrayed!
We must fight because a man attacks my tribe every other day and we have no other way but to go into the filth to fight him.
I write this not because I seek any kind of support for my fight...
I write this not because I crave any brownie points...
I write this not because I need to justify my stand...
I write this because I know that there are many like me out there and I want to say to them that it is all right to feel righteous rage.... That when we don't stand for anything, we fall for everything.
In Rizwan I have found a believer and a dogged fighter. A mission and a believer is all that is needed!
My defamation suit is suddenly not important. This fight has stopped being about me now. The film fraternity has been a source of livelihood for my family for generations. This is the least I can do to say, 'Thank you.''
BOLLYWOOD NEWS - LIVE UPDATES
Catch us for latest Bollywood News, New Bollywood Movies update, Box office collection, New Movies Release , Bollywood News Hindi, Entertainment News, Bollywood Live News Today & Upcoming Movies 2023 and stay updated with latest hindi movies only on Bollywood Hungama.