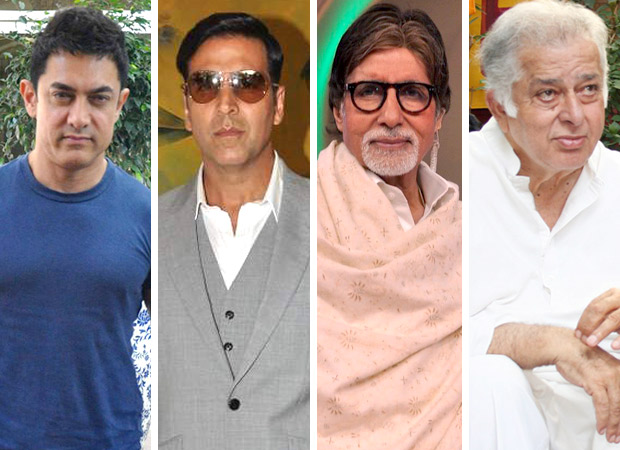 Shashi Kapoor, one of the most handsome actors and producers from the 70s and 80s, passed away on Monday evening after a prolonged illness at Kokilaben Hospital in Mumbai. The veteran actor was 79. Randhir Kapoor, the nephew of Shashi Kapoor, informed that the late actor was being treated for a kidney ailment.
Shashi Kapoor was a well-known actor in both films and theatre. The late actor had starred in more than 100 films and was also a key theater personality. He had even starred in British and American movies produced by Merchant Ivory productions.
Born on March 18, 1938, Shashi Kapoor was the youngest son of the legendary film and theatre actor Prithviraj Kapoor. He starred as a child artiste in the late '40s in the plays and films. He starred as his older brother, late Raj Kapoor's, younger version in the films like Aag (1948) and Awaara (1951).
Shashi Kapoor made his film debut as a leading man in Dharmputra in the year 1961. Since then, the legendary star went onto act in the more than 100 films during the period of 1970s and 1980s. Some of his iconic work includes Jab Jab Phool Khile, Suhaag, Pyar Ka Mausam, Shaan, Trishul, Deewar, Kabhie Kabhie, Namak Halal, Kaala Pathar and others.
Shashi Kapoor was felicitated with Padma Bhushan in 2011 and received the prestigious Dada Saheb Phalke award in 2015.
After hearing the passing of Shashi Kapoor, Bollywood personalities mourned his sudden demise. Aamir Khan, Amitabh Bachchan, Kajol, Ajay Devgn, Karan Johar, Akshay Kumar, Farhan Akhtar amongst others paid their respects and thanked the late actor for his immense contribution towards Indian cinema and theatre.
Innumerable Bollywood dreams came to life watching your iconic dialogue, "Mere paas maa hai." Your tremendous contribution to cinema will always be remembered. RIP #ShashiKapoor ji

— Akshay Kumar (@akshaykumar) December 4, 2017
— Aamir Khan (@aamir_khan) December 4, 2017
You won't be forgotten. Rest in peace #ShashiKapoor ji.

— Ajay Devgn (@ajaydevgn) December 4, 2017
#RIPShashiKapoor ...the most charming and enigmatic actor ever...a gentleman movie star! His legacy in film and theatre is exceptional...thoughts and prayers with the family....his work will always live on... pic.twitter.com/U9jsAGxGET

— Karan Johar (@karanjohar) December 4, 2017
His contribution to this industry will be remembered. May his soul rest in peace. Shashi Kapoor ji you will be missed always. ????

— Sanjay Dutt (@duttsanjay) December 4, 2017
A great actor, a charming & happy soul, an inspiring humanitarian. We will miss you Shashi ji. RIP #ShashiKapoor

— SRIDEVI BONEY KAPOOR (@SrideviBKapoor) December 4, 2017
T 2731 - To Shashji from your 'babbua' .. !! https://t.co/MFYeeR1Sbb pic.twitter.com/rfzDdDtiBk

— Amitabh Bachchan (@SrBachchan) December 4, 2017
#RIPShashiKapoor . The man who made nice look so so cool. U will always be remembered.

— Kajol (@KajolAtUN) December 4, 2017
Shashi Kapoor Ji was such an icon! An inspiration and reference point for all aspiring actors! This is truly an end of an era.. Deeply saddened by this news. Thank you sir for giving us your magic at the movies. #RIPShashiKapoor

— Alia Bhatt (@aliaa08) December 4, 2017
RIP Shashi Kapoor ji
Great artistes not only inspire but also inseminate the hearts & minds of the next generation. In individual ways we all carry his greatness within us. He & his talent shall live on. And we shall forever celebrate it. Thank you for your inspiration...

— Hrithik Roshan (@iHrithik) December 4, 2017
An end of an era. RIP #ShashiKapoor ji.. A talent, the world had the pleasure of witnessing,..a humanitarian I had the pleasure of meeting.. a charmer the world will always remember. Condolences to the family and fans.

— PRIYANKA (@priyankachopra) December 4, 2017
RIP #ShashiKapoor sir. You were, and will always remain the coolest, most good looking hero ever! ??

— Parineeti Chopra (@ParineetiChopra) December 4, 2017
An actor who made the cinematic and theatre experience most memorable. #ShashiKapoor sir, you shall always be remembered for the iconic roles you have immortalized in cinema. ?????

— bhumi pednekar (@psbhumi) December 4, 2017
Your unique contribution to cinema and theatre will always be deeply valued. #RIP #ShashiKapoor

— Jacqueline Fernandez (@Asli_Jacqueline) December 4, 2017
One of the most good looking & talented actors we've ever had.. with a genuine niceness on his face and a heartwarming smile! R.I.P Shashi Kapoor Sir. Condolences to the family. #respect

— Kriti Sanon (@kritisanon) December 4, 2017
Have only heard about his charisma and seen a bit of it, missed a chance to meet him. RIP #ShashiKapoorji

— taapsee pannu (@taapsee) December 4, 2017
He personified charm & grace. A great actor and sooooo handsome ??
His performances etched in our memory forever. Even the weather gods are sad this evening. May his soul rest in peace. #ShashiKapoor ????

— Aditi Rao Hydari (@aditiraohydari) December 4, 2017
An era of great cinema belongs to you and will always do so. RIP respected #ShashiKapoor Ji.

— Anushka Sharma (@AnushkaSharma) December 4, 2017
So many generations have watched him as an icon of great style and charisma. #ShashiKapoor, you'll always be remembered with a smile. RIP legend. pic.twitter.com/gai1JaO8LY

— Arjun Kapoor (@arjunk26) December 4, 2017
Rest in peace Shashi Kapoor sir ??????

— Rajkummar Rao (@RajkummarRao) December 5, 2017
Will miss you Shashi uncle .. thank you for all you have done for me .. eternally great full ..... https://t.co/vj5DKLQaSs

— Anil Kapoor (@AnilKapoor) December 5, 2017
Deeply saddened by the loss of Shashi Kapoor ji. An icon & inspiration loved by so many..you will be missed & will be in our hearts always.. #RIPShashiKapoor

— Shraddha (@ShraddhaKapoor) December 5, 2017
Death is a divine irony. It takes the pain away from the one who gets it & leaves everyone who love them in pain. RIP Dear Shashi Kapoor. Was, will & will always be a fan.

— Arshad Warsi (@ArshadWarsi) December 5, 2017
RIP #shashikapoor ji your contribution to cinema and your infectious smile will always stay with us. Prayers and condolences to the family ??

— Madhuri Dixit-Nene (@MadhuriDixit) December 5, 2017
Just woke up in Sydney to the sad news about #ShashiKapoor ji. He was d 1st to give me a role in Utsav. A huge star. He taught me how to treat new comers with love & dignity. He was full of life & Life was full of him. Most charming Actor & human beings of all times. RIP Sir. ?? pic.twitter.com/3rXm1USm9s

— Anupam Kher (@AnupamPkher) December 4, 2017
RIP Shashi ji.. thank you for the cinematic memories & for touching the lives of all you met. Deepest condolences to Sanjana, Kunal, Karan and family.

— Farhan Akhtar (@FarOutAkhtar) December 4, 2017
One of the most handsome man Indian cinema has seen. #ShashiKapoor ji is legend who'll always stay in our hearts. May his soul rest in peace.

— Tamannaah Bhatia (@tamannaahspeaks) December 4, 2017
An era comes to an end, but will be remembered with nothing but joy. RIP #shashikapoor Ji ?????? pic.twitter.com/z2VQBLfwlO

— Athiya Shetty (@theathiyashetty) December 4, 2017
Saddened by the news .. RIP #ShashiKapoor .. Thank you for both your mainstream & meaningful films..Thank you for nurturing Prithvi Theatre ..A Superstar and a True Artist.. You live forever in our hearts ??

— Huma Qureshi (@humasqureshi) December 4, 2017
RIP Shashi Kapoor ji .. your charismatic style & iconic personality remains unmatched & shall always be remembered... feels like end of an era...

— Yami Gautam (@yamigautam) December 4, 2017
Thank you for giving us an era of classic cinema. RIP #ShashiKapoor sir. ??

— vaani kapoor (@Vaaniofficial) December 4, 2017
A great actor leaves us today. But with memories of a great era of cinema. Thank you #ShashiKapoor . You are timeless!

— Saqib Saleem (@Saqibsaleem) December 4, 2017
Just think of the remarkable contribution the man made to Indian Cinema... he backed films with passion and conviction... backed the arts with all his heart. Great man. He will live on. #ShashiKapoor pic.twitter.com/TVQTKFTFSl

— Dia Mirza (@deespeak) December 4, 2017
So sad to hear the passing of one of my all time favourite actors. May god give peace to ur soul?? #RIPShashiKapoor pic.twitter.com/CleqLdUwPN

— Preity zinta (@realpreityzinta) December 4, 2017
R.I.P Shashi Kapoor...thank you for enriching my life through films ??You shall continue to live on through us..Rest in peace now ??????

— Pooja Hegde (@hegdepooja) December 4, 2017
He'd rarely miss the premiere show of a new play. Sitting outside by the Prithvi Cafe, waiting patiently for the gates to open, he'd smile gently at the awestruck admirers, and return their pranaams with equally genuine namastes.

A part of Prithvi Theatre is gone today. pic.twitter.com/xvzTlMoHBt

— ???? (@varungrover) December 4, 2017
We have lost a legendary star today - perhaps the most handsome actor to grace the silver screen. Even the skies are grieving his loss. We will miss him terribly #RIPShashiKapoor pic.twitter.com/FLq6k4vVQz

— Soha Ali Khan (@sakpataudi) December 4, 2017
Heart broken at the news of Shashi Kapoor Sir's demise. That evergreen grace and magical smile is always going to stay with us, forever. #RIPShashiKapoor ??????

— Vicky Kaushal (@vickykaushal09) December 4, 2017
Such an inspiration as a clutter-breaking, risk-taking brave actor of his time, and a rare one among the big league of his era, with a spotless, most respectable life lived. A hero in the real sense of the word. Long live his legacy and light. #RIPShashiKapoor pic.twitter.com/dgmmnHO1WA

— Nimrat Kaur (@NimratOfficial) December 4, 2017
Another great no more!! A huge loss to Indian cinema!! RIP SashiKapoorji

— Rana Daggubati (@RanaDaggubati) December 4, 2017
???? ????? ?? ???? ?? ???? ??? ...... You will be remembered forever... Thank you for being part of my growing up years, thank you for the entertainment. The Charmer, The Style Icon, The Actor. #ShashiKapoorji - RIP Sir, Condolences to the family.

— Riteish Deshmukh (@Riteishd) December 4, 2017
My heart is broken. My all time favourite actor, the man with the most charming and kind smile has passed away. Will always remember the twinkle in his eye each time we met... #RIPShashiKapoor

— Dia Mirza (@deespeak) December 4, 2017
Besides his good looks, charm & all his iconic films,as a young actor, Prithvi has always been a Mecca of sorts. It was so encouraging to watch Shashiji interact ever so humbly with everybody there. Won't be the same https://t.co/oiY4bqiwc5 will be deeply missed. #ShashiKapoor

— Saiyami Kher (@SaiyamiKher) December 4, 2017
Shashi Kapoor .... sigh.

— TheRichaChadha (@RichaChadha) December 4, 2017
I feel deeply saddened to write the words RIP Shashi. A smashing looker, devastatingly charming, a gem of a man and a kind producer. They don't make them like this anymore ! Lakhon mein ek ...

— Soni Razdan (@Soni_Razdan) December 4, 2017
This is how I want to remember him..the smile that won millions of hearts, the charmer, the gentleman, the enigmatic, handsome movie star whose films I grew up watching..RIP Shashiji ..Heartbroken but when I think of u in ur movies, all I want to do is smile?????? #ShashiKapoor pic.twitter.com/nvBIBP3FKM

— Sophie Choudry (@Sophie_Choudry) December 4, 2017
Extremely sad on hearing the news about #ShashiKapoorji A legend and an extremely charming actor. He was a lovely person. RIP????

— Neil Nitin Mukesh (@NeilNMukesh) December 4, 2017
Rest in Peace Mr. Shashi Kapoor?? A celebrated Actor who always exuded kindness & love with great generosity!!! My respect & condolences to the family!!! Godspeed?? pic.twitter.com/ZWuP27DOdX

— sushmita sen (@thesushmitasen) December 4, 2017
We will miss you ... pic.twitter.com/ZMGoFk0DCM

— Azmi Shabana (@AzmiShabana) December 4, 2017
RIP Sir. You will be deeply missed by all?? #ShashiKapoor pic.twitter.com/Bkr48vvtKp

— Bipasha Basu (@bipsluvurself) December 4, 2017
Handsome is that handsome does.....
He was. He did. He lives on......#RIPShashiKapoor

— Boman Irani (@bomanirani) December 4, 2017
As the skies burst and it begins to rain in this part of Mumbai. My heart is filled with deep gratitude. Thank you Sir ! You touched our lives only the way you could have . ?????? pic.twitter.com/IzRvKDOXM9

— Mahesh Bhatt (@MaheshNBhatt) December 4, 2017