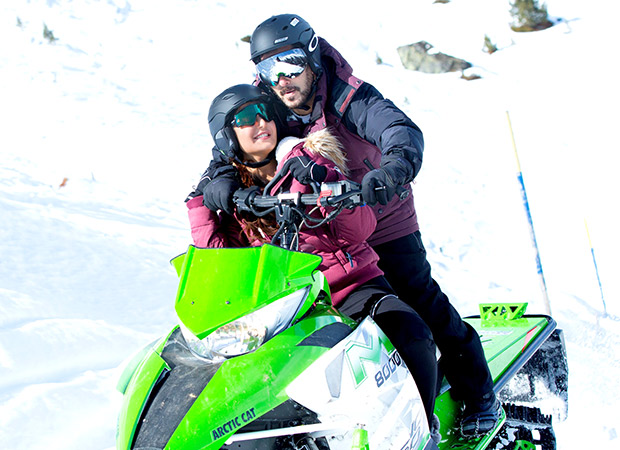 The Ali Abbas Zafar directed film Tiger Zinda Hai released 10 days ago. Starring Salman Khan and Katrina Kaif the film which sees the two return to essay the roles of Tiger and Zoya from the previous release Ek Tha Tiger has fast become a rage at the box office.
In this box office analysis we take a look at the overseas collections of the Yash Raj Films production venture Tiger Zinda Hai while comparing the same to previously releases films till date. Released across 1100 screens in the overseas market Tiger Zinda Hai has managed to collect USD 15.15 million [Rs. 97 cr] to become the eleventh highest all time overseas grosser till date. While on one hand the overseas business of Tiger Zinda Hai has managed to surpass the collections of previous releases like Bajirao Mastani that collected USD 15 million [Rs. 95.57 cr], Prem Ratan Dhan Payo that collected USD 14.6 million [Rs. 93.02 cr], Raees USD 13.5 million [Rs. 86.01 cr], and Bang Bang that collected USD 13.2 million [Rs. 84.10 cr].
On the other hand the collections of Tiger Zinda Hai do not manage to surpass other previous releases like Dangal that collected USD 230.08 million [Rs. 1465.95 cr], P.K that collected USD 47.2 million [Rs. 300.73 cr], Dhoom 3 that collected USD 31.1 million [Rs. 198.15 cr], Bajrangi Bhaijaan that collected USD 29 million [Rs. 184.71 cr], Dilwale that collected USD 25.6 million [Rs. 163.05 cr], 3 Idiots that collected USD 25.5 million [Rs. 162.42 cr], Sultan that collected USD 24.38 million [Rs. 155.28 cr], My Name Is Khan that collected USD 23.5 million [Rs. 149.68 cr], Chennai Express that collected USD 17.4 million [Rs. 110.82 cr] and Happy New Year that collected USD 16.4 million [Rs. 104.45 cr].
However, given the fact that the said overseas collections of USD 15.15 million have been raked in within the first 10 days, the overall collections of Tiger Zinda Hai by the end of its box office run are expected to be much higher.
List of All Time Top Overseas Grossers
Dangal – USD 230.08 million [Rs. 1465.95 cr]
P.K. – USD 47.2 million [Rs. 300.73 cr]
Dhoom 3 – USD 31.1 million [Rs. 198.15 cr]
Bajrangi Bhaijaan – USD 29 million [Rs. 184.71 cr]
Dilwale – USD 25.6 million [Rs. 163.05 cr]
3 Idiots – USD 25.5 million [Rs. 162.42 cr]
Sultan – USD 24.38 million [Rs. 155.28 cr]
My Name Is Khan – USD 23.5 million [Rs. 149.68 cr]
Chennai Express – USD 17.4 million [Rs. 110.82 cr]
Happy New Year – USD 16.4 million [Rs. 104.45 cr]
Tiger Zinda Hai – USD 15.15 million [Rs. 97 cr]
Bajirao Mastani – USD 15 million [Rs. 95.57 cr]
Prem Ratan Dhan Payo – USD 14.6 million [Rs. 93.02 cr]
Raees – USD 13.5 million [Rs. 86.01 cr]
Bang Bang! – USD 13.2 million [Rs. 84.10 cr]