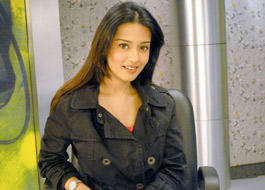 Tusshar Kapoor and Amrita Rao will head the star cast of Rajshri Productions P. Ltd's new film titled LOVE U… MR. KALAKAAR!, which will be directed by debutante S. Manasvi, who has also penned the story, screenplay and dialogue. The movie is produced by Kamal Kumar Barjatya, Rajkumar Barjatya and Ajit Kumar Barjatya, with Sooraj R. Barjatya and Rajjat A. Barjatya as Associate Producers. Sandesh Shandilya will score the music.


LOVE U… MR. KALAKAAR! is about Sahil, a cartoonist, an artist who derives his inspiration from emotions that come from the sky, from the earth, a scrap of paper, a passing shape, a spider's web, while Ritu is a management trainee, whose world revolves around debits, credits, turnovers, profits, deadlines. She falls in love with Sahil. Will she help him "sketch" the new rules of business? An artist's simplicity amidst the dynamic corporate world!


The film will go on floors in early July 2010.