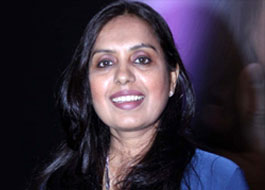 Shagufta Rafique is all set to direct her first film. It would be gender-sensitive film on the theme of a raped housewife, a la Gulzar's Ghar.


The film is tentatively titled Rose.


Says the excited writer, "It's a story of a rape victim and the aftermath, how she adapts to life post the trauma. It is not a remake of Ghar. My film is about the revenge after the rape. After the Nirbhaya rape-case my script has acquired more relevance. "


Shagufta would have to make some changes in the script. "I had written it as a story set in Pakistan. When five years ago I initially took the script to Mumbai producers, they didn't respond positively. I don't blame them. I was a nobody. Today I'm 15 scripts old. Now I want to modify Rose into an Indian film."


Pooja Bhatt was the first person in Bollywood to suggest Shagufta should direct a film. "Ever since Pooja encouraged me I was like, 'Why not?'. Over the years as I've been writing, I've watched my films being directed by others. I feel the only way to put all my ideas on screen is to direct my own film. I am not saying I'd make a brilliant film. But at least it would be my vision entirely. Look at writers turned directors like Aditya Chopra and Habib Faisal. Their films stand apart. I am completely enthused about directing a film."


Dismissing a majority of the leading ladies as fence-sitters, the fiercely outspoken Shagufta says, "The casting of the girl would be problematic. 75 percent of our heroines like to remain only within their comfort zone. Also playing a rape victim goes against their goody goody image."


Shagufta may cast a newcomer as the rape victim. Shagufta who has admitted that her exceptional circumstances forced her into prostitution at the age of 17 says she looks back on her life with wonderment. "How could anyone go through so much in life? It sounds like make believe. There is a lot of bitterness about the people who have betrayed and ill-treated me. I haven't been able to forgive them. Success has made the pain easier to bear. But I stay alone in Mumbai. My family is dead and gone. When I am in my house I do find dark thoughts crowding my head. I sometimes want to go up to the people who wronged me and confront them. But when I come face to face with these people, I am unable to say anything to them. So there has been no closure on my past trauma as yet."


Shagufta has a very good reason for not hiding her past. "People generally hide their past because they want to be accepted by society. But I've been into prostitution. I've seen the most respectable men behave so badly with women who are not their wives and sisters. Prostitution is a multi-billion rupee business in this country. 90 percent of the men look at women as commodities. Why would I seek the approval of such a society?"


Shagufta's experience within the film industry has been no better. "I've been called by producers only for them to check out what a wh**e looks like. They weren't interested in the writer, only the wh**e. My mentor Mahesh Bhatt Saab is the only one who had no curiosity about or problem with my past. But now the attitude of the industry has changed. Once you are successful no one cares where you come from. I don't have to go around begging for work. Life has taken a lot away from me. But it has also given me a lot."


Shagufta has put her traumatic past behind her. Aashiqui 2 which is partly based on Shagufta's own life has turned the tide completely.


Says the jubilant writer, "So far I had written films inspired from other sources. Now I am picking up incidents from my own life. People have found a deep emotional connectivity with the plot in Aashiqui 2. There are chapters from my life that have gone into the film. The character of Aditya Roy Kapoor in Aashiqui 2 is based on a man who loved me. Just like Shraddha Kapoor's character he saw me singing in a beer bar. He rescued me from the bars, gave me a house and money to look after me. I became his mistress. I didn't mind. And he encouraged me to write while providing me all the comforts. He is now married and settled in Los Angeles. But we're still in touch. He is the Aditya Roy Kapoor in my life. Many times I broke down while I wrote the script. So Aashiqui 2 is based on a 'lived-in' relationship. When I saw the film also I broke down. Thankfully the director Mohit Suri and I are like two peas in a pod. He knew exactly what my thought process was when I wrote the characters."


Her directorial debut would be very personal. "When I saw Ghar, I was very angry. There was no payoff for the housewife's rape."


It's been years of pain and humiliation for Shagufta.


Sighs Shagufta, "More than 40 years of pain. It started when I was 5. My sister married and she went away. Problems began in her house. Then problems began in our home. I was forced to grow up when I was still a child. I want to thank all these people who hurt me. If it wasn't for them I wouldn't be where I am today. Allah has given me whatever I have. After I turn director I hope to be more successful, bigger and more powerful. I know I have it in me. I am a huge fan of Tolstoy and Saratchandra. As for finding the right partner in life, if I find him I'd settle down with him without a second thought."
BOLLYWOOD NEWS - LIVE UPDATES
Catch us for latest Bollywood News, New Bollywood Movies update, Box office collection, New Movies Release , Bollywood News Hindi, Entertainment News, Bollywood Live News Today & Upcoming Movies 2023 and stay updated with latest hindi movies only on Bollywood Hungama.