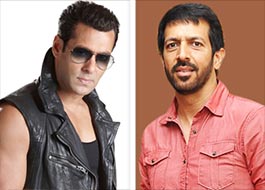 Kabir Khan, the director of the new Salman Khan starrer Bajrangi Bhaijaan, feels the Kashmir schedule of his film which starts next week must not be disrupted because of the flood situation.
Explaining why it is imperative that Salman Khan meet the deadline Kabir says. "You have to understand Salman's first visit to the Valley is a huge boost to their morale. The Kashmiri population is very excited about his visit. If we put off the schedule because of the floods, there will be tremendous disappointment."
Foreseeing the kind of welcome that no Bollywood star has received since Shammi Kapoor and Rajesh Khanna shot for Kashmir Ki Kali and Daag respectively, the local administration has agreed to provide unprecedented security for Kabir's crew.
Says the director, "I had a done a brief schedule of my Saif-Katrina film Phantom in Kashmir. I had even met Omar Abdullah. The entire administration had been very co-operative. This (the Bajrang Bhaijaan) schedule is much longer."
What Kabir diplomatically leaves unstated is that it involved a much bigger star than Phantom's Saif Ali Khan.
Salman's fan-following in Kashmir is equivalent to what Tom Cruise and Brad Pitt combined probably command globally.
Says Kabir, "We've to make the schedule in spite of the floods. There is unnecessary panic about the floods because of the earlier floods. But I don't think it is that serious this time. We'll be okay. The schedule may be pushed ahead by a few days. But we are coming. Salman's fans in Kashmir need not despair."