In the realm of Indian cinema, the triumvirate of Shah Rukh Khan, Aamir Khan, and Salman Khan has long reigned as the holy trinity of stardom. However, a new name has emerged on the horizon to challenge their dominance, and it's none other than the energetic and versatile Ranveer Singh. The charismatic actor, whose recent release Rocky Aur Rani Kii Prem Kahaani has been doing brisk business at both the domestic and overseas box office, has achieved another remarkable feat. In fact, looking at the actor's box office track record at the North America box office, Ranveer has managed to surpass these legendary Khans, boasting the maximum number of films grossing over USD 5 million+. Ranveer Singh's meteoric rise as a global box office powerhouse signifies a shifting landscape in Bollywood, where fresh talent is making its mark on the international stage.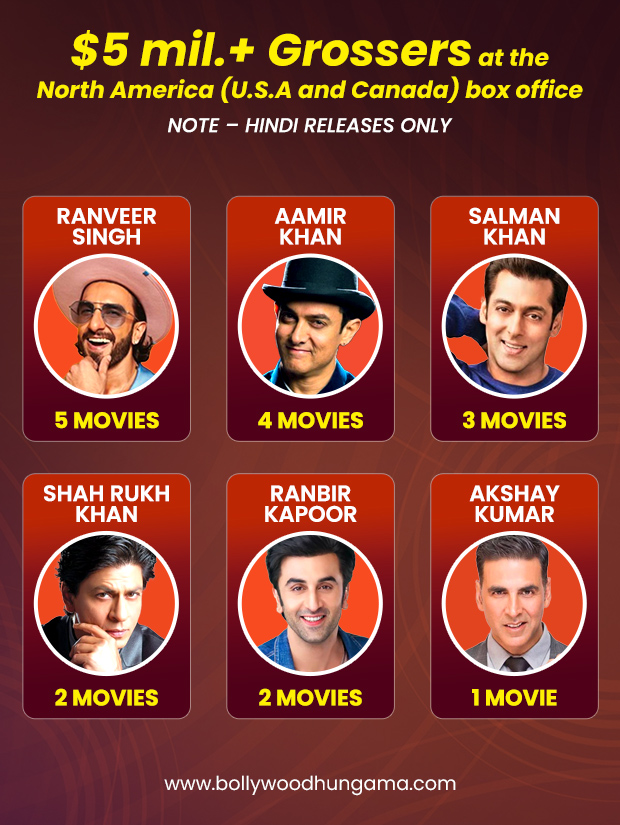 With five releases viz. Padmaavat, Rocky Aur Rani Kii Prem Kahaani, Bajirao Mastani, Gully Boy, and Simmba crossing the USD 5 million mark, Ranveer Singh has emerged as the actor with the most number of films to achieve this. Following closely is Aamir Khan with four releases, Salman Khan with three releases, and Shah Rukh Khan with two releases to achieve this feat.
Below is a detailed analysis of the Top celebs with 5 mil.+ grossers at the North America box office along with their lifetime collections. 
Ranveer Singh (5 movies)
Padmaavat - 12,156,170 USD
Rocky Aur Rani Kii Prem Kahaani - 6,818,778 USD
Bajirao Mastani - 6,563,317 USD
Gully Boy - 5,381,387 USD
Simmba - 5,028,809 USD
Aamir Khan (4 movies)
Dangal - 12,357,576 USD
PK - 10,551,836 USD
Dhoom 3 - 8,090,250 USD
3 Idiots - 6,533,849 USD
Salman Khan (3 movies)
Bajrangi Bhaijaan - 8,114,714 USD
Sultan - 6,191,282 USD
Tiger Zinda Hai - 5,931,673 USD
Shah Rukh Khan (2 movies)
Pathaan - 17,485,357 USD
Chennai Express - 5,306,729 USD
Ranbir Kapoor (2 movies)
Sanju - 7,873,779 USD
Brahmastra – Part One: Shiva - 7,640,382 USD
Akshay Kumar (1 movie)
Good Newwz - 5,010,028 USD
NOTE – Only Hindi releases accounted for
Also Read: Ranveer Singh and Karan Johar shoot cameo in Aryan Khan's web series Stardom