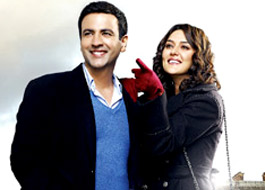 Director Prem Raj and actress turned producer Preity Zinta may just have a reason to smile. You may ask the reason why? Well, we hear that Colors channel has acquired the satellite rights of this recently released film Ishkq In Paris.
Confirming the news, Prem says, "Yes, Colors has acquired the rights for Ishkq In Paris, however I don't have much details of the deal since I wasn't involved in it."
Ishkq In Paris which marks Preity Zinta's production house' maiden venture was earlier scheduled for release in September 2012; however the film finally saw the light of day last week.