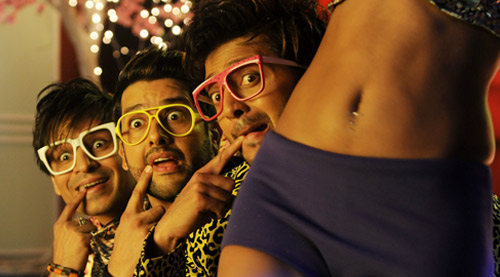 Three years back when Grand Masti had released, it had opened at Rs. 12.5 crore. The collections had surprised/shocked the trade and industry in general, though audiences had made up their mind much in advance to give the Indra Kumar film a dekko. The film, expectedly, was welcomed with terrible reviews and audiences reacted just the opposite by not just escalating the collections further over the weekend [Rs. 40.5 crore] but even taking it past the Rs. 100 crore mark.
Now, the first challenge for the third in the franchise, Great Grand Masti, is to at least match the Day One score, if not the weekend and the lifetime total. That had seemed possible though when the film's promo came out. Since there was a good strategy put in place by promoting the film as the one which had a definite story to boast of (horror-sex-comedy) with the element of *sex* being interspersed between *horror* and *comedy*, there was good buzz building up for it.
And then piracy happened....
All of that meant that there were sudden reactions all around. The promotion couldn't hit full steam and the release date was advanced as well. Instead of the film per se, the talks veered towards the online leak that had happened. A film, which could have comfortably gone past the Rs. 10 crore mark on the opening day was now left wondering about how to get audiences away from their laptops/mobiles and watch it in theatres.
Things can still change though since Box Office business (in cases like these) could turn unpredictable. After all, as a franchise, it has seen good recall value ever since first in the series [Masti - 2004]. Riteish Deshmukh, Vivek Oberoi and Aftab Shivdasani have been strong pillars of support for the franchise and they seem to be in very good form for Great Grand Masti as well. The music too is catchy.
The first test for the film would be to have a Day One which is better than Kya Kool Hain Hum [Rs. 8.15 crore]. That film had collected well earlier this year, despite competition with Airlift. If that milestone is accomplished, there could well be respectable collections coming in over the weekend.