The Irrfan Khan – Saba Qamar starrer Hindi Medium much like previous Bollywood releases that hit screens in China saw a delayed release in this market. But, keeping in line with the performances of the previous releases Hindi Medium has been rattling the register at the China box office. After opening to a flying start with USD 3.39 million [Rs. 22.05 cr] coming in on Day 1, the business of the film witnessed a massive jump in collections on its second day. Collecting a massive USD 6.28 million [Rs. 40.81 cr] on Day 2 Hindi Medium has managed to out beat the business of previous releases like Aamir Khan's Dangal and Salman Khan's Bajrangi Bhaijaan.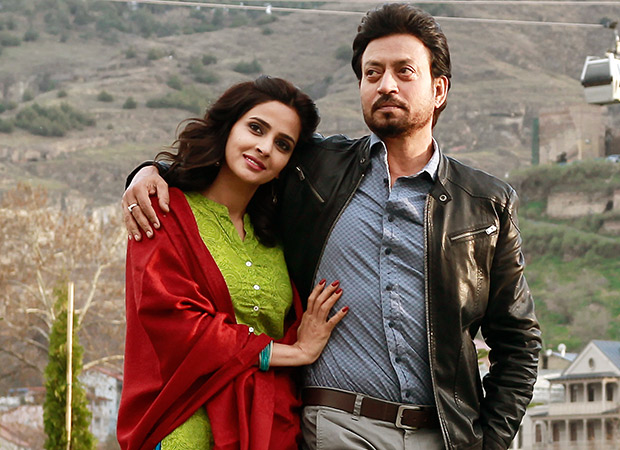 Though, on the other hand the second day business of Hindi Medium at the China box office does not manage to surpass the collections of Aamir's other release Secret Superstar that had collected USD 10.49 million [Rs. 66.95 cr] it has managed to hold its own against other releases in China. Currently, the total earning of Hindi Medium at the China box office are pegged at USD9.70 million [Rs. 63.04 cr]. Interestingly, the business of Bollywood releases across the border in China, have been witnessing good growth in numbers as the days progress. Another point that needs to be mentioned is that though Hindi Medium unlike the previous releases does not feature a big star name, audiences seem to be patronising the film in droves, proving yet again that in the long run content does matter.
As of now, with Hindi Medium looking set to make it closer to the Rs. 100 cr mark over its opening weekend at the China box office, all that remains to be seen is if the collections of the film manage t surpass the business of the previous releases in this market.
Hindi Medium China Box Office at a glance
Day 1 – USD 3.39 million [Rs. 22.05 cr] with 6,79,096 admissions
Day 2 – USD 6.28 million [Rs. 40.81 cr] with 12,77,590 admissions
Bajrangi Bhaijaan China Box Office at a glance
Day 1 – USD 2.25 million [Rs. 14.63 cr] with 4,59,554 admissions
Day 2 – USD 3.11 million [Rs. 20.22 cr] with 6,23,742 admissions
Secret Superstar China Box Office at a glance
Day 1 – USD 6.79 million [Rs. 43.35 cr] with 15,75,597 admission
Day 2 – USD 10.49 million [Rs. 66.95 cr] with 22,82,300 admissions
Dangal China Box Office at a glance
Day 1 – USD 2.27 million [Rs. 14.67 cr] with 5,47,366 admissions
Day 2 – USD 4.69 million [Rs. 30.30 cr] with 10,83,394 admissions