Just yesterday we saw the release of two big-ticket Bollywood entertainers in the form of the Aamir Khan starrer Laal Singh Chaddha and the Akshay Kumar starrer Raksha Bandhan. While the first is a family entertainer high on emotions, the second is a remake of the Tom Hanks film Forrest Gump, but from the two which of the films would take the lead at the box office, was the burning question. As per reports, it seems like Laal Singh Chaddha which features more shows in multiplex-dominated metros with a higher ticket price has taken the lead. On the other hand, Raksha Bandhan which has a better penetration in the Hindi belt continues its steady march at the box office.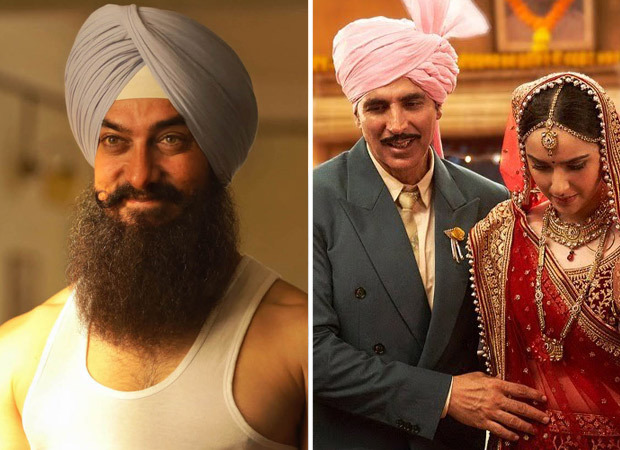 As of now, on their second day running, reports state that both Laal Singh Chaddha and Raksha Bandhan have seen a drop in occupancy of nearly 60% over morning shows as compared to the occupancy on their opening day. Essentially, both new releases have registered between 8-10% occupancy rates on their second day running. This drop in occupancy is being attributed to the fact that post the Rakshabandhan holiday, it is a regular working day before the weekend and Independence Day holiday on August 15. Besides this, reports also state that both, Laal Singh Chaddha and Raksha Bandhan have fallen victim to the mixed reviews and lacklustre audience word of mouth.
However, from the two releases, while the writing is on the wall for the Aamir Khan – Kareena Kapoor starrer Laal Singh Chaddha, the Akshay Kumar – Bhumi Pednekar film Raksha Bandhan still has hope to see its collections increase. In fact, trade predictions claim that Raksha Bandhan has a high likelihood of seeing a spike in collections over its first Saturday and Sunday in theatres, with its first Monday coinciding with the Independence Day holiday will see even further growth. But on the other hand, Laal Singh Chaddha which has received less than appreciative reviews, and also features a lengthy runtime of will face a mammoth task of enticing the audience.