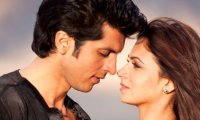 On Friday morning when I stepped into a multiplex to watch Jo Hum Chahein, I was the sole occupant in the auditorium. Ten minutes later another couple
stepped in and then the doors were closed pronto. Finito. There were exactly three people watching first day first show of a film that was reasonably well
promoted; in fact much better than some of the other films this year that had boasted of far more saleable (?!?) starcast. Still, this is how box office
behaved for Jo Hum Chahein, a movie made in controlled budget (filmmakers these days are not too keen to call their films 'small budgeted' any
more).


Well, if at all Jo Hum Chahein wants to draw any consolation, it can from the fact that it is not an isolated case this year. There have been
countless such 'small' films this year which have just not been given any chance at the box office. They could have been good, bad or ugly but they just
haven't been seen. Period. The way business of Bollywood is in the current times, it seems unlikely that the situation would be any better in 2012. Let's
reflect.


Unknown starcast, unknown makers, unknown backers - Zero result


First things first. Small films can't be intrinsically bad. Well, not always at the least. Those who want to make a film don't really start with an idea of
making a bad film. Of course unless you are a cinema hater and wish to unleash your frustration by making an Impatient Vivek, Chitkabrey - Shades Of Grey
or Be Careful, no filmmaker out there would want to make a film with an intention of torturing an audience.


However, what spells doom for a small film is the lack of a single saleable factor. Cast, makers or backer - at least one element of repute is the least need
of the hour to get something running for a movie at the least. You can make something reasonably good like 404 or Bhindi Baazaar Inc but with
none of the three elements in place to safeguard the film's interest, nothing short of doomsday is pretty much round the corner. Distributors aren't gung-ho,
exhibitors are hardly interested while audience isn't aware. Result? A film which no one saw because no one knew if it was even there to be judged.


Good reviews haven't helped either


Ask any reputed critics/reviewer with conscience and he would be first to admit that a good/bad review can't make/break a film. It stays as a reflection of
one's thoughts, perhaps accelerates word of mouth as generated by the audience but cannot raise a film from ground zero and drop it into a safe zone.



Now that was pretty much evident from the way some of the most notable small films performed this year. I Am didn't get anything less than a three
star rating across the board. In fact it was one of the best reviewed films this year with quite a few going gaga in their praises and showering four (and in
some cases even five) star ratings. Did that make any difference to the film's commercial gains? We all know the answer. That's because if reviews could have
helped, other small films like Stanley Ka Dabba, Shor In The City and Chillar Party would have been bumper affairs. That was not the case to be
as each of these films barely managed to cover their costs and that's about it. Yes, many were enticed to watch the film on home video and satellite but when
it came to theatre footfalls, the results were hardly impressive.


It was evident all over again; audience was just not interested to step into theatres when it came to a 'small film'. He may step into a Bodyguard,
Ra.One or Ready, say that it is good, bad or ugly, but still if it all he has to take any chance, he would rather do that on a biggie that came
with some promise at the least instead of risking his hard earned money on a movie 'jo kal TV par toh dekhne ke liye mil hi jaayegi'.


This is the reason why high concept movies still worked


Not that the year was totally bleak for movies that didn't have mega crores riding on them. Of course their overall budget was in excess of Rs. 10 crore and
they had one or the other factor (starcast, maker, backer) working in some proportion at the least. Still, what worked most for these films was 'high
concept'.


These were Haunted, F.A.L.T.U., Pyaar Ka Punchnama, Yeh Saali Zindagi, Ragini MMS, Mujhse Fraandship Karoge and Saheb Biwi Aur Gangster.
Barring Haunted, none of the aforementioned films was a clean hit though. The box office outcome ranged from average to above average. Still, audience
did show some interest at the least.


For Mahakshay, there was good enough padding available in the form of '3D' offering. Jackky Bhagnani had 'Chaar Baj Gaye' and an extensive promotional
campaign to thank. Wicked promos did the trick for Irrfan Khan and Chitrangda Singh. Ekta Kapoor did some awesome promotion around a 'threesome in a MMS'
(both of which were conspicuous by it's absence), Facebook was the tool used to the hilt by Yash Raj while 'royal threesome' blazing from the posters helped
the trio of Jimmy Sheirgill, Randeep Hooda and Mahie Gill gain good attention.


Now these were the factors that at least helped audience in the decision making to step into theatres at the least. The fact that they had something more to
offer as well further helped their cause but as mentioned earlier, in an all-important scenario where the biggest challenge is not to make a good film but
make a good enough preposition for a viewer, each of these films did succeed.


Not all films succeeded though. Shaitan, Not A Love Story as well as Soundtrack boasted of high concept. They found good reviews coming their
way. They had the backers in the form of Anurag Kashyap, Ram Gopal Varma and SaReGaMa. However, barring Shaitan (and that too to a little extent), the
rest couldn't find even reasonably good footfalls. Each of them would be listed as flops from box office parlance and if one looks at the bottom line, that
is hardly heartening. Still when compared to dozens of other small films that didn't manage anything good for them, these could still be considered
successful.


The question though is - 'Are others following suit?'


One is bound to loose faith in such cinema, whether small or medium budget when the biggest of backers end up delivering duds of the hugest degree. When a
Shah Rukh Khan makes Always Kabhi Kabhi, Sanjay Leela Bhansali produces My Friend Pinto or Rakeysh Omprakash Mehra believes that 3 They
Bhai could bring in audience, you are bound to wonder if such cinema is indeed worth it. No wonder, we are bound to step into their Ra.One or a
Rowdy Rathore or a Bhaag Mikha Bhaag (at least from an initial perspective) because we believe that with Shah Rukh, Akshay and Farhan around,
it is worth trying your luck.


On the other hand, those taking audience on a ride (that too repeatedly on the same track) are seeing their luck dry out as well. Case in point being Vinay
Pathak who did manage an average affair in Chalo Dilli and saved some face with Bheja Fry 2 but gave audience a hint from a great distance that
fun won't last with a Tere Mere Phere or a Pappu Can't Dance Saala. Really, audience has indeed danced enough to the promise of 'small being
successful' but not anymore, especially with the kind of track record that such films have been suffering from for the whole year gone by.


This is the reason why when each of the three elements - starcast, maker and backer - comes at the lowest proportion possible, we get the likes of
Aashiqui.in, Satrangee Parachute, United Six, Yeh Dooriyan, Angel, A Strange Love Story, I Am Singh and Ye Stupid Pyar. Ever heard of them?
Well, stop wondering, it's okay!


No wonder, no one cares. Chances are, no one would in future either.
BOLLYWOOD NEWS
Catch us for latest Bollywood News, Bollywood Movies update, Box office collection, New Movies Release & upcoming movies info only on Bollywood Hungama.