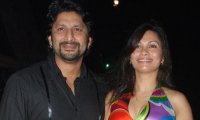 It was Arshad's way of professing love all over again to his wife Maria Goretti. Little did he know though that it would only end up causing a traffic jam in
Goa.


"This happened at Fiesta, a popular hangout zone near Calangute beach in Goa, where Arshad had thrown a surprise birthday party for Maria. He danced along
with her to a few Latin American songs and love between them was quite palpable", informs a friend who had joined the couple, "If things would have just
stopped there then it could well have been a relatively quieter outing but that was not the case to be."


Though Maria knew that they would be bringing in her birthday in Goa, the fact that there were around 20 other friends who showed up one after another from
different parts of the country was a big surprise for her. This means that now Arshad wanted to oblige their other female friends as well that resulted in
one big extended dance night which entertained not just the birthday gang but also the onlookers that started increasing by dozens.


"Other than Sandhya Mridul, there were around 8-10 other female friends of the couple who were a part of the gang", the friend continues, "After Arshad was
through dancing with Maria; he invited all other women one after another and made them match steps with him. Not many are aware that he was a choreographer
to begin with and though he has been dancing to Bollywood tunes for a decade and a half, Latin American dance format is quite close to his heart. He danced
like there was no tomorrow and soon there were hundreds who had gathered around Fiesta."


Since it is holiday season time at Goa and news spread about Arshad being around, it started becoming an unmanageable situation at the restaurant as tourists
were trying to jostle in from all ends. The couple and their friends then decided to cut short the revelry and make a quick exit but not with much success as
the street leading to Fiesta was jammed.


"In fact cops had to be called to clear the traffic. Though Arshad did interact with his fans for his bit, he had to make his way out soon as he had personal
guests to take care of. For Maria it was pretty much an extended celebration to see her hubby's popularity", he adds.


"Yeah, ever since then she has been joking with me that I still have it in me to still cause jams. I am flattered", jokes Arshad in his own inimitable style
while confirming the news.