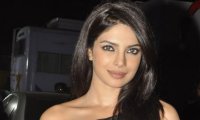 >
It's rather strange to describe Priyanka Chopra like this but I'd say she is an icy perfectionist in her own way. She sits hot and bothered - bothered because she is hell bent on promoting her movies like she has shot them. Now in between asking questions, your eyes will definitely want to scan her from top to toe and then you actually ask yourself - Is it possible to be so beautiful? Yes, it's the one question that occurred to me during the scan. I'm immediately impressed by her irrepressible body language. She doesn't just cross her legs, she does it as if it's mandatory to do it her way, her style and then replaces it with the other, and when she laughs, as she often does, she throws her entire body into the joke. PC has just returned from the US after recording her first album and then you ponder - If Piggy Chops follows her desires, she could have an unusual career; her interests tend to be offbeat and eclectic. Whatever her career, her interests, etc. one thing's sure - PC's got that 'Midas Touch'. Then I again ponder and my mind shouts - Touch me PC, touch me.


Presenting you Part 2 of the Don 2
special with Priyanka Chopra, and the chase continues...


"Shah Rukh Khan can live up to anything"
Shah Rukh is somebody who challenges himself with everything. You can toss anything at him and he is a kind of person who'll be up to it. It's not really him but people around him who need to toss him up with things they might want him to live up to when it comes to movies. Shah Rukh Khan can live up to anything. There are very few actors who are like that. Mr. Bachchan is one of them and that's because they have a different passion for movies. SRK is one of those.


"I'm can't do the 'thumkas' but I can handcuff pretty well"
The disadvantage of playing a cop is that you can't do the 'thumkas' and the 'jhatkas'. But I do handcuffs pretty well (laughs). You can't do the damsel in distress because you are damn tough and you can't sport that foot long smile always. But that's the good thing about Don 2. It makes me do stuff I've never done, and that's an advantage of a cop, there you go!



"Don 2 may turn out to be a cult, you never can tell"
I don't think you can decide the fate of Don 2 by just looking at the trailer. No one can predict the destiny of a movie like that. But with the kind of anticipation and excitement people seem to be having with Don 2, its signalling that it can be a potential big movie. It could turn out to be a 'cult', you never know.


"The days of Silver Jubilee and Golden Jubilee have gone"
The days of Silver Jubilee and Golden Jubilee have gone because of the number of films being made each year. But yes, the numbers have gone up. It's all down to the opening of the movie and that one week collections that defines the film's sustainability. We live with that kind of expectations. Movies that did Silver Jubilees didn't collect the kind of money movies make now-a-days but then again, you can't compare because those were 'cult classics' and today's movies are forgotten in a week's time. So comparing today's time with yesteryear movies is unfair I think.


"Farhan has a mind to think big"
You know what I think Farhan is? He is one of those people, if he believes in something he'll pull off a film come what may. He has to be hundred percent sure and he'll dabble in any genre you wish him to, be it horror, action, drama, tragedy, rom-com, romance, etc. He is tremendously talented and he has a mind to think big and you need to be able to do that.


"The second trailer of Agneepath is mind blowing"
The second trailer of Agneepath is mind blowing. Wait till it comes out because you will have a better understanding of what the movie is all about. Karan Malhotra has done a fabulous job with it.



"I leave a part of me in all my characters"
I'll never forget my characters but I leave a part of me in all of them. All the characters are a derivative of me eventually. I will be a schizophrenic at the end of my life because I remember them so well (laughs). I've put in so much of me to make it real so people can somewhere connect to them. Like Kaminey had eight scenes of me but I lived that character forever and so did my audience that they remembered me. I like when people write such characters for me that they think cannot be pulled off by anyone else except me. I do a lot of risky movies and haven't just stuck to blockbuster films. I'll try pushing the envelope all the time.


"The humour in Don 2 can only come out from Don himself"
Well, I can't give away too much but let me tell you that Don 2 has got its humour in place. There is humour but very subtle and Don himself brings so much of it. He says such things with such flair that you say - Hang on! I want to be this guy because being bad is too good today, isn't it? (Laughs).


Click here to read Part 1 of interview with Priyanka Chopra


Watch 'Don 2' promo: