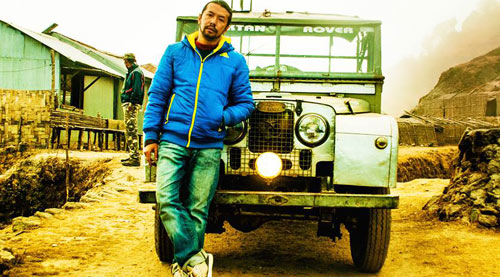 It takes a certain amount of fortitude and moral fiber to know that you're headed in the right direction, and even though uncertainty creeps in the halls of trepidation - one must prevail. Such is the case with Nigam Bomzan who has incredibly shot six films as a cinematographer and albeit without any formal schooling. Hailing from Darjeeling, his filmography as a DOP includes, Jism 2, Blood Money, Phir Se, Ada… A way of Life and The Mole which has garnered several awards. His latest venture is Khamoshiyan, directed by Karan Darra and produced by Mukesh and Mahesh Bhatt and has been shot over a period of 53 days in India and South Africa, talking about shooting in South Africa he says, "I believe we've got the best light men in the world, because we can make do with anything under any situation. The sole difference is that internationally they take a lot of precaution while shooting, while safety is not paramount in India." The film has garnered mixed reviews and has edged out over Hawaizaada and Baby in the week of its release growing at the box-office. Bollywood Hungama gets the inspiring Nigam Bomzan to tell us about making the cut, nearly being killed during the Kargil war and his journey as a cinematographer in Bollywood.


While looking for a job in college Nigam bumped into Kabir Khan in Delhi, who was keen on hiring an assistant to work with him. Kabir was instantly impressed with some of the stills Nigam shot since he was interested in photography and took him aboard. Talking about his preliminary steps into cinematography, Nigam says, "My first documentary with Kabir was about the Kargil war in 1999, shooting in such treacherous conditions flanking the borders, where you could see Pakistan about 5 feet away. We would've been shot down instantly if we were spotted by any army personnel. In fact I nearly got shot for lighting up a cigarette while shooting at ground zero, but was saved when an army man shoved me into a bunker nearby.


Even though Nigam was quite eager to shoot on his own, he decided to join Kabir in Mumbai with assisting him on a few documentaries after Kabir shifted from Delhi. Talking about his significance in reaching the city of dreams Nigam says, "After working for a year with Kabir here, I decided to quit since I felt too comfortable working with him and wanted to explore different avenues. I started freelancing and met Anshuman Mahaley, who was Kabir's junior at Jamia. He needed an assistant for a film and I agreed, but my true calling was when a few months later Anshuman wanted me to assist him with Pooja Bhatt's film Paap."


Nigam's entire foundation and understanding of cameras started with Kabir, Anshuman was patient with him and Pooja threw him in the throes of work. While shooting for Paap, Anshuman fainted during a large song sequence due to altitude sickness and was rushed to the hospital. This moment would remain etched in Nigam's memory forever talking about the incident he says, "It was in this crucial hour, Pooja coerced me to take control of the camera. I don't really remember what got into me but I happily agreed, after each shot she would anxiously ask if it would look the same as what was visible in the monitor. I assured her it would look better, later on I showed Anshuman the rushes of what I shot and he said it was perfect. I have to give it to Kabir and Anshuman as they were great teachers and for Pooja who gave me the confidence I needed."


Many folks who shoot similar genres tend to pick up weird tonalities for their films, feels Nigam. Talking about breaking away from the monotony of things for Khamoshiyaan Nigam says, "I was really keen on shooting Khamoshiyaan because of the supernatural elements in it and that Karan has a very unique and different vision of things. We can still make things look beautiful and scary together and I did not want to use any de-saturated colors for this film. We wanted a coalescence of vibrancy and disposition for this film, because what you see naturally is what should mimic your film.


Nigam revealed an interesting fact that 75% of the film was shot indoors, so the challenge was how to make the shots interesting and different, talking about averting from the tediousness Nigam says, "Unlike Jism 2 which was mostly an outdoor shoot, Khamoshiyaan had the challenge of lighting things up differently but not blaringly different. When you go to a particular location for about thirty days, you need patience to light up one house seventy percent of the time differently as this can get to you. I loved shooting the film so there were no hurdles as such, I shoot when I'm tired, sick and when I look into the viewfinder I become a different person and my energy levels spike up."


To helm any project with conviction, it is crucial that one possesses certain traits but above all - people skills are one of the most important. Talking about working with debutant director Karan Darra Nigam says, "Even though he's young, his level of maturity surpasses others. His vision is special and not many people can posses this at a young age. He's a clear thinker and has an amazing infectious positive vibe on set. He has no qualms because I use to remember him taking timeout and chatting with everyone on set including the spot boys, light boys etc. Karan is much grounded and when a director keeps his unit happy, you can see that infectious positivity in the crew reflect on screen. There was not a dull moment on set; everyone was enthusiastic about making the films. I think going by the film itself now, you can tell what a cohesive unit we were, Karan has achieved this well"


Talking about the truth in making the cut and what's next for him Nigam says, "The more you stress upon a task, the harder it tends to become. I believe everything should take its natural course of time. I don't think my foray into Bollywood was a challenge, but it merely took its own time to mature well. I'm not sure what I'll shoot next, but I would like to shoot a love story something like Sadma."
BOLLYWOOD NEWS
Catch us for latest Bollywood News, New Bollywood Movies update, Box office collection, New Movies Release , Bollywood News Hindi, Entertainment News, Bollywood News Today & upcoming movies 2020 and stay updated with latest hindi movies only on Bollywood Hungama.