The month of November 2021 had a lot to offer when it came to Korean music. From comebacks like EXO's KAI, TO1, ONEUS, THE BOYS, TWICE, MONSTA X to the full album drops of Super Junior D&E, GAHO, B.I, there was something for each listener. The musical palette was vivid, vibrant and catchy. From foot stomping tracks to sultry R&B tracks to soft ballads, which song would you pick?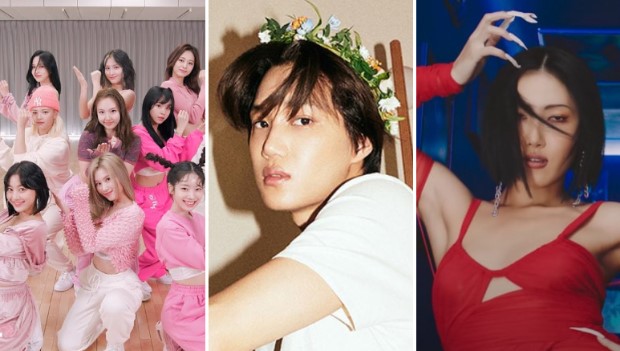 Here is our list of the November 2021 comebacks.
THE BOYZ – MAVERICK
THE BOYZ made a promising comeback with Maverick. The song is replete with trap and alternative beats and matches seamlessly with vocal and rap verses. The group played with the meaning of 'Maverick' and presented the fans with a stunning musical and visual piece.
SUPER JUNIOR D&E – ZERO
The duo D&E get transported into a gaming world with
Zero
. The song is funk pop and fun to listen. A D&E song is known for its catchy chorus,
Zero
keeps that promise. Donghae's vocals and Eunhyuk's rap verses flow in, flow out and create a groovy atmosphere with
'Zero'
.
ASTRO MJ – GET SET YO
ASTRO's MJ delivered a cool dance pop track with
Get Set Yo
. The music video is funky, adorable and quirky. Kim Tae Yeon makes a small cameo in the song and brings in a fresh touch. The song is energetic from start to finish., and once it starts the listener will not be able to resist its charm!
TO1 – NO MORE X
TO1 spun a rock and metal inspired magic with
No More X
. The song is a powerful ball of energy. It talks about finding the 'X', and paints a strong picture of that journey. The rookie group proved their mettle with this latest comeback.
TWICE – SCIENTIST
South Korean female group
TWICE
is back with their third studio album Formula of Love O+T=<3. The 'O+T=<3' stands for ONCE (fandom name) plus TWICE which equals to love. The title track
'Scientist'
makes ample use of scientific terms to show that love is anything but a calculation –
"Quit wasting time measuring angles, finding answers / Better make a move"
. The members are shown in a futuristic lab, where they are prancing around while belting the tunes to the song. The members are dressed in different outfits throughout the music video – be it in a lab coat, formal office attire, to funky dresses. The choreography is synced to perfection, and the members execute the performance flawlessly. There is also one R3HAB remix of this track, which lends an additional spunk to the song.
ONEUS – LUNA
ONEUS picks inspiration from traditional oriental music and present the listeners with a beautiful melody with
LUNA
. The group spins a tale of fantastical love with their latest comeback song. The confluence of traditional and modern music comes across pleasant to the ears and the chorus is quite catchy too!
B.I – COSMOS
B.I's
Cosmos
is a peppy track. The music reflects the idea of an endless cosmos, and the lyrics make full use of the idea of a cosmos, a space and a universe. The imagery is visually pleasing and the B.I sings the song with a comfortable ease which makes the listener even more attuned to its rhythm. The drum beats and staccato synth beats add in to the feel of being in a space.
10CM – THERE'S NO WAY
A ballad by 10CM never fails to amaze. This time again, 10CM presents the listeners with a soothing ballad
There's No Way
. The use of minimal instruments makes a listener more aware of the lyrics. The acoustic guitar and mellow piano notes create a nuanced feeling of sadness that a heartbreak brings.
SF9 – TRAUMA
SF9's
Trauma
is a groovy number. Synced with techno-beats and smooth pop music, the song is akin to the style SF9 is known for. The vocal and rap verses compliment each other perfectly, setting a seductive tone to the song.
GAHO – RIGHT NOW
Gaho's
Right Now
is a ballad filled with heightened emotions. The music video is black and white which emphasizes on the emotions present in the song. It is a song about finding one's path and striving hard to achieve it.
Hwasa – I am 빛
Playing a smart pun on the word 'B*tch', HWA SA has returned with her bold and sassy self. The word 빛 in Korean means 'to shine', and we are already familiar with the English connotation. The song is a direct comment on the society that has ever called a woman as crazy or savage. The song is catchy, unapologetic and savage.
EXO's KAI – PEACHES
EXO's KAI made his comeback with a sultry track
'Peaches'
. The song is soft R&B track with seductive lyrics. The choreography is as smooth as the track. The pink and pastel shades accentuate the feel of the song.
Special Mention:
GREE's
'Sorry for Loving You'
, LABOUM's
'Kiss Kiss'
, from20, 2z's
'It is U'
, Chung Ha's
'Killing Me'
, TRI.BE's
'Santa For You'
, GHOST9's
'Control'
, Eric Nam's
'Any Other Way'
, Stray Kids'
'Winter Fall'
.
Also Read: Kim Soo Hyun and Cha Seung Won's One Ordinary Day brings murder mystery to spotlight in Korean remake of Criminal Justice
BOLLYWOOD NEWS - LIVE UPDATES
Catch us for latest Bollywood News, New Bollywood Movies update, Box office collection, New Movies Release , Bollywood News Hindi, Entertainment News, Bollywood Live News Today & upcoming movies 2021 and stay updated with latest hindi movies only on Bollywood Hungama.