South Korean female group TWICE is back with their third studio album Formula of Love O+T=<3. The 'O+T=<3' stands for ONCE (fandom name) plus TWICE which equals to love. So, as much as the album is about decoding love and relationships, it is also about the love between TWICE and their fans. Through this album, TWICE aim at finding and speaking about the formula of love shared between them and their fans. After the success of their first English language single, 'The Feels,' TWICE has become even more popular among the masses. A Korean version of the track is included in the physical version of the album.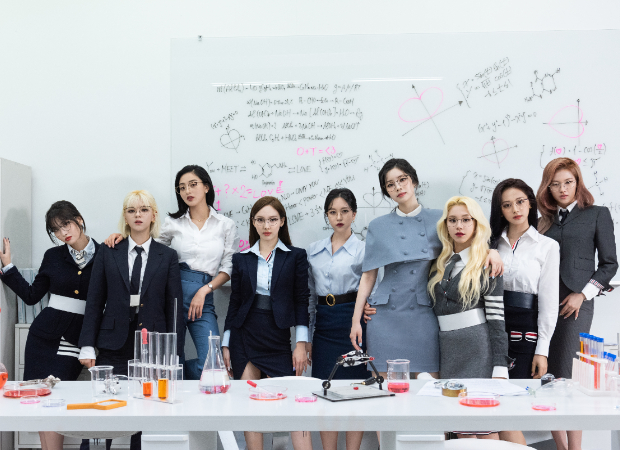 TWICE decode the answers to love with Formula of Love – Album Review
TWICE Members also participated in writing the lyrics. Dahyun has written 'Cruel' whereas 'F.I.L.A (Fall In Love Again)' is written by Nayeon. Jihyo has written 'Real You' and 'Cactus' and has also participated in the composing of 'Cactus'. The Korean version of 'The Feels' is co-written by Chaeyoung. In this 17-track long album, TWICE has exhibited an array of formulas of love, let's take a look at which formula presents which answer!
SCIENTIST
The title track 'Scientist' makes ample use of scientific terms to show that love is anything but a calculation – "Quit wasting time measuring angles, finding answers / Better make a move". The members are shown in a futuristic lab, where they are prancing around while belting the tunes to the song. The members are dressed in different outfits throughout the music video – be it in a lab coat, formal office attire, to funky dresses. The choreography is synced to perfection, and the members execute the performance flawlessly. There is also one R3HAB remix of this track, which lends an additional spunk to the song.
MOONLIGHT
'Moonlight' is a track completely in English. The track has cool and laid-back disco music. The vocal harmonization creates an enjoyable atmosphere. Moonlight creates a fantastical picture of being with your loved one, especially with the lyrics like "You and I / Dancing in the moonlight / Kiss you when the moods right"
ICON
Departing from the bubbly and laid-back vibes, TWICE put up a serious and confident avatar with 'Icon'. The song is replete with hip-hop and trap beats, interspersed with Korean and English lyrics. The lyrics are unapologetic and dashing, especially the hook 'Damn, I got it, I'm Iconin'.
CRUEL
'Cruel' is a funky bop song. The constant synth beats make the song sound perfect for a disco jam. The lyrics and the vocalization switch seamlessly between both Korean and English. The occasional vocal echoes add to the futuristic feel of 'Cruel'. It is a perfect comeback song, especially with sassy and unapologetic lyrics like "Oh I'm doing great Is it harsh because it looks completely different From your prediction?"
REAL YOU
'Real You' is pop music that exudes tones of retro music. They have seen the façade, and are calling the people out with lyrics like "Yo, the pretentiousness that hides/ The hidden nature in the way you walk/ Oh my, oh my/ It's obvious, it's obvious"
F.I.L.A (FALL IN LOVE AGAIN)
From now on, 'F.I.L.A' will have two meanings. One is the popular brand, and the other is TWICE's song. It is a funky pop song. The track carries the tunes of 90s music, which featured a loud chorus, that is bound to make one bob their head to the music. The lyrics speak about falling in love once again – "Tonight the stars out, lights flash thinking I was gonna dance/ But rewind, playback / Now you got me in a trance."
LAST WALTZ
'Last Waltz' stays true to its name when it comes to music. Waltz music is used in confluence to electro trap beats. Last Waltz is a track about the last goodbye which is anything but memorable. It talks about the need to leave an impression and fade away from the world with fireworks – "Let's start the last dance of the day/ That will be unforgettable"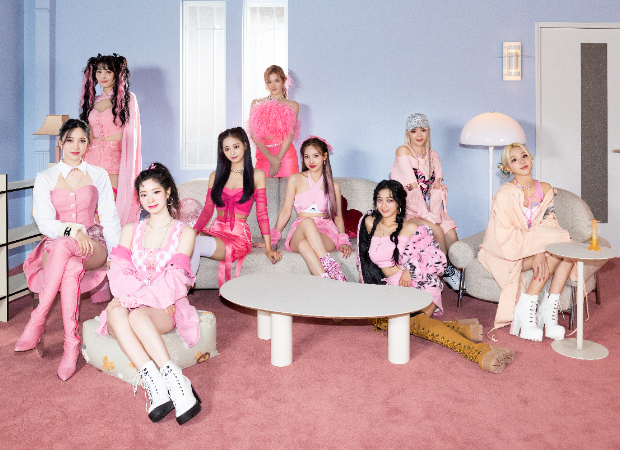 EXPRESSO
TWICE use the metaphor of espresso to express the feeling of being addicted to someone. An espresso shot is quite strong and bitter, but it still leaves you wanting more. That's how the love portrayed in 'Espresso' – bitter, addicting and strong – that you can't help but go back for more. It is decadent – "A shot that makes your heart beat in one shot"
REWIND (알고싶지않아)
'Rewind' has a slower tempo than its predecessors. The tap-tap-tap of drum sticks, clubbed with soft R&B music make this song an enjoyable listen. 'Rewind' is a song that speaks about the after-feelings of a breakup, and it uses the ballad form perfectly to express those emotions. The Korean title translates to 'I Don't Wanna Know' and the lyrics reflect this meaning –"I don't wanna bother you/ By reminiscing, it didn't matter anyway"
CACTUS (선인장)
TWICE take a more sombre and soft approach with 'Cactus'. This rock ballad track is a cry for help to escape from a thorny and lonely place. "Oh, save me, oh, save me/I can't be alone in this abandoned place" these words reflect the inner agony after a painful separation. The rock elements accentuate the emotions whereas the minimal instrument in pre and post-chorus shed a soft light on the sensitive emotions.
PUSH & PULL
'Push & Pull' is a funky electro-pop number. The trio Jihyo, Sana and Dahyun sing to the cheerful tones of a song that is about escaping the constant push and pull. "Remember, I'm the main character / Don't ever think that you can win" these lyrics reflect the realisation of a person who has come to know their worth. The song is no less than fanfare and celebration.
HELLO
Nana, Momo and Chaeyoung take the hip-hop and rap route for their subunit track. 'Hello' is a badass track about freedom and confidence. With lyrics like "In this moment, above the open city/Fanfare, hands in the air, woo/Hello, we up run this city, yo" the trio exude an unapologetic and sassy attitude!
1,3,2
The last subunit track, '1,3,2' is a Latin-inspired track. The trio also display their rapping skills with this track. The trio's vocals complement each other in this track. The lyrics – "to the music one and two/ I have no words one, three, two/ We dance dangerously / In line with each other" speak about indulging in dance in tune with each other. The flute is constant in the song and continues lending a tropical feel to the song.
CANDY
The album ends on a sweet, sugary note with 'Candy'. The snaps, and mellow piano notes bring in the idea of indulging in some beautiful memories. The song then progresses to popping chorus music. The lyrics compare a person's love to a sugary sweet candy – "Like candy sugar so sweet/That's what is taste like when you're loving me". The lyrics use ample references to the effects of candy and liken it to the effects of a person's love.
THE FEELS
The group's first English single 'The Feels' makes a comeback in this album. The song also has a Korean version, but it is absent from the digital version. 'The Feels' is a pop track through and through. It is a loud and joyous expression of having a crush on someone – "A mystery allure, gotta get to know you more/'Cause I, I can feel a real connection". The pastel and glittery visuals in the music video form a vibrant palette.
Formula of Love O+T=<3 is TWICE's mature take on love and happiness. It begins with the title track 'Scientist'. The song is akin to the music TWICE is known for, and showcases a colourful palette of music, visuals and catchy lyrics. The album delves into different facets like being confident about oneself; feelings of love and attraction, and even calling out false pretences. The album also offers three subunit songs. Each song features three members, and each song is different from their regular style of music. Though the album's length maybe overwhelming but considerable effort is put into the way it's presented divided into group and subunit songs. While it could have been a tight album, its strength lies in diversity. Overall, TWICE has grown up a lot in terms of their music and with this album, they embark on a new journey in music.
Also Read:
EXCLUSIVE: K-pop powerhouse TWICE on their latest album 'Formula of Love', 'Scientist', Billboard debut and Indian fans
BOLLYWOOD NEWS - LIVE UPDATES
Catch us for latest Bollywood News, New Bollywood Movies update, Box office collection, New Movies Release , Bollywood News Hindi, Entertainment News, Bollywood Live News Today & upcoming movies 2022 and stay updated with latest hindi movies only on Bollywood Hungama.