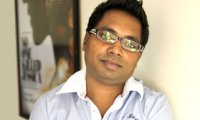 When the first promo of No One Killed Jessica was aired on the television, the viewers jumped. Yes, they were sucked in by a sudden rage; a sudden emotion and a sudden connect. It was as if Jessica Lal case was still on and it reminded you of the India Gate outrage, the ongoing court cases and a collage of those ten years of Sabrina's struggle to attain justice for her late sister. Absorbingly touching and terrifying, No One Killed Jessica seems like an intimate film but has the gutsy and reflective ingredients of sorrow, introspection and indignation. And that is exactly what the director Raj Kumar Gupta has set out to achieve. From the director of Aamir comes yet another common story of society, sorrow and struggle. And from all we've been seeing of NOKJ and hearing it's music, which, according to me, is one of the key characters of the film, without sounding too devastating, the film looks like a low-key therapeutic thriller about the human element of disdain and disillusion. This is another personalized account about the wayward universe in which we live on the sidelines as humanity takes another caustic step into the realm of numbing oblivion. And on that note, we get up today and salute Raj Kumar Gupta for making a cinema so potent that we Indians feel proud of. No One Killed Jessica may or may not bring about an upheaval, but it surely is a film that will go down in Indian cinema as a 'precious gem' which throws light on our self-centred attitude and one gallant move to unite us all. UK's Harrow Observer columnist and Bollywood Hungama's London correspondent present you Raj Kumar Gupta.


No One Killed Jessica v/s No One Killed Arushi


Yes, it is so ironic that such a thing has happened. People are quoting the headline 'No One Killed Arushi' after the CBI shut the case. I hope that justice is given to the deserved and just like Rang De Basanti was instrumental in bringing up the whole Jessica Lal story, I hope and pray that our film does open up a lot of shut cases.


Society v/s Reality


I belong to the society and the emotions I have portrayed through the film are inherently there. There are situations that anyone can draw a parallel to in the film and can relate to. As a filmmaker, I do not want to restrict myself to any genre. I love to explore any and every genre.


Tragedy v/s Ecstasy


Unfortunately, No One Killed Jessica is a very inspiring story driven by tragedy. But it is also a film where people of India came under one roof to help bring justice to Jessica. They rallied around a particular event. A lot of unlikely heroes were born from this true life incident. Media too played a very significant part in it. I personally think that for the first time, the Indian media played a proactive role.


Research v/s Realism


A lot of research went into writing a film like this. Mind you, this isn't easy writing. It's tough even though the incidents and the whole story are real. While I was writing and researching, I thought that this film needs to be told on a grand level. There are lots of characters, a broader canvas and it took quite some time to come together and I wanted to not only make the film as a statement seeking fact, but as an entertaining cinematic thriller.


Directors v/s Debutants


It's not that only 2010 has been the year for debutants. Even 2008 and 2009 saw debutants but less compared to this year. Luckily, a lot of filmmakers have made their first film and the plus is that all their films have worked. So obviously it makes a statement to our film fraternity and our community that one needs to look into fresh ideas. All the successful filmmakers are the most non-commercial ones. These directors are introspecting in their own ways and yes, as you rightly pointed out; our film industry is in dire need of self inspection. Of course, the fact remains that any film which does well monetarily is a commercial cinema.


Rani v/s Vidya


Both actresses have a different approach to acting. I have certain sensibilities as a writer and a director. It's up to them to go with my sensibilities. It's not an easy film to say 'yes' to. It's a challenging film where both play testing characters. Vidya and Rani are two different set of actors. Rani is someone who is naturally gifted. She doesn't prepare her character. She won't go into the skin of the character. She believes to be in the moment. On the other hand, Vidya is someone who prepares for her character. There is a certain method she approaches towards her craft. Working with these two is a learning experience in itself.


Real Jessica v/s Reel Jessica


The role of Jessica is being played by a new girl. On the premiere night, everyone will get to know her. She is acting for the first time and let me tell you, she has done a fabulous job. I cannot reveal her name at this point in time. She is a revelation and she is somebody to look out for.


Aamir v/s No One Killed Jessica


My first film took time for people to take me seriously. Once Aamir was loved by audiences and critics, I had my one good experience ready and there was no question mark in peoples mind. But I guess every film is a struggle. No One Killed Jessica was also a struggle for me because I had to better it than Aamir, in terms of its direction and writing and every nuance of filmmaking. I have taken No One Killed Jessica three notches up than my debut film Aamir.


I am not concluding it but it is my honest attempt. Rani, Vidya and UTV loved the film script so much that they were convinced with the film from my first narration.


Music v/s Madness


The film's music is a character of the film. But I'd like to add that in a good film, everything comes together and that's what makes it work. Yes, Amit Trivedi has given some breath-taking music in this film and he too has tried to better his previous attempt which is visible. My favourite track is 'Aitbaar' and there are two more tracks which are very close to me. Before I started writing, I wanted to have a track of the city of Delhi with its complexity and it's 'Dilli Dilli'. One day I got up and came up with four words called 'Aali Re Saali Re'. That became my favourite track thanks to Amit Trivedi. All these three tracks are close to my heart.


Raapchik Romance


I am working on a film called Raapchik Romance. It isn't a romantic film in a candy floss style of romance. It is in the scripting stage as of now and I would love to start the shoot of it come June or July 2011. It's a love story in a very different setting.
BOLLYWOOD NEWS - LIVE UPDATES
Catch us for latest Bollywood News, New Bollywood Movies update, Box office collection, New Movies Release , Bollywood News Hindi, Entertainment News, Bollywood Live News Today & upcoming movies 2021 and stay updated with latest hindi movies only on Bollywood Hungama.