For the first time in the history of Hindi releases, more than Rs. 500 crores each have come in two back to back months. That has never ever happened before and what makes this feat special is the fact that it is all happening post-pandemic. In the month of March it was The Kashmir Files and RRR [Hindi] that had done the trick and now in April, it is KGF - Chapter 2 [Hindi] along with continued collections of RRR [Hindi] that has made it possible.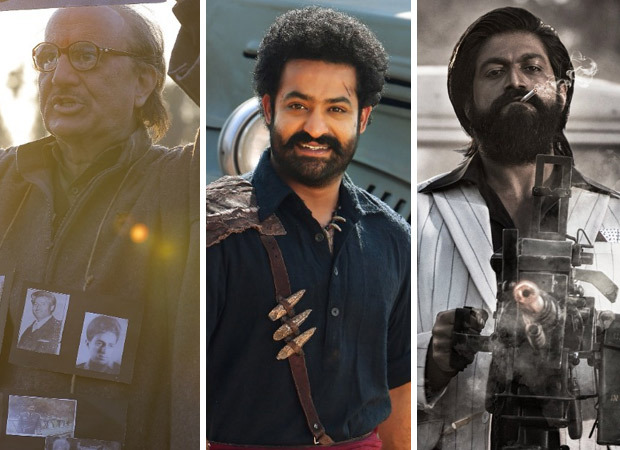 As a result, Rs. 559.41 crores have come at the box office from just the Hindi releases in the month of April, which is even bigger than March haul of Rs. 537.52 crores. Unbelievable, but true.
KGF - Chapter 2 [Hindi] arrived as a rage on April 14, and enjoyed an all-time biggest opening of Rs. 53.95 crores. From then until the end of April, it has already collected Rs. 360.31 crores and there is so much more that's yet to come. On the other hand, another dubbed south release that went on to do enjoy continued wonderful business in April was RRR. The Hindi version of the film was anyways superb in its opening week on its March 25, release and later in April, it collected Rs. 129.24 crores more, hence resulting in massive addition to the monthly haul at theatres.
Then there was also The Kashmir Files, which had some collections trickling in April, what with Rs. 15.28 crores being added to an already massive total. Incidentally, other quintessential Bollywood releases could garner only around this much in their lifetime run. While Jersey has folded up at Rs. 17.20 crores, Attack - Part 1 too could garner only Rs. 16.13 crores. Meanwhile, new releases Heropanti 2 and Runway 34 have spent just two days each in theatres as yet in April and collected Rs. 12.50 crores and Rs. 8.75 crores respectively.
While the day is not, too far away when Bollywood offerings too would start contributing immensely to the monthly haul, what's good is that a massive total of Rs. 559.41 crores was achieved in April. This yet again goes on to show that audiences are excited about big screen entertainment and are willing to step into theatres as long as something exciting is coming in. Right now that's happening with an offbeat film [The Kashmir Files] or dubbed films from south [KGF: Chapter 2, RRR], so more power to them. However, a Bollywood biggie is not too far away.
Yes, there is this occasional debate that does arise around the increase in ticket price and whether footfalls too are as huge as they used to be back in time. Well, these are constantly evolving things and the best way is to look at numbers in isolation because eventually from the ROI perspective, it's the moolah earned that is accounted for.
Of course, there would be an occasional Gadar - Ek Prem Katha or a Dangal or Baahubali 2: The Conclusion or a KGF: Chapter 2 that will come in where the footfalls too would as huge as some of the biggest blockbusters ever but by and large footfalls in the range of Rs. 1 crore will be wonderful enough to allow a film to enter the Rs. 300 Crore Club and in turn qualify as a blockbuster.
Let's come back to the monthly records now. While it is good to see over Rs. 500 crores each coming from Hindi releases in two back-to-back months, it would be interesting to see whether a hat-trick of such major haul would be evidenced in May as well. Well, if not from Hindi but at least multi-language release Doctor Strange in the Multiverse of Madness should result in major collections all over again, hence keeping theatres engaged. Then there are Bhool Bhulaiyaa 2, Jayeshbhai Jordaar, Dhaakad and Anek coming in which seem promising as well.
For the sake of the industry, one just hopes that between these films, and the extended collections of KGF: Chapter 2 [Hindi], Heropanti 2 and Runway 34, a score of Rs. 500 crores is achieved all over again.
Collections of Hindi releases in April
KGF: Chapter 2 [Hindi] – Rs. 360.31 crores
RRR [Hindi] – Rs. 129.24 crores
The Kashmir Files – Rs. 15.28 crores
Jersey – Rs. 17.20 crores
Attack - Part 1 – Rs. 16.13 crores
Heropanti 2 – Rs. 12.50 crores [2 days]
Runway 34 – Rs. 8.75 crores [2 days]