The last month of the year has seen two big releases - Salman Khan's Dabangg 3 which stars Sonakshi Sinha, Saiee Manjrekar and directed by Prabhu Dheva and multistarrer Good Newwz starring Akshay Kumar and Kareena Kapoor. The Salman Khan starrer released on December 20 ahead of Christmas whereas Akshay Kumar starrer is the last release of the year that hit the silver screens on December 27.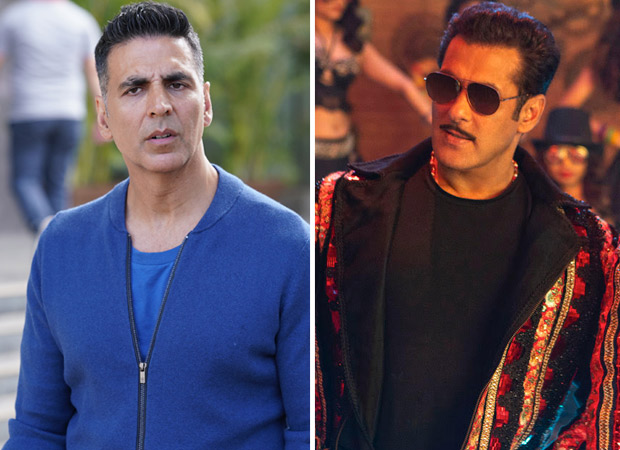 Both the films have released in overseas and have been doing decent business. While Dabangg 3 released a week earlier than Good Newwz, which also stars Kareena Kapoor Khan, Diljit Dosanjh and Kiara Advani, it is Akshay Kumar starrer that is making waves at the box office.
In this detailed report, we make overseas comparisons between Salman Khan and Akshay Kumar's latest releases.
United States of America
| | | | | | |
| --- | --- | --- | --- | --- | --- |
| Rank | Movie | Weekend Gross ($) | Screens | Total Gross ($) | Total Gross (INR) |
| 14 | Good Newwz | 1,109,464 | 202 | 1,109,464 | 7.92 crores |
| 12 | Dabangg 3 | 852,790 | 294 | 852,790 | 6.07 crores |
Canada
| | | | | | |
| --- | --- | --- | --- | --- | --- |
| Rank | Movie | Weekend Gross (US$) | Screens | Total Gross (US$) | Total Gross (INR) |
| 8 | Good Newwz | 359,399 | 30 | 359,399 | 2.57 crores |
| 7 | Dabangg 3 | 227,745 | 35 | 227,745 | 1.63 crores |
UK & Ireland
| | | | | | |
| --- | --- | --- | --- | --- | --- |
| Rank | Movie | Weekend Gross (£) | Screens | Total Gross (£) | Total Gross (INR) |
| 9 | Good Newwz | 274,070 | 67 | 274,070 | 2.57 crores |
| 7 | Dabangg 3 | 215,665 | 80 | 215,665 | 2 crores |
Australia
| | | | | | |
| --- | --- | --- | --- | --- | --- |
| Rank | Movie | Weekend Gross (A$) | Screens | Total Gross (A$) | Total Gross (INR) |
| 7 | Good Newwz | 516,189 | 46 | 516,189 | 2.58 crores |
| 6 | Dabangg 3 | 439,530 | 56 | 439,530 | 2.17 crores |
New Zealand
| | | | | | |
| --- | --- | --- | --- | --- | --- |
| Rank | Movie | Weekend Gross (NZ$) | Screens | Total Gross (NZ$) | Total Gross (INR) |
| 5 | Good Newwz | 175,637 | 24 | 175,637 | 84.08 lacs |
| 3 | Dabangg 3 | 172,168 | 33 | 172,168 | 80.99 lacs |
Malaysia
| | | | | | |
| --- | --- | --- | --- | --- | --- |
| Rank | Movie | Weekend Gross (MYR) | Screens | Total Gross (MYR) | Total Gross (INR) |
| 14 | Good Newwz | 43,390 | 4 | 43,390 | 7.53 lacs |
| 11 | Dabangg 3 | 55,288 | 10 | 55,288 | 9.5 lacs |