The much awaited film, Sooryavanshi, is all set to release next Friday, November 5. It is the first biggie to hit cinemas since March 2020 and hence there's tremendous hype. Fans, industry and trade are already discussing how the film will open, its lifetime and other such factors. Bollywood Hungama decided to speak to the people in the trade to find out what they have to say.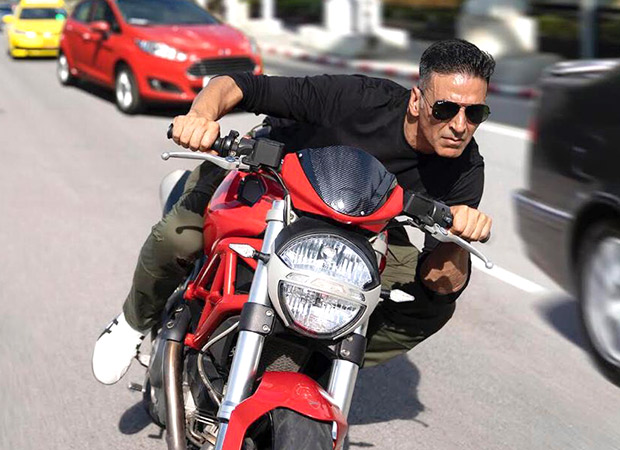 When asked how excited are viewers for the Akshay Kumar-starrer, trade analyst Taran Adarsh said, "People are very excited. In fact, to see a big film on the big screen is making me so excited right now. A lot of my friends are looking forward to watching Sooryavanshi on the big screen."
Akshaye Rathi, film exhibitor and distributor, opined, "There's a huge degree of excitement Sooryavanshi. Audiences are clearly looking to come back to cinemas in big numbers."
Girish Johar, producer and film business analyst, meanwhile said, "I am personally very excited. I am further more excited to see that our fraternity members, across industries, are talking about the film. Vidyut Jammwal, Allu Arjun etc have shown their support. Hollywood also went out similarly and everyone as one unit requested audiences to come back to cinemas. And look where the Hollywood box office is right now. So we are also following suit. I am personally very bullish and the promotions are also happening with full force. So I really hope that the film takes a fantastic start."
Day 1 predictions
Sooryavanshi releases on post-Diwali day, which is arguably the biggest day of the year. Everyone is expecting a huge start. Akshaye Rathi gives his predictions on day 1 earnings, "The bare minimum I am looking for this film is a Rs. 15-17 crore Day 1."
The rest of the experts declined to give a number. Trade analyst Atul Mohan said, "No one can predict day 1 figures. Everyone will have some prediction but I challenge anybody to give me exact number." However, he's confident that the opening will be in double digits.
Girish Johar stated, "Its too early. Though Delhi and Gujarat have allowed 100% occupancy, still some states are operating at 50, 60 or 70% occupancy. If they open at 3000 screens, I am expecting 50% of pre-pandemic opening."
Taran Adarsh explained, "We don't know what the screen count is at the moment. But I presume its going to be 3000+. Secondly, we are not sure of the ticket price. If the rates are kept very high, it'll be a deterrent. But if the rates are in the common man's reach, then it will have a big advantage. Nevertheless, I feel that the day 1 collections will be huge. Diwali is a period when people want to celebrate and want to step out. Also, people are in the mood to splurge. And if they are presented with a big screen entertainer, then why not would they go for it? But the bottomline is that the content has to work."
Lifetime predictions
Akshaye Rathi said that he believes that Sooryavanshi can have pre-pandemic type of lifetime numbers, "Its very much possible because the only Hindi film playing in cinemas would be Sooryavanshi. The compensation for the lesser capacity would be the higher number of screens and higher number of shows. So every screen and theatre open would be playing Sooryavanshi with an unprecedented number of shows."
Taran Adarsh opined, "The lifetime will always depend on the content. Fortunately in this case, there's no release a week after. It is very important for the industry for this film to do well. Its success would boost the morale."
Girish Johar however said, "The lifetime numbers will be affected. Some restrictions are still there. Audiences do fear when they see that theatres are not operating at full capacity in their state. So it may affect but I hope it doesn't in the long run. But some tapered down effect will be there due to the restrictions."
Atul Mohan emphasized, "It won't be like pre-pandemic. Let's accept this fact. What's important is that its releasing in cinemas and now we have to focus on whether audiences are flocking to watch it. We should not be getting into the numbers game for the next 6 months or 1 year. It would be absolutely unfair to compare the numbers of the films of pre-pandemic. Whatever Sooryavanshi manages to collect should be the new benchmark. Sooryavanshi ka benchmark kaun todega woh dekho, fir uss film ka benchmark kaun todega, woh dekhte hai. We should now be starting afresh."
Will Eternals affect Sooryavanshi?
The much awaited Marvel film, Eternals, will also be releasing on Diwali. The excitement of the film has been heightened after another Marvel film, Shang-Chi And The Legend Of The Ten Rings (2021) took a bigger opening than Akshay Kumar's Bellbottom and had a healthy lifetime.
So will Eternals affect Sooryavanshi's box office prospects or would both the films co-exist? Taran Adarsh said, "Eternals won't affect Sooryavanshi that much and it'll have its audience. But Sooryavanshi will stand apart. We all want to watch desi stars, right? If I am given a choice between Sooryavanshi and Eternals, on a personal level, my first choice would definitely be Sooryavanshi."
Taran also predicted that the Hollywood film can also have a huge opening as "Marvel has its fan base and Eternals is a big film".
Akshaye Rathi is also confident of its box office performance, "Both can very happily co-exist. Both films have their own fan bases and fan following. And both will do very well".
Regarding Eternals, he also said that "It's a film that has a serious fan following. So depending on the showcasing it gets, I think it can do very good numbers and surprise people." He also added that he's 100% confident that it'll open more than Shang-Chi And The Legend Of The Ten Rings.
Girish Johar feels there's no need to worry, "The box office has the capacity to accommodate 4-5 films. Post-Diwali is a big festival weekend. In the past, we have seen 2-3 big Diwali releases down South clashing with 2 Hindi releases and 1 medium Hollywood film. So the capacity of the period is surely there. Its more on the willingness of the audiences."
However, he feels Eternals will have limited appeal, "It is upmarket. It's not the commercial cinema in true sense of the term. Like Fast And Furious 9 is hardcore mass film. This is one level below the James Bond series. Even Shang-Chi And The Legend Of The Ten Rings had the same trend. Audiences of around 15 cities had seen that film. Similar would happen with Eternals."
However, he continued, "Content accha hai toh sab chalne waala hai. If Eternals or Sooryavanshi appeals to the Indian audiences, then there's no stopping to any content."
Atul Mohan, however, thinks the clash will lead to division in business, "It can eat into each other's business. Audience would get divided. And where's the money to watch two films?"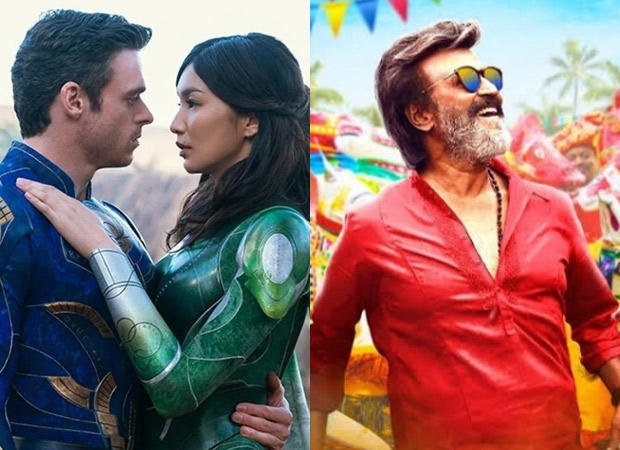 The Annaatthe factor
The big Rajinikanth film, Annaatthe, also releases on Diwali day, November 4 and the excitement is tremendous. Akshaye Rathi said, "Down South, Annaatthe is a tent pole film and in Tamil Nadu, Andhra Pradesh, Telangana and Kerala where Rajini sir has a staunch and serious fan following, I am sure it'll be the film to watch out for. And a similar level of popularity is enjoyed by Sooryavanshi in the Hindi belt. I am sure it'll work out to be great for both the films."
He added, "So there's Sooryavanshi, Enternals, Annaatthe and one more Tamil film, Enemy, releasing. So it's going to be a Happy Diwali for sure!"
Taran Adarsh also believed that the diverse films releasing on Diwali would be an advantage, "Annaatthe is a very big film down South. Rajinikanth is a major star there. He's not just ruling the box office but he's also ruling the hearts. Down South, people would definitely go and watch this film. It so good to see that one Rajinikanth film down South, an Akshay Kumar-Ajay Devgn-Ranveer Singh-Katrina film in North and Eternals would be running in cinemas. So lets hope that the festival of Lights spreads a lot of light in the film industry!"
Girish Johar, however, cautioned, "Annatthe would not be a competition technically to the Hindi market films. But it'll take some percentage of business down South (from Sooryavanshi)."
Atul Mohan also expects a very huge day 1 of Annatthe because "Rajinikanth toh bhagwaan hai South mein."
However, he had a worry, "I wonder how screen sharing will be managed in the South as the theatres will have to accommodate Annaatthe, Sooryavanshi and Eternals."
Though he says that all three films can work big time, he added, "Annaatthe would be the first choice in the South. Whether Sooryavanshi would be the second choice or Eternals is something there is something that we have to wait and watch."
Three cheers for the very patient Sooryavanshi team
Finally, everyone were all praises for Akshay Kumar, director Rohit Shetty and Reliance Entertainment for holding Sooryavanshi for 18-19 months due to the Covid-19 pandemic. Taran Adarsh stated, "I would say patience pays and it would pay handsomely in this case. Because I feel that Sooryavanshi has been conceptualized, made and designed for the big screen audience. Though OTT has its advantages and you can watch it anytime at your convenience, but going to a cinema hall and watch a big film is a big charm. I think it's never going to change. People have been waiting for a mass entertainer since a long time and this film fits the bill and also has big stars. What we got to see on OTT were films of diverse genres but not mass films that we used to watch in the pre-Covid days."
Atul Mohan said, "Jigra chahiye iss tarah se itni badi film ko itne time tak leke baithna. They got so many offers for a direct digital release. Any other producer would have got tempted and sold the film. But these people were very big clear that yeh film big screen ke liye bani hai aur isliye yeh big screen pe hi aani chahiye."
Girish Johar, on similar lines, said, "They have balls of steel. And I really hope it pays off not just as a fraternity colleague but even as a fan. I really wish Sooryavanshi does very well not only in terms of revenue in terms of expectations, fraternity vibes, future traction of films etc. A lot is riding on Sooryavanshi. And it is looking very good. That's the best part."
Akshaye Rathi, however, remarked "The entire exhibition sector is thankful to the makers for this gesture. Having said that, it is a commercial decision as much as it's possibly an emotional one. For a film like this, the only appropriate way of optimizing the value of a film is this. I am sure the theatres will give unprecedented return to the film and ensure that it does really well for the producers and everyone concerned."
Atul Mohan had the last word as he said, "You need a film like Sooryavanshi to get audiences back to cinemas. It has Akshay Kumar, Katrina Kaif, Ajay Devgn and Ranveer Singh. Isme masala hai. Rohit is known to make films which can only be enjoyed on the big screen. This is a film which will decide the fate of the trade and exhibition. If Sooryavanshi clicks then there's no looking back. God forbid if it doesn't for whatever reason, then we all would wonder that if not Sooryavanshi, then which film? Bahut bada jhatka lagega. So we all hope that this film manages to work."