In this newly introduced monthly feature, we will talk about how the new releases of the month gone by fared at the box office. We will also compare the same month from the last 10 years to reflect on trends, and assess whether it is on an upswing or going downwards. Considering the fact that a lot has been said and heard over the last 2 years about whether Bollywood will be able to get back at its feet, especially due to the advent of OTT boom, these box office trends will be able to bring things into perspective.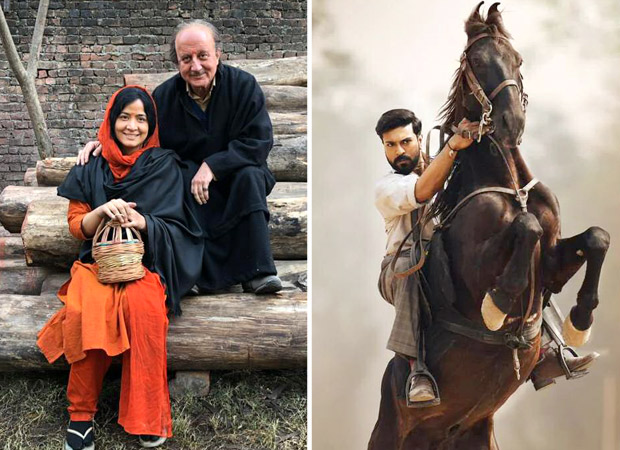 2022 – Rs. 455.83 crores - The Kashmir Files [Rs. 238.28 crores], RRR [Hindi] [Rs. 132.59 crores]
The kind of collections that have come in March 2022 was the trigger point of this feature. Believe it or not but not just have the collections been extraordinary over the month gone by, these are also the best ever that theatres have seen in the month of March. Over Rs. 450 crores came from Hindi releases where The Kashmir Files led from the front. Not just that as RRR [Hindi] too brought in extraordinary numbers in just one week that it played in March, and now that it is in April, a lot more is set to be added to its lifetime collections.
2021 – Rs. 28.50 crores - Roohi [Rs. 26 crores]
It's a known fact that 2021 was hardly happening due to the pandemic. In March 2021, though a few films did try their luck, including Mumbai Saga, Saina and Sandeep aur Pinky Faraar. However, the only film that did well was Roohi and that too because it was an early risk taker and had released at the time when the first wave was subsiding.
2020 – Rs. 100.03 crores - Baaghi 3 [Rs. 95 crores], Angrezi Medium [Rs. 9.36 crores]
This was the time when the first wave had started showing its ugly face and the industry was totally taken aback. In fact, Baaghi 3 was the big release of the month and it did not really have time to react in terms of release postponement. Eventually it did release, opened well, had a good weekend but then had to cut short its run in a matter of just one week. Angrezi Medium too was caught in the whirlpool and was off after barely 3 days when theatres started shutting.
2019 – Rs. 384.70 crores - Kesari [Rs. 154.41], Luka Chuppi [Rs. 95 crores], Badla [Rs. 87.99 crores]
Before 2022, it was in 2019 when the record for the best March ever was set with 384.70 crores coming in. There were as many as three big hits that were scored, the only instance ever in the last 10 years when the month of March had enjoyed such back to back successes. Akshay Kumar's Kesari led from the front, Kartik Aaryan and Kriti Sanon came quite close to scoring a century with Luka Chuppi and Amitabh Bachchan & Taapsee Pannu enjoyed yet another big hit after Pink.
2018 – Rs. 367.71 crores - Baaghi 2 [Rs. 166 crores], Raid [Rs. 103.07 crores]
Just one film single handedly contributed to almost half the collections that came from March releases of 2018. Baaghi 2 was a blockbuster and along with Raid, there was a lot that was generated at the box office in March 2018. It was for the first time ever that a triple century was scored in the month of March. What made it further special was that it was over 150 crores more than the double century record of the year gone by.
2017 – Rs. 213.66 crores - Badrinath Ki Dulhania [Rs. 116.6 crores]
Five years back, it was the first time ever that the 200 crores mark was crossed by March releases. The film that made it happen was Badrinath Ki Dulhania. This Varun Dhawan and Alia Bhatt starrer was a very good success at the box office and its songs are heard till date. In fact, it came at the time when school and college exams were on and still youth flocked theatres.
2016 – Rs. 153.80 crores - Kapoor & Sons [Rs. 73.30 crores]
It wasn't a record year per se but 2016 did have over Rs. 150 crores been generated in March. There were quite a few films that released in this month but the only one to make an impression was Kapoor & Sons. The film deserved to find an entry into the Rs. 100 Crore Club but still did rather well to emerge as a good hit. It did almost half the business that was generated in March.
2015 – Rs. 54.39 crores - NH10 [Rs. 32.39 crores]
2015 was rather poor for Bollywood at the box office as not even Rs. 100 crores came from the films that released that month. The sole consolation was NH10 which managed to go past the Rs. 30 crores mark but that's about it. The Anushka Sharma starrer had The Kashmir Files fame Darshan Kumaar as the main villain. However, by and large, it was a forgettable month of the year.
2014 – Rs. 160.01 crores - Queen [Rs. 61 crores]
March 2014 will always be remembered fondly because this was the time when Kangana Ranaut came with her very delightful Queen. The film started on a very low key note but then grew from strength to strength, and eventually emerged as a good hit. It was courtesy this light hearted drama that March 2014 saw over Rs. 150 crores been generated.
2013 – Rs. 114.40 crores - Jolly LLB [Rs. 32 crores]
Jolly LLB 2 is a Rs. 100 Crore Club hit but it was back in March 2013 when the genesis of the film was established in the form of Jolly LLB. The film was a decent hit with over Rs. 30 crores coming in. Himmatwala was in fact a bigger grosser as it collected Rs. 47.45 crores. However, it was a flop. Saheb Biwi aur Gangster Returns was another average grosser at Rs. 21.95 crores.