Overall, it was a decent day at the box office since a double digit score came again, courtesy Hollywood release Jurassic World: Dominion and holdover films Bhool Bhulaiyaa 2 and Samrat Prithviraj. Of course, one waits for a Friday when a new Bollywood release also sees very good numbers coming its way, since that has been the major shareholder in the exhibition sector at a pan-India level. However, one takes what comes and in that aspect as long as audiences are returning to theatres, there is hope that a well-made Bollywood film will entice them as well.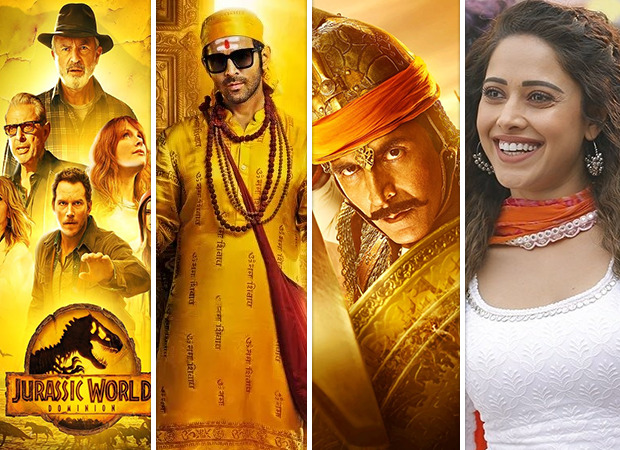 Jurassic World: Dominion collected Rs 8 crores* on Friday and if one adds collections from Thursday evening release as well then it adds up to Rs 11.75 crores*. This is good in fact because now Saturday and Sunday would comfortably go past Rs 10 crores mark each, which means an extended weekend of around Rs 35 crores is on the cards, which would be quite good.
Meanwhile, it's holdover release Bhool Bhulaiyaa 2 which is doing quite well as even on the fourth Friday, it managed collections of Rs 1.56 crores. Now that's quite good since Thursday numbers were Rs 1.81 crores which shows how well it is holding up, despite the arrival of the Hollywood biggie. The Kartik Aaryan starrer has now collected Rs 164.71 crores already and will comfortably go past the Rs 170 crores mark before the weekend is through.
On the other hand Samrat Prithviraj saw further dip in collections as Rs 1.60 crores* came in. Thursday collections were Rs 2.80 crores, which were as it is low, and now with this kind of fall, a lifetime total of even Rs 75 crores is out of question. The film currently stands at 56.65 crores* and while Rs 60 crores would be surpassed this weekend, the best case scenario seems Rs 70 crores.
As for Janhit Mein Jaari, it did see a theatrical release for itself but would have been better off to arrive straight on OTT. The first day collections for the film were on the expected line as Rs 43 lacs came in, and at best it would have a Rs 2 crores weekend for itself and then a lifetime of Rs 3 crores.
*Estimates. Final numbers awaited
Note: All collections as per production and distribution sources