Jurassic World: Dominion has done well in its opening weekend to score Rs. 36.25 crores* (including paid previews). The film saw good jump again on Sunday to bring in Rs. 13 crores* more as the footfalls continued to rise right through the weekend.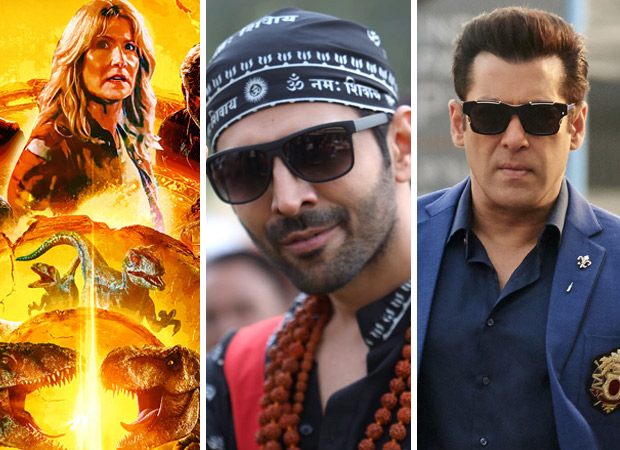 The film has in fact scored a better weekend than Jurassic World [Rs. 24 crores] and is quite comparable to the next in the franchise, Jurassic World: Fallen Kingdom [36.50 crores]. Ironically, former had a better lifetime [Rs. 101 crores] than the latter [Rs. 83 crores] despite a lesser opening. By the look of things, Jurassic World: Dominion may end up competing with Jurassic World: Fallen Kingdom and end up getting a success tag attached to it.
Meanwhile, the Kartik Aaryan starrer horror comedy Bhool Bhulaiyaa 2 has managed to collect Rs. 171.17 crores in just 17 days with a lot more yet to come. The film saw further increase in numbers on Sunday to bring in Rs. 3.45 crores and would now be aiming for daily collections over the weekdays to be in excess of Rs. 1 crore so that Rs. 175 crores are easily surpassed by the close of Week 4.
Samrat Prithviraj stayed low with Rs. 3.25 crores* coming in on Sunday. This could well be it for the film as now the collections nay go below Rs. 1 crore mark on the weekdays and just a little more would be added to the 62.40 crores* total that the film has accumulated so far.
On the other hand, Janhit Mein Jaari continued to grow over the weekend with Sunday standing at Rs. 0.94 crores. Yes, this is better than Friday and Saturday numbers but then from the absolute numbers' perspective, this is still too less. The overall collections for the film now stand at Rs. 2.19 crores and if Monday collections turn out to be on the same lines as Friday, then the Nushrat Bharucha starrer could very well step into the second week as well.
Note: All collections as per production and distribution sources