Video games are an inherent part of the lives of many. In today's times, it's not uncommon to see people playing games on their smartphones as a stressbuster or as a hobby for long hours. Hollywood has made films where these games are the USP like JUMANJI: WELCOME TO THE JUNGLE [2017], READY PLAYER ONE [2018], WRECK-IT RALPH [2012] etc. When it comes to Bollywood, apart from RA.ONE [2011], no other film has had this element. Now GAME OVER attempts to get into this space. This is a dubbed Hindi film and is originally shot in Tamil and Telugu. So does GAME OVER manage to give viewers a thrilling time? Or does it fail? Let's analyse.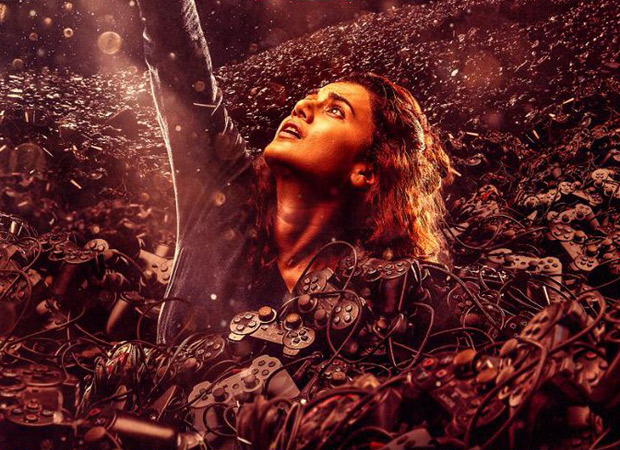 Game Over Review: Video games are an inherent part of the lives of many.
GAME OVER is the story of gamer fighting demons inside her and also in the outside world. In December 2017, in Sector 101 in Gurugram, a young girl named Amrutha (Sanchana Natarajan) is stalked by an unknown killer while she's enjoying her meal in her house, all alone. Sometime later, the killer enters her house, assaults her and takes her out of the house in a football field. Here, he beheads her and sets her body on fire. A year later, Sapna (Taapsee Pannu), who stays in Dhankot in Gurugram is having a traumatic time. She is a video game designer and a video game addict who stays alone in a palatial house along with her house help Kalamma (Vinodhini Vaidyanathan). A couple of weeks after Amrutha was murdered, Sapna too had a harrowing time, on New Year's Eve, when she was raped and the whole act was filmed. With December 31 approaching, she begins to have panic attacks. Since the rape, she has not been able to stay in darkness for more than few seconds. In the midst, she begins to face a new problem. She has a game-centric tattoo on her wrist and it begins to ache badly. Before going to the skin specialist, she goes to the tattoo artist Varsha (Ramya Subramanian) to check if it's something to do with the tattoo. Varsha hesitatingly informs her that she had mistakenly put a memorial tattoo on Sapna. Meaning, a small amount of ash, of Amrutha, was mixed in the tattoo ink. It was to be used for the tattoo of Amrutha's mother Dr. Reema (Parvathi T) but by mistake, it was applied on Sapna. Sapna is obviously aghast on knowing this information. She attempts to kill herself but survives. After a meeting with Dr. Reema and knowing the kind of fighter Amrutha was, Sapna decides to start life afresh. At this point, however, the killer who killed Amrutha begins to stalk Sapna. On December 31, he decides to murder her. What happens next forms the rest of the film.
Ashwin Saravanan and Kaavya Ramkumar's story is a bhel puri of various aspects. The film touches upon trauma faced by rape survivors, cancer survivors, serial killing, video game addiction etc. And it's not stitched together well. Ashwin Saravanan and Kaavya Ramkumar's screenplay gets affected because of the poor and random storyline. The second half is better and though it reminds one of JUMANJI: WELCOME TO THE JUNGLE, it manages to engage a bit. Shruti Madan's dialogues are nothing great and the ones by Vinodhini Vaidyanathan could have been better written.
Ashwin Saravanan's direction is nothing great. Though he understands the technicalities, he fails to do justice to the overall plot and that's not surprising since the writing itself is flawed. A few scenes are quite engaging with one sequence in the second half guaranteed to give viewers a jolt. But he should have made the narrative simpler and not culminated the film on such an abrupt note. Moreover, the loose ends in the film are way too many.
GAME OVER's biggest problem is that it is dubbed in Hindi. When the makers were shooting it in two Southern languages already, they should have also shot it in Hindi especially since lead actress Taapsee Pannu is a popular face in Bollywood. The film has been shot in South but the makers attempt to pass it off as Gurugram and it just doesn't work. Not just the exterior settings, even the interiors are not convincing. What exactly does Sapna do for a living that she's able to afford such a huge bungalow? Despite having such a vast place, Sapna doesn't have her own bedroom and sleeps on the sofa in what seems to be the room where she works. No explanations given! In fact, a lot of things are left unexplained till the very end and it really dilutes the impact. The entire rape episode is never properly touched upon. The serial killer bit too is not properly dealt with. Moreover, the film's genre keeps changing. It starts off as a violent crime drama. Later, it becomes a psychological thriller, even giving a déjà vu of the Hindi film PHOBIA [2016]. In the scene where Sapna meets Dr. Reema, it becomes an emotional saga. The second half is like a different film altogether. The twist here is novel and that thankfully arrests attention. It's also completely action packed and that somewhat helps in entertaining the viewers. But it's not enough to impress the audiences on the whole.
Taapsee Pannu is quite good in her part as always. Very few actresses can convincingly play such a part with élan and Taapsee definitely impresses. She constantly tries to rise above the weak script. Vinodhini Vaidyanathan has a very crucial part and is okay. Ramya Subramanian has a fine screen presence. Sanchana Natarajan is quite likeable. Her track is heartwarming but doesn't make the desired impact as it seems like a misfit in such kind of a film. Anish Kuruvilla (Psychiatrist) is passable.
Ron Ethan Yohann's music is exhilarating. The theme played during the opening credits is splendid. A Vasanth's cinematography is appropriate for such kind of a film. Sachin Sudhakaran and Hariharan M's sound design is nothing special and should have been better considering the film's genre. Shiva Shankar's art direction is decent. "Real" Satish's stunts and N K Nandini's costumes are realistic. Richard Kevin A's editing is nothing remarkable.
On the whole, GAME OVER packs in too much in a single film and hence the desired impact is not made. The buzz is negligible and hence, GAME OVER will surely face a tough time at the box office.
BOLLYWOOD NEWS - LIVE UPDATES
Catch us for latest Bollywood News, New Bollywood Movies update, Box office collection, New Movies Release , Bollywood News Hindi, Entertainment News, Bollywood Live News Today & upcoming movies 2022 and stay updated with latest hindi movies only on Bollywood Hungama.