DYBBUK is the story of a couple who face threats from a revengeful spirit. The last Jew on the island of Mauritius, Moshe Ben Asher, passes away. He was a philanthropist and his house had several antique items. Bilal (Tareeq Ahmed Khan) goes to Moshe's house to see if he can take any such item to display in his antique shop called Rustic Elegance. He sees what looks like a wine cabinet box and places it in his shop. The night watchman of the shop, Masood (Resh Lamba), while on his duty, tries to open the box. As he attempts to do so, strange things start happening around him and he is killed. Meanwhile, in Mumbai, Sam Isaac (Emraan Hashmi) is married to Mahi Sood (Nikita Dutta). Mahi just had a miscarriage and is not in the right frame of mind. At this point, Sam's company Zayke asks him to relocate to Mauritius for two years as the new head of operations. Zayke is trying to safely dispose of nuclear waste underwater. Sam takes up the project and he and Mahi shift to Mauritius. The change of location has a positive effect on Mahi. She tries to redo the house and for that, she visits Rustic Elegance. She likes the box from Moshe's house so much that she buys it. She brings it to her house and opens it. In no time, a strange smoke comes out and Mahi gets possessed. From now on, she starts behaving oddly. A few days later, the couple welcome a guest in their home – Father Gabriel (Denzil Smith) from India. Sam was raised by the Father in his orphanage. As soon as Gabreil reaches Sam's residence, he realizes that something is wrong in the house. He soon realizes that the box is the source of all problems. He informs Sam that the box is a 'Dybbuk'. As per the old Jewish tradition, it was used by people in the 16th century to capture dissatisfied souls. He also adds that the spirit has possessed Mahi. Both now have to not just find a Jewish priest to perform an exorcism but also find out whose spirit has possessed Mahi. What happens next forms the rest of the film.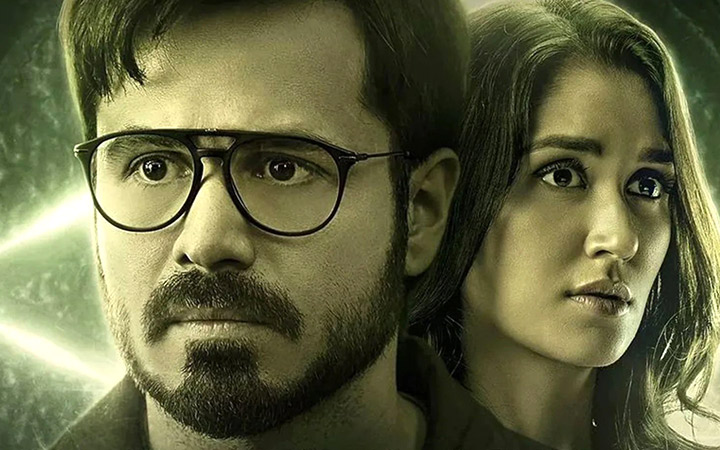 Movie Review: Dybbuk
DYBBUK is the remake of the Malayalam horror film EZRA [2017], written and directed by Jay K, who has also written and directed the remake. Jay K's story is different from the rest of the horror films. Jay K's screenplay is great in the first half but in the second half, it suffers as there are hardly any horrifying scenes in the narrative. Chintan Gandhi's dialogues (additional dialogues by Manu Warrier) are simple and nothing extraordinary.
Jay K's direction is neat. He has handled the beginning portions very well. Even the scene where Mahi is possessed is done subtly. We are used to seeing heroines going all-out crazy when possessed by an evil spirit. Jay K avoids all these clichés. But the second half is too lengthy. Though the film is just 102 minutes long, he should have further trimmed the narrative. Also, the horror factor is overall missing in the post-interval hour. The twist in the pre-climax could have been better executed. The nuclear waste track is introduced in such a manner that one feels that it'll have significance later in the film. However, this track is not utilized well.
DYBBUK starts very well. The murder of Masood is chilling and the way the build-up happens sets the mood. The opening credits are intriguing. The initial scenes of Sam and Mahi moving to Mauritius and Sam joining the office are interesting. Mahi getting possessed is a great scene. Also, the entry of Father Gabriel, Rabbi Benyamin (Anil George) and Markus (Manav Kaul) raise hopes. Sadly, the second half gets lengthy and the horror quotient goes out of the window, except in the scene of the dog. The finale is intended to be horrifying but it's not.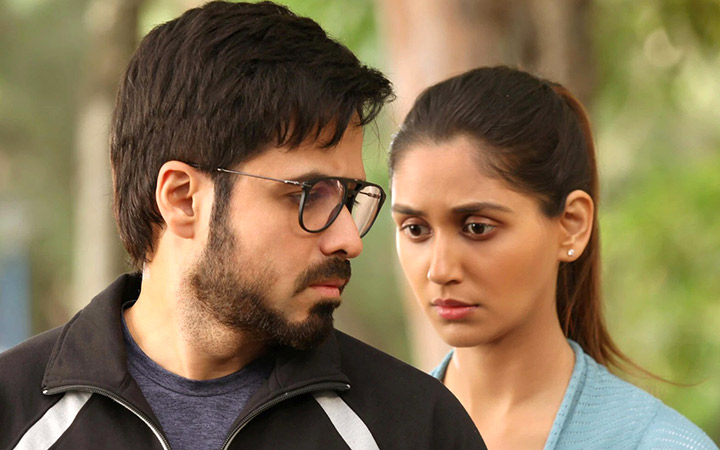 Emraan Hashmi gets back in the horror genre after nearly five years and delivers a fine performance. Nikita Dutta leaves a huge mark and is sure to benefit from the film. The fact that she gives a restrained performance while performing the part of a possessed character adds a lot to the film. Denzil Smith and Manav Kaul both do well and it's novel to see a Christian and Jewish priest coming together to capture the evil spirit. Anil George is memorable in a cameo. Resh Lamba is great in a small role. Gaurav Sharma (Inspector Riyaz Ahmed) is decent. Yuri Suri (Yakub Ezra) suits the part. Imaad Shah (Abraham Ezra) and Darshana Banik (Norah) are fine in the flashback sequences. Sushmita Sur (Joshina the maid) is wasted and it's bewildering why she behaves like a possessed person in her entry scene. Tareeq Ahmed Khan, Bijay Anand (Sanjay; Sam's boss), Ivan Rodrigues (Milind Sanghvi; neighbour) and Alefia Kapadia (Darshana; neighbour) are okay.
DYBBUK is a song-less film. Amar Mohile's background score does justice to the horror theme. Satya Ponmar's cinematography is a bit out of the box and it works. Snigdha Karmahe, Pankaj Poal and Somenath Pakre's production design and Ameira Punwani and Neetu Bharadwaj's costumes are rich. NY VFXWaala's VFX is first-rate. Pradyuman Kumar Swain's action is realistic and not too gory. Dhananjay M Prajapati and Avinash Pawar's makeup is too good in the climax. Sandeep Francis's editing could have been tighter.
On the whole, DYBBUK attempts to be an unconventional horror film but the not-so-scary second half and lengthy runtime spoil the show.
Rating: 2 stars
BOLLYWOOD NEWS - LIVE UPDATES
Catch us for latest Bollywood News, New Bollywood Movies update, Box office collection, New Movies Release , Bollywood News Hindi, Entertainment News, Bollywood Live News Today & Upcoming Movies 2023 and stay updated with latest hindi movies only on Bollywood Hungama.