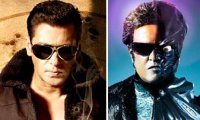 'Bodyguard has netted over Rs.100 crores in an extended 9 day long week' - Yeah, true!


'It is Salman Khan's third straight film to achieve this milestone' - Exactly, isn't that wonderful?


'It is a barely average movie and has done well 'mainly' due to Salman's charisma' - Errrr, really?


'This is pretty much on the lines of 'no brainer' cinema by Rajinikanth and Salman is getting into the same mould' - Okay, so hold on to that!


First two reactions from industry, trade as well as the 'aam junta' are facts.


Second reaction is coming mainly from the 'web frequenting' segment, which by the way isn't Salman's target audience.


Third reaction is where one needs to pause for a moment before jumping on any conclusion. Reason? There is a lot to discuss and debate before state something as blatant as that.


And it is with this week's 'Reflections' where we kick-start this debate!


Is credit being refused where it is due?


Box office reception to Bodyguard is for all to see. Record breaking collections are on public display and to attribute a grand opening to Eid/Ganesh Chaturthi holiday season is nothing but a foolish statement to make. Well, to refresh one's memory, even Bol and a small time film called Mummy Punjabi released on Eid and while former (despite being well made) has somehow limped into the second week, the latter is nowhere to be seen. Ok, so competition from Salman was huge but then this is where the credit factor comes in. Salman has reached where he is after being in the business for over two decades. So if he has actually managed to build a fan base, it is due to his body of work over a period of time.


All said and done, let's not make a statement like 'Bodyguard has worked 'just' due to Salman factor'. That's because the term 'just' comes with its weight in gold here.


Do fans stay on?


So while it is now established that the film has worked due to certain strengths that certainly includes Salman's star power and hasn't been a winner only due to it's release during the festive season, let's move on to the fan part of the conversation. Much has been written about how 'Salman's fans are loyal', 'They would accept anything that comes from their beloved 'bhai''', 'It is just impossible to shake their belief in Salman', let's just hold on those thoughts and gradually take back a few steps.


While the world is going gaga over Salman (and rightly so) for the triple success he has shown with Bodyguard, Ready and Dabangg, let's not forget that he is the same Salman whose Main Aurr Mrs. Khanna, London Dreams and Veer released one after another and turned out to be flops. These by the way came immediately after Salman's first big hit in the recent past - Wanted. So where were the fans who refused to endorse any of these three films?


Let's go further back in time. Within a month's time after the huge success of Partner, Salman was seen in Marigold: An Adventure In India and post that came God Tussi Great Ho and Yuvvraaj. Each of these three films was a huge flop.


Prior to that, No Entry was a huge success but there were half a dozen flops that Salman faced after that - Kyon Ki, Saawan - The Love Season, Shaadi Karke Phas Gaya Yaar, Jaan-E-Mann, Baabul and Salaam-E-Ishq. One can continue to talk about such flip-flop that happened in Salman's career but that's not the point of the debate here. After all, hits and flops are part of life for any actor. The issue lies in the theories that circulate after a few hits when the term 'invincible' comes to core. Now that's a scary feeling not just for a moviegoer but also the star under consideration because no one can ever escape failure.


This is where the entire theory around 'fans would never show their back to their screen idol' fails because leave aside anyone else, this has happened to Salman himself at so many junctures in his career.


So what does a fan want?


Simply put, a fan has his own way of operating. All he wants is good entertainment and when it comes to that, he can smell it from a good distance. Try releasing Yuvvraaj as it is with the original set of promos and results won't be any different today. If Bodyguard would have arrived soon after a Wanted, Partner or a No Entry, there wouldn't have been any surprises in store. How a film is created, packaged and presented to the audience is what truly matters. This is what attracts his attention first. So if the star in motion happens to be someone who is anyways promising good entertainment for quite some time, it only turns out to be 'sone pe suhaaga' moment.


Does the accusation hold good?


Sad state of affairs though is when a superstar is 'accused' of doing the 'same thing' over and above again. One wonders how a Salman in Bodyguard, was in any way similar to that of Ready and, whether any of these two films had any connection with Dabangg or Wanted. All that was common in each of these four films was high entertainment quotient. Plus of course the charm and charisma of a man who goes by the name of Salman Khan. Needless to say, it would be foolhardy to let a superstar shed away his persona (and it isn't the 'image factor' that I am talking about here) that only adds on to the overall cinematic experience.


Salman need not lose heart though as he isn't the only one finding himself in the box. Shah Rukh Khan, despite playing Raj 8 years ago in Chalte Chalte and Rahul 13 years ago in Kuch Kuch Hota Hai still finds critics saying - 'Arrey yeh wahi Raj/Rahul type NRI role hoga'. Now this isn't just ill research, but it also shows the myopic view that some have when it comes to acknowledging a superstar's presence. Still all he has done is continuing to move on, deliver hits and retaining two things that have made him THE Shah Rukh Khan that he is today - 'an intrinsic charm and charisma'!


This pretty much establishes the fact for that an actor who is playing well within the commercial realms of affairs and isn't quite stepping into a different arena, it is just fair to expect that he won't change his overall personality just to be different. Yes, his surroundings would differ, the conflicts would change and the setting would vary but then it would be akin to lending a bad advice if he is asked to look the other way.


Is there anything called as 'Hit formula'?


Get the persona right. Let your charm and charisma stay on. Don't look the other way. Establish yourself as a demigod and voila, the hit formula is ready. Right? Wrong!


It isn't just a 'star packaging' that can make a film super-success. Bodyguard worked because it did well as a package. Ditto for Ready and before that Dabangg. To insinuate that one film led to the success of other would be akin to living in a dream world. Yes, it can help in opening collections for a day or two but not beyond that.


So is Salman really going the Rajinikanth way?


This is where one goes back to the original subject of discussion. As has been established by now: a) Credit needs to come in where it is due, b) There isn't anything like a life long fan base which would accept anything and everything, c) A film's packaging works as a whole and d) Despite an actor's sincere efforts, accusations are always going to come in regardless of hits or flops.


Now these are the four pointers that are pretty much attached to Rajnikanth as well. His Robot and before that Sivaji worked because of (a) and (c). He continues to suffer due to (d) and there have been phases in his career too where he has seen setbacks in the form of (b).


In fact my biggest point of contention before any debate arises like this is - 'How much do we all collectively know about Rajinikanth?' I can bet that a man on the street in South India knows much more about the cinematic journey of Rajinikanth than majority of people from Bollywood media who have suddenly found the term 'Rajinikanth' as enthralling enough to key into any conversation.


Are most of us even aware that in the whole decade gone by, Rajinikanth has done only two films in the lead role other than Robot and Sivaji? Here too while Chandramukhi was a hit, Baba was a flop (which by the way came after he had delivered four Tamil successes in a row in years before that).


This means that even as one starts comparisons between the cinematic journey of Salman Khan and Rajinikanth, it stands on a weak platform because the working style as well as current standing of both these superstars is entirely different.


The need of the hour is....


- For everyone to relax and just enjoy the show


- Not to jump into conclusions around tagging. It is easy to attach but equally painfully to detach.


- To remember that a film is meant to be enjoyed - Let's look at it subjectively instead of attributing it to just to a superstar alone; it is unfair to a film as well as the actor


- Not to be cynical in our approach towards looking at a film's success. If we feel it deserves to work and it indeed works then that's great. If we feel it doesn't deserve to work but it still works then let's acknowledge and move.


- Let Salman be what he is instead of drawing any comparisons. It's good work that speaks, not the tag.