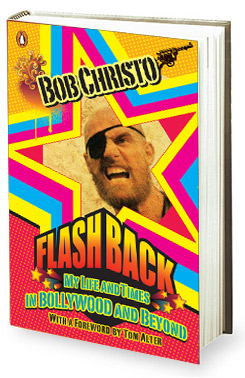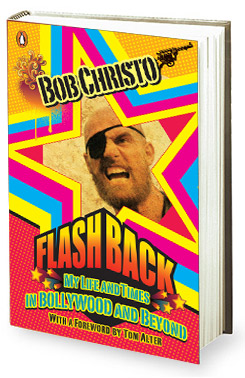 Any film aficionado who has grown up on the movies of 80s and the 90s would remember Bob Christo. No, he never ever played the main villain, not in a big
mainstream film at the least. However, if requirement was to find a 'gora' baddie who was one of the most reliable henchman/right hand accomplice of the main
villain, Bob was the man for all seasons. No wonder, when his biographical 'Flashback' hits the stands, albeit posthumously, you are curious to check out how
- in his own words - his 'life and times in Bollywood and beyond' turns out to be.


Unfortunately, though the biggest undoing of 'Flashback' is the fact that it is more about Bob's life and times, which is outside rather than inside
Bollywood. Frankly, and meaning no offence to his departed soul, hardly anyone can be expected to be curious about the real life story of a man who happened
to be character artist on the big screen. Now if at all Bob's story would have been more about Bollywood and had perhaps explored some lesser known
facts/insider secrets/untold stories/shocking scandals about the industry, 'Flashback' may just have turned out to be an exciting read. However, this isn't
really the case as most of the book is reserved for Bob's personal escapades.


So while a few episodes from the life of 'this man from Australia who accidentally became an actor' are engaging, rest are quite usual and make one flip away
pages rather quickly. Yes, what strikes most is the fact that someone who may be seemingly ordinary on screen could well have a lived a charmed life behind
the scenes. This is apparent from the fact that Bob emerges as someone who was well read (he was a Civil Engineer by profession), had worked with none less
than Francis Ford Coppola on Apocalypse Now, fought as a military person, chased after a lost spy ship, ran an escort service, modelled for African
beer and also sung in rock concerts. Now that's quite a lot for one man to do, who was constantly beaten up by the likes of Amitabh Bachchan and Sanjay Dutt
in numerous Hindi films.


However after a while all of it starts getting a little too stretched as one continues to wait for the real thing, Bollywood, to arrive. This was perhaps the
direction that Bob wanted to take though; he wanted his biography to be more about him as a person than just an actor. Fair point, but then in the bargain he
finds only that segment of audience which was perhaps close to him and loses out a larger audience that was more interested in knowing about a personality
who belonged to the world of films.


Of course Bob does try to gain his reader's attention by constantly sprinkling the biography with his sex tales. In fact one such episode arrives way too
early in the book and only ends up shocking you with the graphic details that follow. In fact he makes no bone about the fact that for most part of his life,
he was sexually quite active and had those eventful sessions with girls and women of all shapes, sizes and nationalities across continents. By his admission,
he comes across as one stud whom every woman wanted to drag on to bed. So, even as he details stories about his threesomes, it borders on being soft porn at
places.


What also surprises you is the kind of detailing that he goes through when it comes to incidents in his life that would have taken place over three decades
back. He talks about the roads, directions, colour scheme of the room he was in, the names of friends of friends whom he interacted with, the heights and the
weights and other details - something which is totally impossible to believe. In fact Bob pretty much puts a disclaimer right at the beginning that he was
blessed with excellent memory that made it possible for him to remember all facts. Still, looking at the bigger picture, all such measurements, parameters
and attributes being detailed seem more fictional than facts.


It isn't as if a reader is totally deprived of any Bollywood insight whatsoever. There is a portion of the book in its second half where Bob does step into
this zone. He talks about his fascination for Parveen Babi, his 'closeness' with Zeenat Aman and his interaction with Raj Kapoor amongst other episodes.
However, he reserves a substantial part of this side of the book too for his friend and close associate Sanjay Khan with whom he formed a life long bond.
This part of the book does narrate a few emotional moments that further strengthened the bond but as stated earlier, one can't expect many to be overtly
enthusiastic about knowing these details. Oh yes, there are a couple of places in the book which do manage to take you by absolute surprise. Like how Subhash
Ghai had to spend one day in jail or how Bob saved the life of his mentor who was under threat as he knew some secrets about the murder of Bruce Lee.



A book like 'Flashback' can expect only selected readers for itself. After all in the times when a book based on the life of an A.R. Rahman or an Amitabh
Bachchan or a Shah Rukh Khan itself is required to be marketed and promoted to the fullest to expect any substantial eyeballs, a lesser celebrity always has
a challenge up his sleeves. Moreover, if the man of the moment happens to be someone like Bob, target audience becomes further miniscule. Eventually, the 250
odd pages of 'Flashback' meander between interesting, uninteresting as well as drag moments, hence leading to a sense of discontentment once the book comes
to a close.


Price: Rs. 399/=


Rating: