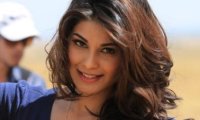 >
For all those wondering where this beautiful actress called Puja Gupta departed after her dream debut F.A.L.T.U, there's good news. Not that Puja had taken a sabbatical. On the contrary, the lass was lapping up two big movies back to back - Shortcut Romeo with Neil Nitin Mukesh and Illuminati Films Go Goa Gone directed by Raj & DK. So it's not wrong in saying that post her debut, she has only climbed the ladder of success. The actress quotes, "I'm blessed and thanking God for each day. I am looking forward to this year and most importantly, I'm getting to learn so much more working on both projects with such different characters."


Quiz her about her producer Saif Ali Khan and she can go on and on and on. "Honestly I was a bit apprehensive to meet him at first but when I met him, he was such a gentleman and too cute at the same time. I've worked with him once before. He is charming and the humour has long been Saif's strong suit and I like his personality a lot," Puja comments.


So after working with experienced and seasoned actors like Riteish Deshmukh and Arshad Warsi, Puja's kind of psyched to work with Saif Ali Khan. Why? I ask. She replies, "He is going to be a riot with his character in Go Goa Gone I bet. I can only imagine, it's going to be a treat for the audience to see him in a role that he's never attempted before on screen."


Now it had not occurred to me before actually meeting Puja Gupta how strikingly hot she looks. She's got a jaw line so sharp and distinctive that it could literally cut my hands if I touched. Having said that, she does make for a photographer's delight. Welcome Neil Nitin Mukesh. Yes, on the sets of Shortcut Romeo the actor did capture a lot of flashes, Puja included! "Oh Neil is a darling. He is an all rounder. He loves photography, dancing, acting, singing and directing, I kid you not I see a potential director in him at times on sets. There were times on sets I've had trouble understanding long dialogues. Neili (as she loves to call him) would sit me down, rehearse with me and make sure I act in front of him. He would at times act it out for me. He is just a brilliant actor to work with. If people will like me in this movie I would give credit to Neil too, and as far as photography is concerned no one has taken better shots of me then Neil. He is gifted," Gupta gushes.


Now how can this be the girl nobody wants to love? Where's my camera?