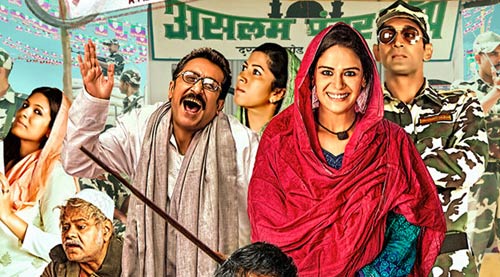 For Dr. Chandraprakash Diwedi, history, politics and drama are no strange bed-fellows. He has merged and mated these disparate genres in his historic (in more than one) serial Chanakya and also in the outstanding film Pinjar.

Dr. Diwedi is back with his new film Zed Plus, this time with a political satire, a genre that has suddenly come alive in well-executed films like Nitin Kakkar's Filmistaan, Feroz Khan's Dekh Tamasha Dekh and Vijay Raaz's Kya Dilli Kya Lahore.

Explaining the need to laugh at and with our politics and politicians, Dr Diwedi says, "The last couple of years have been very turbulent for Indian society leaving several scars on the society but at the same time these have been years of political and social consciousness and awakening. People from all sections of society have taken a pro-active approach in shaping the destiny of the country and the result was obvious. A sweeping change in government took place in the country."

According to the filmmaker, the reason for this change was common man. "The assertiveness and desire for change of the common man changed it all. The aspirations and hopes of the common man found presence in the political space, social forum including television in recent times. But it did not find reflection in cinema."

Dr. Diwedi was looking for an opportunity to depict a common man in a film and found it in the script of Ramkumar Singh, a journalist by profession. "Politics is considered a serious business, but Ramkumar's script was humorous, a comical and satirical take on the current socio- political scene with a common man in the centre. The story of the film is so hilarious that in couple of minutes of narration by Ramkumar, I decided to take on the challenge of making this film."

The story of Zed Plus is set in contemporary India in a small town of Rajasthan.

Narrates the director, "A coalition Government troubled by corruption and communalism is on the verge of collapsing due to fights of the coalition partners. The members of ministries are making all efforts to save the government. It appears that the Government will fall. In this time of political crisis, the Prime Minister gets a call from one of his coalition partner who offers him a 'perfect solution'. The solution is that Prime Minister should visit a 'Dargah' popular as 'Peepal wale peer kee Dargah' in Fatehpur - a small town of Rajasthan. Prime Minister should offer a 'chadar' and bow his head in respect of the peer and Government would be saved. Suddenly a sleeping town wakes up to welcome the Prime Minister."


Says Dr Diwedi, "Political satires often ridicule the politician rather than politics. Zed Plus treats the political class differently. It is often said that power corrupts, absolute power corrupts absolutely but power can also 'awaken-enlighten'. Zed security - a symbol of success and power makes one feel powerful, powerful position makes one powerful, fame makes one feel powerful, money makes one feel powerful but one who does not have position, power, money, fame etc - can become powerful and challenge the mighty?"

According to Diwedi, apart from cinema and television in India, it is the political class that provides us the daily dose of entertainment. "At least, they are offered to the audience as entertainment by news channel. We all want and are waiting for 'Achche Din'. Politics touches our lives every day. It begins with a news paper every morning. Yet we avoid becoming a part of political process whereas we are very much the part of it. Zed Plus peels the layers of polity that touches our life."

The filmmaker, who has another powerful political film Maholla Assi featuring Sunny Deol ready for release, sees a common thread of Nation and national concern in all his work from Chanakya to Zed Plus. "Chanakya was an epic story of making of a nation, Pinjar was a story of tragic partition of a nation. My forthcoming Mohalla Assi is a story of a changing nation. Zed Plus is the story of a common man in today's India. It explores the cinematic spaces very much rooted in Indian soil. It has brought lowest and highest denominator of society together in cinematic canvas or space - a puncture wala played by Adil Hussain, and a prime minister, which is rarest of rare meeting by any chance."

The film pushes the fringe people to the forefront. Says Dr Diwedi, "Paanwala, puncture wala, or chaiwala have never been depicted in cinema in the foreground. There is a story revolving around them. They are always on the periphery of cinematic space. Prime Minister's pictures are often seen on wall of police station hanging in a wooden frame. Here in Zed Plus the plot is driven by the Prime Minister."

In short, Zed Plus has brought the ignored section in the cinematic space. As many as 23 drafts of the script were done before Dr. Diwedi started shooting Zed Plus.

Says the exhausted creator, "I have learnt over a period of time that script writing is writing and re-writing. There are no short cuts. I did not revise the script of Pinjar. My first draft was the final draft of the shooting. If I am asked to write it again, I will not hesitate to re-write it several times. Mohalla Assi went up to the fourteenth draft before being shot. What the audience will see in Zed Plus is the 23rd draft."
BOLLYWOOD NEWS
Catch us for latest Bollywood News, New Bollywood Movies update, Box office collection, New Movies Release , Bollywood News Hindi, Entertainment News, Bollywood News Today & upcoming movies 2020 and stay updated with latest hindi movies only on Bollywood Hungama.