To say Olivia Wilde's Don't Worry, Darling, starring Florence Pugh, Harry Styles, Chris Pine and Gemma Chan, is a visual treat would be an understatement. The colour palette, the visuals, and the costumes bring out the best of the '50s and get as real for the storytelling as possible. Costume designer Arianne Phillips is a name known in the industry for some of the finest works with iconic costumes in films like The Crow, Hedwig and the Angry Inch. She has also scored one of her three Academy Award nominations for her work in Once Upon a Time in... Hollywood. But, her work isn't stationed to films. For several years, she has worked beyond the sets of a film and contributed to iconic photo shoots, theatre, and more.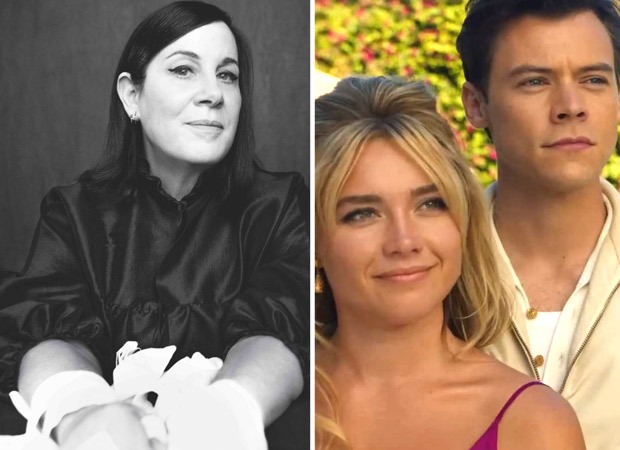 EXCLUSIVE: Don't Worry Darling costume designer Arianne Philips on unveiling secrets through costumes; making Harry Styles dress in suave colour palettes
Don't Worry Darling, which opened in theatres in India on September 30, is a story about Alice (Pugh) and Jack (Styles) who are lucky to be living in the idealized community of Victory, the experimental company town housing the men who work for the top-secret Victory Project and their families. The 1950s societal optimism espoused by their CEO, Frank (Pine)—equal parts corporate visionary and motivational life coach—anchors every aspect of daily life in the tight-knit desert utopia. While the husbands spend every day inside the Victory Project Headquarters, working on the "development of progressive materials," their wives—including Frank's elegant partner, Shelley (Chan)—get to spend their time enjoying the beauty, luxury and debauchery of their community. Life is perfect, with every resident's needs met by the company. All they ask in return is discretion and unquestioning commitment to the Victory cause.
But when cracks in their idyllic life begin to appear, exposing flashes of something much more sinister lurking beneath the attractive façade, Alice can't help questioning exactly what they're doing in Victory, and why. Just how much is Alice willing to lose to expose what's really going on in this paradise? But when cracks in their idyllic life begin to appear, exposing flashes of something much more sinister lurking beneath the attractive façade, Alice can't help questioning exactly what they're doing in Victory, and why. Just how much is Alice willing to lose to expose what's really going on in this paradise?
Interestingly for the period dystopian story, Arianne Phillips seemingly left secrets through the costumes which not only control the story arc but also distract from what's to come next. The costumes do set the tone of the scenes and also serve as character development. In an exclusive interview with Bollywood Hungama, Arianna talks about working on this particular project.
Since the film is set in the 1950s, how do you make the era believable but not too ultra-realistic?
The wonderful thing about this script and the story and the direction that Olivia Wilde gave me was, we were going to create this world together, this Victory world. One of the beautiful things about the way the story is written and the way that Olivia directed it is that the audience is discovering Victory along with Alice, who's played by Florence Pugh. We are in simpatico with Alice. So we're learning about Victory; we know that there's something not quite right. We are also completely I think, hopefully, seduced by this perfect world of ease and enjoyment and, everything is beautiful. The women are always glamorous, and the men are always looking beautiful. And there's this construct of this post for American idealism, about Victory of coming together for this perfect world. Of course, we understand from that time period that this is through a male gaze; a patriarchal gaze of the way that the culture was and was this veneer of perfection that the perfect wife, who's also the perfect mother, is also the perfect lover, at all times. It was really exciting to create, to work on a story that has multiple complex layers to it, and that is unveiled to the audience as the story moves along. So being able to, as a costume designer, create a character, and help tell the story is what is so thrilling about my job, as also the ability to underscore the tone and the feeling of the story. I had a lot of fun with it. I got to kind of help create a tone of Victory which is its kind of like being in the Garden of Eden – it's beautiful, yet, you know, that you can make the wrong step and, you're not quite sure what that is. So there is a lot of discoveries that we did when we came together with Matthew Libatique, the cinematographer, and Katie Byron, the production designer, along with Olivia, of creating this idea of the perfect place.
The colour palette changes with the costumes and the sort of arc of the character which seems like an obvious way to serve as the change in the mood of the story. Was it intentional to make the costumes a certain way in order to navigate the storyline?
I knew that when I took this movie I would have the ability to use colour almost as a character itself, and to be able to use print to help create energy, like in the way the film opens, where they're having that really fun, drinks party and they're bouncing drinks on their head and I designed to dress that red with full of prints and energy. Being able to have this kind of moments in the film, like can use heightened colours, also set in Victory – we shot it in Palm Springs, California, with that beautiful California light – So really landed itself to the colours really worked in that environment. And yes, I absolutely use colour and silhouette to help express and underscore different points of the story.
Harry Styles is known for his style and fashion and is someone who fits into every kind of style you put him in. So, it was pretty interesting to see him wear these kinds of colour palettes that he might not have explored before. What was it like collaborating with him?
Harry, like any other actor in the film, was completely a great collaborator. He was open and very curious about the process and really open, a great collaborator. When someone steps into my fitting room, their persona of celebrity has no bearing on the character that they're playing. So I didn't consider Harry as Harry Styles for the performer; I was just thinking of him as an actor and took him very seriously in the part of Jack. So, I'm well aware of Harry's global stature, but he's just a wonderful, collaborative, fun guy. And he looks great in the clothes. He was really generous with the amount of time that we spent. We talked a lot about the character of Jack who he was, and kind of his own evolution in Victory and it was just a dream to work with him. The whole cast was stellar – everyone from Florence to Harry to Chris Pine to Gemma Chan, Kiki Layne, and Kate Berlanti – just so many wonderful actors in our film. It was like, an embarrassment of riches, I guess.
Was there a particular scene or scenes where you felt the costumes were fun to work on or challenging in certain aspects?
Every scene is connected to the next, I thought the scene that would be the most challenging, but fun and challenging, I guess, would be the nightmare sequences that Alice had that we see recurring. And that was really interesting with the dancers. So that was really fun. And I was excited to see, you know, the way that they shot it with the overhead camera was Maddie. And we referenced a lot of like, basically Berkeley musicals. And that was really exciting to me. And, and just because it's so incongruous with the story, and it's kind of out of time and out of place. So that was really great. I love that and that her nightmare, and that the scenes with the dancers really added, I think, an element of danger to this perfect world because they're shot and black and white. And I was looking forward to that.
What was it like watching the film at the grand premiere of Venice Film Festival 2022?
It was a thrilling night. It was so great to be reunited with everyone and they were so happy to see each other. It's like a big party. And it was great because we waited quite a while for the movie to come out. We wanted to make sure that it would be theatrically released. So, you know, normally you were kind of moving, it's out a year later. In this case, we waited two years because of COVID. So it was really exciting.
I also received a special award at Venice before the film. So I was nervous before I went, but I'm super excited to celebrate afterwards. So it was like a dream and went by too fast.
(This interview has been edited and condensed).
BOLLYWOOD NEWS - LIVE UPDATES
Catch us for latest Bollywood News, New Bollywood Movies update, Box office collection, New Movies Release , Bollywood News Hindi, Entertainment News, Bollywood Live News Today & upcoming movies 2022 and stay updated with latest hindi movies only on Bollywood Hungama.