It's been seven years since global superstars BTS made their debut. Over the past years, they have carved a niche for themselves, and have become the biggest band on the planet as of now. The group, that hails from South Korea, comprises of RM, Jin, Suga, J-Hope, Jimin, V, and Jungkook. It hasn't been an easy road but every step of the way, they have had each other, a very passionate team, and the support of their fans called ARMY. In the last seven years, they broken multiple records, become the first Korean act to perform at various prestigious events, won accolades, and have spoken at the United Nations.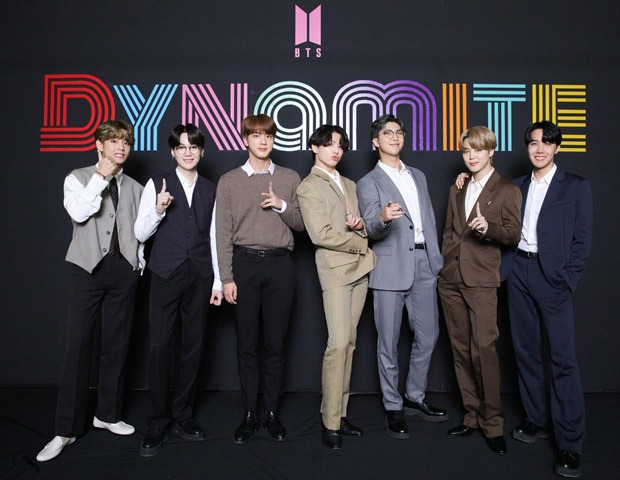 With their English single 'Dynamite', they have achieved their biggest milestone yet - No. 1 on the Billboard Hot 100 chart. Disco-pop music makes you nostalgic. On the global online media day on September 2, BTS spoke to media about their recent milestone and how overwhelmed they are about this goal.  "I feel overwhelmed became it was member's diligence and hard work that seems to have connected with the audience worldwide. It is an honor for our fans too. Their support has been a driving force for us to continue to work hard. It is their power that made us BTS and J-Hope. I want to thank and honour all the glory to our fans, " J-Hope said.
The #Hot100 top 10 (chart dated Sept. 5, 2020) pic.twitter.com/lwlyzpueqk

— billboard charts (@billboardcharts) August 31, 2020
"I think I was crying from 4 a.m.to 7 a.m. and fell asleep on the couch. It doesn't feel real and I never imagined it. There was a certain expectation, the members expected it too somewhat, and the fans looked. I spoke to the members, called RM to thank him for all the hard work and his leadership. What we said the most was, 'Hey, we can do it too. Everything we've been doing was being heard and accepted. As soon as I saw the chart, I wanted to do a concert. I miss our Army so much," said Jimin.
Jugnkook further expressed his thoughts stating, "I couldn't believe what I was seeing when I checked the chart. It was a great honor to reach such a huge milestone for once in my life. It was also my birthday and I was so grateful for the great birthday present. I'm so lucky to have been born. I think I did well in my life.".
RM, the group's leader, was the first one to see the update. At first, he found a photoshopped version but later when the chart was updated, he instantly messaged in their group chat to all the members. "I was waiting at dawn, and I was the first person to hear the news. I tried my best to keep calm, thinking about our old days when we ate meals together in the practice room and got scolded in the studio. We will just keep doing our work with a calm mindset because I think it's all due to the collective effort of the Army, reporters, bandmates, staff, and composers. I just made a little contribution." he added.
Suga was overwhelmed with the feeling of his achievement that he wanted for so long. He said he had pinch himself to accept this and just to confirm whether it is a dream or reality.
V recalled all the flashbacks he has had. He remembered the memories 7 years of togetherness with his members. "We were living all together and squeezed into a small rehearsal studio, would sing and dance. I don't know why I thought of this but I remember coming to Seoul and taking a cab with my farther and how the cab driver took a longer route in order to make more money. My father said things like this happen but I felt so angry. Now I think back and recall the hardships and memories, and I think of them as happy, unforgettable memories. So at least today, I want everyone to be happy without worries or anxieties," he said.
Jin said that 'Dynamite' was made to bring joy into the lives of the ARMY. "It began with an intention to enjoy together with our fans, and amid all this, we were able to achieve this goal. It is because of the Army that we exist. We will continue to spread joy and happiness to the Army," the singer continued.
As they move ahead and work on their next album, the group was asked about their next goal. It seems like the eyes are on Grammys. "Remember, we had a collaboration stage performance at the Grammys? We would like to have our own solo performance, singing one of our songs," mentioned Suga. BTS attended the 2018 Grammys as presenters and performed alongside Lil Nas X for his 'Old Town Road' performance in 2019.
RM took the statement further saying, "We would also like to get nominated and receive an award if that happens. But ironically, right now, our biggest goal and hope is to perform and do concerts, which is what we've been doing all along. We would like to perform at something like a festival/ concert kinda event. We will drop our album this year and do a concert offline/online (Map Of The Soul ON:E). Though our plans were cancelled earlier this year, I really hope that the pandemic ends soon so we could just brush this year 2020 off as just another memory."
BTS will hold a concert in October. After debuting at No. 1 on HOT 100 on Billboard Chart with their English track, celebrating it together, and receiving tons of appreciation from all across including South Korea's President Moon Jae-in, the septet will continue to promote the hit track. BTS will release a choreography version music video for 'Dynamite' on September 26.
BTS broke a huge record of 24-hour viewership in Youtube history by garnering 101. 1 million views on the 'Dynamite' official music video. Within few hours of release, the song had reached No. 1 in 100 countries on iTunes.
-TRANS
[#TodaysBangtan] It was all thanks to #ARMY that we could rank #1 on Billboard HOT 100 chart! You'll continue to run with #BTS, right?!???? #BTS_Dynamite #WhyDoWeLookLikeArtistsWithANo1OnBillboardHOT100 #YouAreRight #1stPlaceArtists

— BANGTAN INDIA ⁷ ???????? (@BangtanINDIA) September 2, 2020
BOLLYWOOD NEWS - LIVE UPDATES
Catch us for latest Bollywood News, New Bollywood Movies update, Box office collection, New Movies Release , Bollywood News Hindi, Entertainment News, Bollywood Live News Today & upcoming movies 2021 and stay updated with latest hindi movies only on Bollywood Hungama.