Akshay Kumar is the biggest action superstar of Bollywood. Earlier, this year the actor set out on an adventure with Bear Grylls in the Bandipur National Park and Tiger Reserve in Mysore for a special episode of Into The Wild. From learning new ways to tie a harness rope to avoiding crocodiles and elephants as they go about their journey, Akshay Kumar had a lifetime of experience on the show and called Bear a real life hero and himself the reel life hero.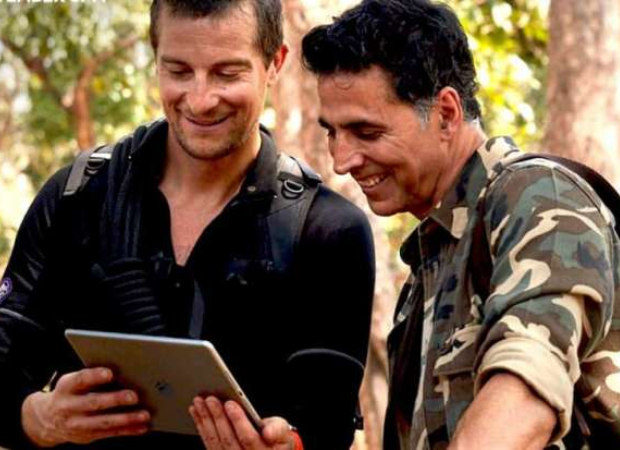 Here are some of the key highlights from the special episode:
1. Akshay Kumar about his childhood and his family:
Talking to Bear about his childhood, Akshay Kumar revealed that he was born in Old Delhi. His mother is from Kashmir while his father was from Punjab. He also revealed that there were 24 people living in his childhood house in Old Delhi. "My dad was a wrestler and he was in the army. So I got into sports more. I was never interested in studies," Akshay said.
Talking about his time in Thailand, Akshay said, "I did my martial arts in Bangkok. I was working as a waiter in Thailand for 4-5 years. People did not have much money over there. Women used to peck me or kiss me, and that was the best tip I ever got," Akshay said that time of his life was the best as he had freedom.
"I know I have lots of money and everything, but that life is something different. I had so much freedom. That's changed a little bit (now) because of me being a celebrity, and you have to have your security. Nevertheless, this life is great too," he told Bear.
Talking about his son Aarav who recently turned 18, Akshay said, "My son is very different. He just doesn't want to tell anyone that he is my son. He wants to be away from the limelight. He wants to have his own identity, and I understand it. I let him be the way he wants to. That's what I also miss about myself."
2. Bear gets Akshay to climb up a tall tree and teaches him to make a harness with a rope:
Bear gets Akshay Kumar to climb up a tall tree to check out the lay of the land and to check in which direction the river they are headed to is. Bear teaches Akshay to make an improvised harness using rope and also teaches him to make a reef knot. Climbing the tree, Akshay said that it was much harder than what he does in his shoots.
3. Akshay makes Bear taste 'ayurvedic balls'
On the way to the river, Akshay introduces Bear to 'ayurvedic balls' which look like a laddoo but is made with Apricot tree's gum. The actor  says that having one a day is more than enough. He also recalls an incident where one of his directors had more than one a day and was spatting blood the next day.
4. Akshay Kumar on his big break
Akshay Kumar tells Bear Grylls the story of him landing his first film. "I was going to be a martial art teacher in Mumbai. I used to train people and suddenly I remember, one of the student's father told me why don't you try modelling, I said, 'let's try'. I went there and I was just sitting in a room. A beautiful model comes and sits with me. We both are posing and within two hours they said pack up. They gave me a 21k cheque and I said this is brilliant. For the whole month, I struggle and teach martial arts to get 5k," he said.
Akshay then revealed that once when he walked into Natraj studio, a man came up to him and asked if he would want to be an actor and asked for his photographs. Akshay gave his modelling photos, which the man showed to producer-director Mr Pramod Chakravorty. "Within five minutes I signed the movie. He signed me for three movies together," the actor added.
5. Crossing a river with crocodiles
They use their improvised harness and cross the river using it as a zip line. Akshay was visibly nervous and was very close to the water, but kept moving and managed to cross the river.
6. Akshay and Bear have elephant poo tea
The two pick up elephant dung. They use the dry ones to light a fire and use the wet dung to make tea. Bear shows Akshay how to make elephant tea by squeezing the juice from the dung. Akshay calls it the 'elephant poo tea' and has a sip.
7. Akshay on his most special film and charities
Akshay recalls his role in Padman as his most special and most important film. He also speaks about his charities related to the army including Bharat Ke Veer. He says that he is inspired to help the army as his father worked in the Indian army.
8. Akshay learns to cross a river without getting noticed by elephants
Bear teaches Akshay how to cross the river avoiding the elephants at the bank. The duo also had to watch out for crocodiles, simultaneously. They crawled through the river keeping their body submerged to hide their scent so as to not get noticed by elephants.
Through the journey, Akshay gets special video messages from Twinkle Khanna, Suniel Shetty and Katrina Kaif, who encourage him to move on.
ALSO READ: Akshay Kumar announces the release date of Laxmmi Bomb with a teaser video
BOLLYWOOD NEWS - LIVE UPDATES
Catch us for latest Bollywood News, New Bollywood Movies update, Box office collection, New Movies Release , Bollywood News Hindi, Entertainment News, Bollywood Live News Today & upcoming movies 2021 and stay updated with latest hindi movies only on Bollywood Hungama.