Thugs of Hindostan debacle has come across as a rude shock of the highest quotient for one and all in the industry. Yes, the film could have swayed either ways, as was predicted a week ago. Still, the film's terribly low numbers are poorer than the worst case scenario that would have assumed for the Aamir Khan, Amitabh Bachchan and Katrina Kaif starrer.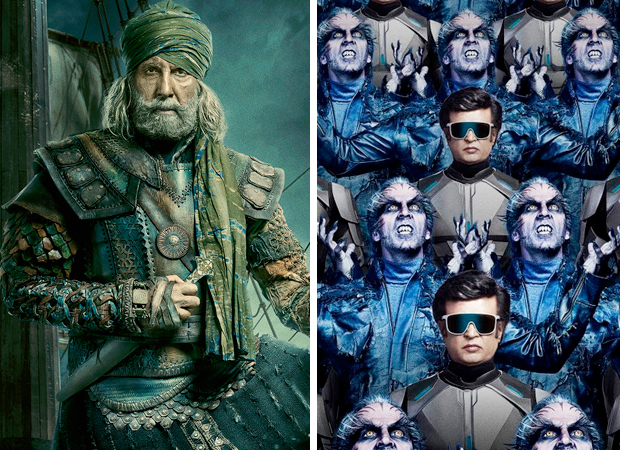 Shows are running with practically 10% capacity and that's not something that one would expect from a mammoth film like this which had everything going right for it on paper. Audiences have stayed away from the film and theaters are puzzled around what to screen due to lack of any major alternative, either from Bollywood or Hollywood.
That now pretty much points the needle towards 2.0, which arrives in a couple of weeks from now, to bring back some sort of the sanity in theaters.
A mega affair where director Shankar has chosen to be patient and meticulous instead of hurrying up the release just in order to meet the release date target, this sci-fi affair has seen good time been invested on it, first on sets and then in post production. Though in the process the cost has spiraled in excess of Rs. 500 crore, recovery from all mediums - be it theatrical or non-theatrical - is the key.
However, it is not as much about the recovery that the makers need to make but the confidence that needs to be instilled in the mind of audiences to return to theaters. Such disheartening has been the festive season this year, first with Eid [Race 3] and now Diwali [Thugs of Hindostan], that one is pinning a lot of hope on 2.0 to engage as an entertaining affair.
Coming together of Rajinikanth and Akshay Kumar has been quite exciting. After all, Rajinikanth is returning in the double role of a scientist and a robot while Akshay would be seen in an evil avtar after a long time. Moreover, the South meets North phenomenon should ideally unite audiences across the country and root for their respective 'superheroes'.
If the film indeed turns out to be a mighty exciting affair, sky is practically the limit since the release is being planned for around 6500 screens just in India. Once that happens, there is huge capacity waiting to be explored and Box Office records been re-written.
Still, and as has been mentioned earlier too, more than the records it is going to be trust, faith and belief that is needed to be won back from the audiences. This is not a film that can be grabbed with both hands if it is just about average; it needs to be truly excellent to bring back fireworks in theaters. It needs to have enough ammunition in there to ensure such word of mouth amongst patrons that they line up in front of the Box Office all over. It needs to have a truly extraordinary experience for audiences so that they long to visit the theaters again.
All eyes are on this biggie that releases on Thursday, 29th November. May it turn out to be truly entertaining. May it bring back the audiences. May it result in some happier times again.