So far, in 2022, the only two Bollywood films that have done well are The Kashmir Files and Gangubai Kathiawadi. Incidentally, both were unconventional films. While the former was a docudrama on Kashmir genocide and did not really follow quintessential Bollywood diktat, the latter was the story of a prostitute, not quite a universal subject, but boasting of a quintessential opulent narrative by Sanjay Leela Bhansali. The former entered the Rs. 200 Crore Club, while the latter scored a big century, but besides these two films, it has all been largely sad and disappointing.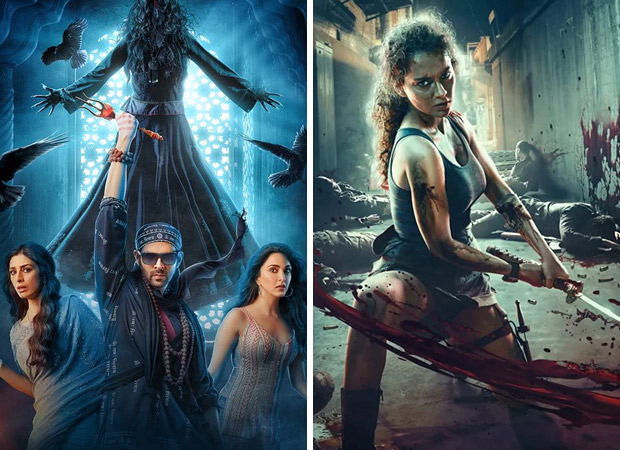 This is what makes the twin releases of this Friday, Bhool Bhulaiyaa 2 and Dhaakad, all the more exciting. What's working for them is the sheer awareness factor. Unlike so many other releases, there is at least an awareness factor for them. Moreover, the promotion and marketing of both have peaked at the right time. It has also been quite apt, as they have played to their strengths. Bhool Bhulaiyaa 2 is a family film and is being pitched as a complete entertainer. On the other hand, Dhaakad has its eyes set on those who like Hollywood-style entertainment.
As a result, the combined collections of both the films should be near Rs. 15 crores, which would make it the best Friday ever for Bollywood releases. The biggest opener so far from Bollywood is Bachchan Pandey, which took a start of Rs. 13.25 crores and between Bhool Bhulaiyaa 2 and Dhaakad this number should be comfortably surpassed.
Of course, the Kartik Aaryan starrer is expected to do more heavy lifting as a double-digit opening is on the cards. The actor has done quite well to let people know about the arrival of his film and that should count. On the other hand, Kangana Ranaut has also left no stone unturned to keep Dhaakad in news, and for the right reasons, which should allow a start of over Rs. 4 crores. As long as both films manage to hit even these milestones, it would be good enough for Bollywood to get going all over again, and then up the ante in days to follow.