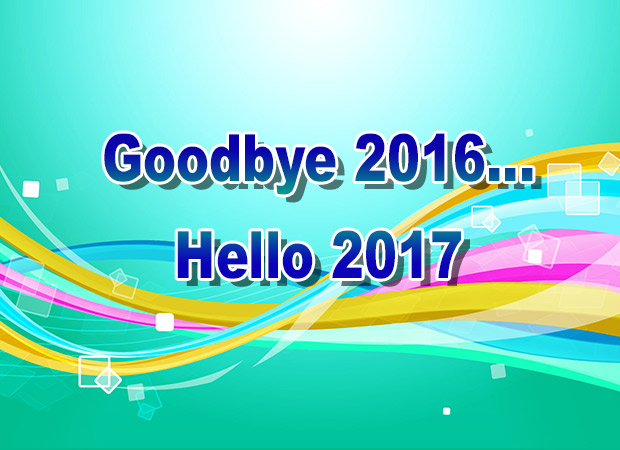 And the curtain falls on 2016. As we embrace the new year with enthusiasm, it's time to look back as well as look forward. Let's learn from our [past] mistakes, so that we don't repeat them [in the future]. The highs and the lows, the successes and the failures... the lessons we get to learn each year can never be described in few words. Yet, let me make an effort...
The year 2016 hasn't been kind to Hindi films, but what's new? It's the same story year after year. The alarming ratio of flops has always been the talking point within and outside the film industry ever since I remember. So how does the industry survive despite [approx] 85% to 90% films failing to recover the investment? It survives on hope. It survives on optimism. Umeed pe duniya kaayam hain... and the film industry is no exception.
Come to think of it, 2016 had its fair share of interesting films. Some worked, some didn't. What caught the audience attention were the three sports-based films: SULTAN, DANGAL and M S DHONI - THE UNTOLD STORY. Till sometime back, a section of the industry was of the opinion that sports-based films were a risky proposition and the moviegoing audience preferred masala entertainers more than any other genre. Not anymore!
2016 also had its share of films that borrowed from reality or tackled themes that mirrored the current times. Content-driven films became the new mantra for success. Films like AIRLIFT, NEERJA, KAPOOR & SONS, KI & KA, RUSTOM, PINK and DEAR ZINDAGI are shining examples of films that struck a chord with the paying public. Made in controlled budgets, these films offered higher entertainment quotient than some of the biggies that promised to shatter records.
Does it mean the age-old masala was slowly making an exit from the Hindi film space in 2016? No way. Masala films will never go out of fashion. These films ruled the roost in the 1970s, 1980s, 1990s... and continue to woo moviegoers to this date. The success of BAAGHI and HOUSEFULL 3 prove it.
Having said that, one cannot ignore the fact that there was a general shift in audience sensibilities in 2016. Movies starring A-listers, which, till a few years ago, guaranteed a Hit status at the ticket windows, failed to meet the humongous expectations attached to them. Films like FITOOR, FAN, MOHENJO DARO, A FLYING JATT, BAAR BAAR DEKHO, MIRZYA and ROCK ON 2, which had reputed names attached to them, did not live up to the mammoth expectations. Conversely, THE JUNGLE BOOK, which released one week prior to FAN, trounced the SRK starrer and set new records for Hollywood films in India. Hindi films faced a tough time competing with non-Hindi films too. Marathi, Punjabi, Tamil, Telugu and Malayalam films made ripples not just in the domestic market, but also in the international arena, giving a tough fight to Hindi films.
Timing a film's release during festivals -- thus ensuring a 4-day or 5-day weekend -- became a norm in 2016. In fact, if you glance at the release schedule of Hindi films in 2017, you will notice that several producers/Studios have not only scheduled their forthcoming movies during the three major festivals [Eid, Diwali, Christmas], but also during public holidays to ensure a big, fat opening weekend.
2015 Christmas witnessed the clash of DILWALE and BAJIRAO MASTANI. Independence Day 2016 saw RUSTOM and MOHENJO DARO locking horns. Diwali 2016 witnessed AE DIL HAI MUSHKIL and SHIVAAY vying for audience attention. The silsila will continue in 2017 too, with two major clashes in January itself: Hollywood biggie XXX: RETURN OF XANDER CAGE versus OK JAANU and RAEES versus KAABIL. Get ready for many more clashes in days to come.
Clashes, to put it bluntly, are never healthy. Besides creating bitterness amongst fans and starting a vicious campaign on social media, the clash of two keenly anticipated movies also results in the business getting divided. The shows, the screens, the footfalls at cineplexes... even the promotional budget [to outdo the opponent] goes haywire. Eventually, the industry suffers, but kya kare? Kise samjhaye?
2016 also witnessed the correction in price structure. The Studios as well as independent producers realised that it's foolhardy to pay insane amounts to stars if there's limited/hardly any recovery in the process. That explains why a couple of Studios and production houses have decided to adopt the wait-and-watch policy, before announcing any fresh projects. With the industry gradually returning to normalcy after demonetisation, each step forward has to be taken with a lot of thought. Content and economics have to be kept in check, for sure.
2016 is a closed chapter now. One only hopes that the sun shines bright on the industry in 2017. Before I sign off, here's wishing each one of you a glorious 2017. Have a wow-some year!