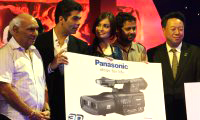 Tech major Panasonic has brought to India the entire spectrum of the latest 3D technology that affords the viewer to experience, as against mere watching, the film or broadcast. 3D technology reproduces on screen action as we see in real life, making the images more real and hence allowing for greater viewer engagement and enjoyment. 3D is considered the next technology evolution after color replaced black & white and high-definition came to 2D.
As part of its series, Dimensions, Panasonic had organized a two day conclave which included experiential zone and live demonstration/presentations at Yash Raj Films Studios to have the film fraternity, including the students, gain first hand knowledge of 3D movie making, post production, exhibition and what the audience will experience. Speaking on the occasion, Daizo Ito, President Panasonic India said, "With the Indian creativity getting applauded across the world, it becomes imperative for Panasonic to make available the latest movie making and broadcast technology in India."
Added Manish Sharma, Director Marketing, Panasonic India, "Given the increasing success of 3D internationally, we are happy to bring this technology to the movie-makers and broadcasters, and the audiences in India. We take pride in our association with the Indian film fraternity, and this latest technology innovation will serve to further strengthen the relationship."
Dimensions will travel across India and entail a 3D movie-making contest for students of leading film & television institutes all over India. Dimensions endeavours to free the imagination of filmmakers and allow their creativity to be showcased in more compelling ways. Dimensions will culminate in November with a jury comprising eminent filmmakers choosing the winners of the movie-making contest.
Further said Dia Mirza, Bollywood Actress and Panasonic Brand Ambassador for Eco Ideas, "I am supporting Panasonic to spread awareness on how technology can support the environmental cause. The 3D products are not only high on technology, but are eco friendly also."
Previously, if one were to shoot in 3D, with the entire attendant skills required in maintaining parallax, vertical gap and the like. With the Panasonic 3D camera recorder (Panasonic AG-3DA1), the entire complexity has been packaged into an easy to handle body that contains two lenses and automatic correction for horizontal and vertical displacement, and image convergence. It has been found that with a traditional 3D rig, one is able to shoot in a few locations in one day, while with the Panasonic 3D camera recorder, one could shoot at over 15 separate locations and covered 100 miles in the same amount of time.
As a result, the film production fraternity can now create a wide range of programs in 3D, including nature documentaries, live events, concerts or sports, to not only showcase their creativity in more fascinating ways but also allow viewers a choice of a wide variety of 3D programs.
Speaking at Dimensions Karan Johar, the noted filmmaker said, "I am so excited that the 3D technology is now available to filmmakers like myself. It will literally add a new dimension to our story telling and creative expression. We all acknowledge the influence of this medium and with 3D captivating the audience so much more, there is going to be a new revolution in movie making. And am sure the next 3D blockbuster movie like Avatar is going to come from India."
Added Manmohan Shetty, President, The Film & Television Producers Guild of India, "I am thankful and congratulate Panasonic on this initiative. Dimensions will serve to broaden the knowledge on 3D movie making of the entire film fraternity, including among the training institutes and the students."
In its endeavour to create 3D solutions, "camera to couch", Panasonic provides an entire 3D infrastructure that allows program creators to make the best 3D content, and consumers to see it on the best 3D displays. Panasonic systems are available for movie making and home viewing, and for everything in-between: Panasonic Integrated Twin-lens 3D Camera for recording; Blu-ray 3D authoring system; 3D compatible digital AV mixer and 3D LCD Video Monitor for editing; 3D Plasma Displays and projection systems for viewers; and 3D camcorder for home videos.
A 3D film is a motion picture which enhances the illusion of depth perception. A picture camera recorder to make 3D movie is designed with two lenses to shoot images as if the images are seen from two perspectives. Seen through 3D glasses, which have shutters that are timed to open and close alternately for each visual frame to separate left and right eye images, the "effect" of depth is interpreted by the brain just as we see objects around us, allowing the viewer to perceive reproduced images in 3D.
Films like Alice in Wonderland, Avatar and the yet to be released Resident Evil 4 amongst a few others are prime examples of how 3D production services enhance the narratives of films. With an upward swing in filmmaking technology, we hope that Bollywood takes note of these remarkable tools in filmmaking.
BOLLYWOOD NEWS - LIVE UPDATES
Catch us for latest Bollywood News, New Bollywood Movies update, Box office collection, New Movies Release , Bollywood News Hindi, Entertainment News, Bollywood Live News Today & upcoming movies 2021 and stay updated with latest hindi movies only on Bollywood Hungama.