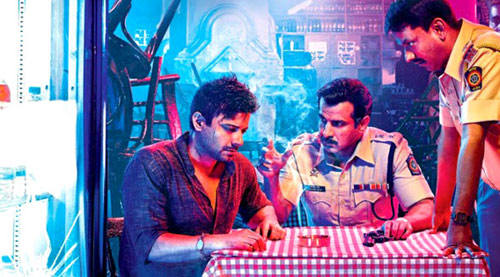 Unexpectedness is a given in Anurag Kashyap's world of the dreadful and the damned. Ugly, his most sensitive film to date comparable with perhaps That Girl In Yellow Boots, begins with Tejaswini Kolhapure—making a stunning comeback after years of uncertainty—contemplating death.


Later, closer to the end, she tries to kill the person responsible for driving her beyond the brink.


Every character in Ugly is...well, Ugly. Do not look for redemptive escape-routes in this film. Moving radically away from last week's all-is-well-in-the-world premise in PK, Ugly tells us what Shakespeare did centuries ago. Human nature is by its very nature, rotten at and to the core. You cannot escape your basic nature of self-serving greed.


Everyone in Ugly craves for something more than what he or she has in life. It may not be a better life. But there is a hankering for escape. Hence the aforementioned wife Shalini (Tejaswini) trapped in a loveless marriage to a cop who is not unkind, simply insensitive to her needs, reveals an Ugly side to her personality with a suddenness that leaves us repelled.


Fathers, mothers, friends and lovers were never meant to behave the way they do in Kashyap's kingdom of the doomed and the damned. The camera (Nikos Andritsakis) looks on with brazen brutality at the below-the-belt antics of an inebriated unbalanced mother (Tejaswini Kolhapure), her cop-husband (Ronit Roy, sturdy and sinister), her former husband (Rahul Bhat, immersed in angst) and his best friend (the natural-born scene stealer Vineet Kumar Singh).


Wait. There are others. Like Kashyap's other parable of perverse times, the plot is glutted with characters, each played with such astute unassumingness that they had to be cast by a master caster, certainly not Chaitanya (Vineet Kumar) the self-employed casting director in Ugly who, like others characters, plays his own games of avaricious one-upmanship when a 10-year girl disappears from her father's car in a crowded street of Mumbai.


Who knows where karma can overtake you and your life takes a U-turn?


True to its corroded deceptive heart, the narrative is shot in the pokey by-lanes and buildings of Mumbai that have seen better days. So have the characters, if you ask me. All of them seem to have a happier back-story which given the present crisis-ridden context in their lives seems like a cruel joke.


It would be criminal to reveal more of the plot .Suffice it to say the film requires immense concentration from us. It's not just the writers who have toiled on the nuances. It's the actors who bring to every scene a certain unrehearsed turmoil. Towards the start of the cat-and-mouse chase to the 'fiendish' line there is a very lengthy scene where Rahul and Chaitanya, frantic with worry after the former's daughter disappears, try to patiently explain to the cop on duty the bizarre chain of events that have transpired. You know these characters are played by actors. And that there is a camera recording their activities. But you let yourself believe this is not make-believe.


There is much more to the lie than meets the eye. Ugly is a film of many surprises, most of them unpleasant sordid and unsavory. The actors are not acting for the camera. But their characters seem to be constantly play-acting with one another. Deception seems to run through the gamut of sordid characters. It's a master-stroke to cast Rahul Bhat as a Bollywood struggler. That's what he has been 'playing' for years in real life. The bitter rage that the character expresses is so bonafide that the line dividing the actor and character seem blurred. Vineet Kumar Singh as Rahul's best friend has the film's lengthiest most dramatic scenes. The hungry actor juices the scenes for all they are worth. The same is true of Tejaswini Kolhapure. Ravaged and ruined, her face expresses the unmitigated grief of a woman scorned, spurned and rejected. She is dangerous.


In one sequence where she asks her husband why he married her, Tejaswini's imploring eyes reminded me of Meena Kumari in Sahib Bibi Aur Ghulam. And what a Sahib Ronit Roy makes! Chauvinistic, sadistic, brutal and yet revealing himself to be the only morally healthy characters among the protagonists...Ronit, again after Udaan, proves himself to be that actor explorer who can find a moral center in the most undesirable character.


Every actor is brilliant. Take the chubby guy who plays the item girl Raakhi (the embarrassingly saucy Surveen Chawla)'s husband. He looks at his wife with such desperate horniness; we instantly know she has him by his balls. Special mention must be made of Girish Kulkarni as Inspector Jadhav, the cop on duty who is so full of cynical shit you never want to be in a police station in your life.


Funny, how some of the most memorable characters in recent times are played by actors in supporting roles as cops. Funnier how films that address the absolute erosion of values in current times, to the extent that even the parent-child relationship is compromised in Ugly, scare the audience.


I know this is the season of being jolly. But take some time off from the euphoria of PK to let grim sobering thoughts crowd your mind as you watch people from your own life leap out of the screen to confront your most suppressed demons. Ugly is a beautiful portrayal of the squalidity that swamps the human soul. The characters are ruthless dark desperate and dangerous, more to themselves than others.


This is a thriller which leaves us with a sense of utter futility about the quality of life that we lead. Anurag Kashyap's most incisive exploration of human relationships Ugly boasts of some of the most skilled performances in recent times, so skilled that they do not seem to be performances at all. These are actors who must be seen more often. Or their souls would be broken beyond repair... just like the characters that they play so well they don't seem to be playing them at all.
BOLLYWOOD NEWS
Catch us for latest Bollywood News, New Bollywood Movies update, Box office collection, New Movies Release , Bollywood News Hindi, Entertainment News, Bollywood News Today & upcoming movies 2020 and stay updated with latest hindi movies only on Bollywood Hungama.