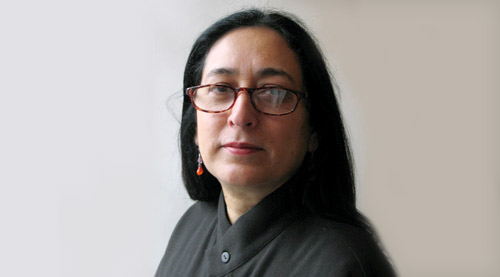 Cinephile and author Nasreen Munni Kabir talks to Subhash K Jha about how she got the super-reclusive Aditya Chopra to speak on Dilwale Dulhaniya Le Jayenge in her new book Aditya Chopra Relives...


How did you get Aditya Chopra to talk to you about DDLJ?

The Yash Raj team was very keen to celebrate a 1000 weeks of DDLJ. They were keen for a book where Adi Chopra would talk about the film. His own team persuaded him and then they asked me if I'd like to be involved with this project.The initiative had to come from them because my forte is the 1950s and much further back. I have never worked before on any book on the cinema of the 1990s.



Many people think Aditya Chopra doesn't exist?

His reclusiveness is conducive to creativity. When you focus on your work you are creatively equipped. I live in London and I know there are countless filmmakers who do not socialize or meet the press. They are completely engrossed in their work. In my book Waheedaji says she could go out in her heydays without the fear of being mobbed. Today's stars and directors who socialize incessantly would hopefully be remembered for good work.



Some directors today are trying to build a media image of a star?

Celebrity life today represents a corrupted version of real life. Adi has stayed away from social interaction, built a studio and a certain reputation.I was amazed by his self-discipline. Likewise, Gulzar Saab. He has written 14-15 books only because he doesn't party and socialize.



What makes DDLJ a cult film?

Each generation chooses its own defining film. I am in my 60s. So my favourite films are from 1950s. Those films connect with me emotionally and provide my worldview. I don't think the films that came after the 1970s have an emotional impact on me.



Did you have to re-view DDLJ before your book?

Yes, and I could see it was a turning-point for the generations that come into their own in the 1990s. There are three films that define that generation: DDLJ, Mansoor Khan's Qayamat Se Qayamat Tak and Sooraj Barjatya's Maine Pyar Kiya. These three films became a platform for the three Khan superstars to take off. In the book, Adi talks about how he felt he was less Westernized than Mansoor and not as traditional as Sooraj.



So Adi's place is in the middle, neither too westernized nor too desi?

Yes. And I really like what he said about the Khan superstars (Shah Rukh, Aamir and Salman). Adi said, 'They were our muses. For Sooraj it was Salman, for Mansoor it was Aamir and Shah Rukh for me.' He identified completely with the face and persona of the Khans.



Adi was very young when he made DDLJ?

He was only 24! Can you believe it? All the other masters of moviemaking were well into their 30s when they made their masterpieces. Adi grew up watching Hindi films. But he never listened to Hindi film music. So then he threw out all his CDs of western rock bands and became a regular listener of the Binaca Geet Mala on radio. And he'd make notes of the top 10 songs.


Do you believe film music is more pervasive than Hindi films?

I truly believe that we're all connected to Hindi cinema through the songs. Look at Lataji. Even in DDLJ she is omnipresent. The minute she hummed an alaap the whole romantic mood lifted. A song, you can carry with you. But a film is defined by the director's vision. Adi's understanding of music played a very important part in his creativity.


Which filmmaker influenced Aditya Chopra the most?

He was highly influenced by Raj Kapoor's romance and music. Adi says DDLJ was actually influenced Raj Kapoor, then Manoj Kumar-for his patriotism that we heard in the song 'Ghar aaja pardesi tera des bulaye re' in DDLJ. And the third influence was Nasir Hussain in whose films the couple often went on a journey and fell in love.


Wow, I never interpreted the film that way…

This is all in hindsight. It's been 20 years since DDLJ was made. Adi says the film doesn't belong to him anymore. I agree. You take so many classics. Mehboob Saab's Mother India doesn't belong to the filmmaker any more. Classics acquire a life of its own. That's true of DDLJ.


Which according to you are the decade-defining films of the 1950s?

Bimal Roy's Do Bigha Zameen. It started the trend of social films. Mehboob Khan's Andaz which was released in 1949 completely defined the 1950s. Also, Raj Kapoor's Awara. For Guru Dutt it was Pyasa. But Guru Dutt's cinema did not create a formula. You could have only one Pyasa whereas you could have countless spinoffs of Mother India. Another thing about Pyasa is that the poet-hero is not a stereotype. Guru Dutt is read apart from other important filmmakers.


Which according to you are the defining films of the 1960s?

Vijay Anand's Guide, though again it was impossible for it become a formula. The 1950s and 60s were the era that defined the formula. But they were not the formula themselves. The other decade-defining films of the 1960 was K Asif's Mughal-e-Azam and Nitin Bose's Ganga Jamuna. At the end of the 1960s came Rajesh Khanna who together with Shammi Kapoor set the trend. In the 1970s it Mr. Bachchan all the way. Deewaar, Amar Akbar Anthony and Sholay were the most important films of the 1970s.


Which filmmaker do you think has exercised the biggest influence in contemporary cinema?

I'd say Nasir Hussain. Most of his cinema had no social relevance. They were only meant to entertain. That's the prevalent mood today.
BOLLYWOOD NEWS
Catch us for latest Bollywood News, New Bollywood Movies update, Box office collection, New Movies Release , Bollywood News Hindi, Entertainment News, Bollywood News Today & upcoming movies 2020 and stay updated with latest hindi movies only on Bollywood Hungama.