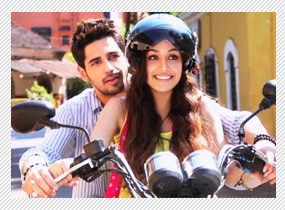 Sidharth Malhotra simmers and scorches the screen with his implosive one-man-against-the-world-act. As a loner on a rampage after the love of his life is killed, he brings to the table a certain intensity which unfortunately, in this case, can only go this far and no further. We are looking at a film that is deeply flawed and fatally self-defeating.


Much was expected from director Mohit Suri after Aashiqui 2. Alas, Suri chooses to wallow in unnecessary and at times prolonged brutality rather than focus on the tender love story between the seething brute and the bubbly babe.


Not that there is anything new to offer in the love story. The silent indignant loner and the gregarious chirpy girl next door.... Haven't we seen Amitabh Bachchan and Jaya Bhaduri take those two characters to the acme of perfection in Hrishikesh Mukherjee's Mili? Funny! Hrishida (God rest his dear departed soul) has come up again in Suri's vision. His last film the much-lauded Aashiqui 2 too had shades of a Hrishikesh Mukherjee classic Abhimaan, again featuring Amitabh Bachchan and Jaya Bhaduri.


Ek Villain is Mili over-heaped with a maelstrom of mayhem, mostly uncalled-for and sometimes atrociously out of place .The action sometimes borders on the utterly ludicrous. This isn't the first time when the director seems to enjoy visualizing the exploits of a sadistic serial killer. In Murder 2 too, the graphic gruesome killings of the serial offender were recorded with an embarrassing backhanded relish.


The killer is a henpecked husband moonlighting as a guy who believes if life screws, you use a screwdriver to screw other people's lives. Providentially, this incoherent serial killer is played by Riteish Deshmukh who interprets the character with more cogency than it demands. Riteish is chilling even in those scenes were the script writer seems to be...well, just chilling.


Mohit Suri diminishes the brutality of the serial offender by offsetting it with the love story between the criminally inclined introvert (Malhotra) and the sunshine girl (Kapoor) who insists on telling criminally unfunny jokes. As the talkative Ms Busybody Shraddha Kapoor basically plays the first-cousin of Asin in Ghajini and the distant cousin of Jaya Bhaduri in Mili. Shraddha's eyes speak volumes. Unfortunately, so does her mouth in this film. How I wish our cinema would stop equating volubility with vivacity.


More regrettable are the plot's mood swings. In spite of the tragic overtones, the love story never quite acquires the wings that you'd expect from a romance between two such good-looking people. Despite some beautifully enacted moments of fragile passion between the lead pair ,it all comes undone in the second-half when Sidharth Malhotra and Riteish Deshmukh do a farcical face-off replete with the most atrocious dialogues and scenes that make them look like two school boys fighting over who's larger.


The sinister often makes way for the silly, especially when musician Remo Fernandez shows up as a gangster replete with an accent that is as hard to identify as the Korean film that Mohit Suri has adapted into this strange brew of the brutal and the tender. Even more bizarre Kamaal R Khan playing what looks a jerk with knee-jerk relish.


There are many lapses of continuity in the storytelling all trying to pass off as a stylish non-linear love story told backwards. One of the turning points in the story when Malhotra's character befriends his wife's killer's little son in a church, is such a wildly improbable shot in the dark, you wonder what the director was thinking! Or was he thinking at all?


In trying for a merger of mayhem and emotions the film finally falls apart like the shattered pieces of a broken heart. We expect so much and get so little. That's life.


Sorry Mr Suri, we aren't buying this sob story about a criminal reformed by love, and a serial killer who uses the screwdriver in ways it was never meant to, quite like what the director has done!
BOLLYWOOD NEWS
Catch us for latest Bollywood News, New Bollywood Movies update, Box office collection, New Movies Release , Bollywood News Hindi, Entertainment News, Bollywood News Today & upcoming movies 2020 and stay updated with latest hindi movies only on Bollywood Hungama.