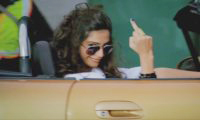 If smaller filmmakers are getting more and more irate due to Censor Board's cuts and recommendations with every passing film, they have all the right reasons for that. After all, biggies are getting away with murder time and again, case in point being Abbas-Mustan's Players where Sonam Kapoor's middle finger act has conveniently passed through Censor Board's eyes.


"There is this fun action sequence in the film where Sonam Kapoor is driving a car at a high speed. She then goes on to challenge herself and parks her car rather smartly in the smallest space possible. Once she does that, she shows her middle finger to someone who is not visible to the camera. Though it is supposed to be a fun gesture, time and again something like that has always come under Censor Board's radar since the middle finger act comes with it's own connotations", says an observer who is not shocked but plain amused to see the act being a part of the promo which is currently playing all over.


This isn't for the first time though that an act like this has been passed off without any cuts. The promos of soon-to-be-released Rockstar too features a similar gesture with Ranbir Kapoor showing his middle finger to a huge crowd.


"While the one in Players is still meant to be funny and naughty, Rockstar act has Ranbir seemingly in an offensive mode and carries a rather angry expression. While the makers as well as the actors seem to be totally convinced about what they are doing on screen, guess the authorities too are fine with these sequences being aired on prime time", says a filmmaker on condition of anonymity, "However what is surprising is that when it comes to smaller films where makers don't really come with much power and authority to fight back, guidelines are followed much more stringently."


This was pretty much the case with a song featured on Rakhi Sawant for Loot where some of the objectionable words in the lyrics have now been muted. Same holds good for an even smaller film Shakal Pe Mat Ja (produced by Hrishita Bhatt) where majority of its promos were quashed by the Censor Board.


"John Abraham and Deepika Padukone can get away with murder by terming their obscene gestures as cute in 'Jhak Maar Ke' [Desi Boyz]. However others are not too lucky", rues another filmmaker.


One wonders whether Players, Rockstar and Desi Boyz would now end up getting a second look by the Censor Board.