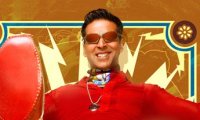 Over the weekend gone by, I was pleasantly surprised to see the First Look of Tere Naal Love Ho Gaya on Facebook. Turned out that even though the film is over 100 days away, the makers have gone ahead and released a romantic track online. Not just that as there is an accompanying video as well which features a collage of shots featuring Riteish Deshmukh and Genelia D'Souza at their lovey-dovey best. Now this pretty much acted as a dessert over the spicy sizzler which was offered by Abbas-Mustan late last week with their Players making a full-frontal splash. Though it is still understandable for the multistarrer affair to make some huge noise as it is arriving in January next year, how does one explain the First Look of a couple of Akshay Kumar starrers (Rowdy Rathore, Khiladi 786 - Made In Punjab) being unveiled even as the former is still over half a year away from it's release while the latter has not even gone on floors?


Well, it is quite apparent that 'Strike Early' is pretty much the call of Bollywood today and that also forms the subject of today's 'Reflections'.


It isn't six weeks anymore, it is six months


Gone are the days when sudden burst was Bollywood's call of making a powerful impression. If ongoing campaign of some of the biggest blockbusters in the making is any indication, the promotional drive has to last not just 6-8 weeks but 6-8 months now. Sanjay Leela Bhansali and Prabhu Deva would be bringing Rowdy Rathore in June next year but the film's promotion has already kick-started in a big way with the hand-made 80s style poster of the Akshay Kumar starrer action-drama being all over the town.


The trend was pretty much kick-started by Ra.One, the First Look of which was unveiled early this year, hence embarking on a promotional campaign that even managed to sustain itself for full nine months. Of course something like this is manageable only for the biggies. With huge budget in hand for marketing and promotion of the film, the films starring superstars can afford to have different events like launches of teasers, First looks, theatrical promos, music, premieres etc, hence ensuring an all around campaign. I am sure that the way Rowdy Rathore is going, it's First Look and teasers would be launched much in advance instead of falling into a conventional 6-8 weeks bracket. Also, this trend is going to be the way for biggies in years to come.


Even relatively smaller films are now busy strategising


Budget of Tere Naal Love Ho Gaya may be one tenth of a Rowdy Rathore or less than 5% of Ra.One. However, it's the idea that matters. Now that has pretty much worked out for this medium budgeted affair which is pegging its promotion on the real life pairing of Riteish Deshmukh-Genelia D'Souza. Hence what else but to unveil a romantic number way in advance for this film which is aiming for a release next Valentines? Smart move, I must say, and pretty cost effective as well since the music video is already going viral on the social networking sites and otherwise with no expense whatsoever. In the times when filmmakers usually cry foul when their songs are 'leaked' in a premature manner, here is one team which is happy to let the world know much in advance about what they stand for.


In fact the makers of Pyaar Ka Punchnama, Kumar Mangat and Abhishek Pathak, also took an unconventional approach. Without revealing the identity of the film's lead, they went ahead and released the First Look of Bittoo Boss which merely showcases a 'sehra' over a 'video camera'. With the fact being clearly established that the film will be an out and out celebration affair with a video camera playing a huge role as well, there has been an intrigue factor create for the film much in advance even as this all-new cast and crew affair is currently being shot up there in the hills of North India.


No wonder, even Yash Raj Films are changing tracks now. The production house has been known to keep all cards close to their chest till time allows them to do so. There was a time when even the biggest of their films, case in point being the likes of Dhoom 2, Tashan, Jhoom Barabar Jhoom or Salaam Namaste didn't see a full fledged promotional drive of more than one month (and six weeks in case of exceptions). However, today there has been a change of strategy for them too as they don't mind revealing the publicity stills and other movie stills, as has been the case with Ladies V/s Ricky Bahl. After Band Baaja Baaraat, stakes are high for this repeat outing of Ranveer Singh, Anushka Sharma and Maneesh Sharma. As a result of that, weeks ago they released the full page spread of a bare bodied Ranveer as Ricky Bahl which was promptly followed by unleashing a full length music video featuring him. Now that has pretty much broken the conventional norms of a music video arriving only towards the film's release.


It's also about declaring your seriousness


A couple of weeks back when Arbaaz Khan declared on social networking platform about start (beginning of shooting) and end date (date of release) of the journey he wishes to take for Dabangg 2, he made an interesting comment. He said, "When we have everything written and confirmed, why not exude similar confidence amongst the audience as well? We are not making a proposal by stating that we wish to arrive at so-and-so time; we are pretty much declaring that. Our team is geared up to deliver the film on Christmas and now it is on me to drive them towards the finishing post." The point is simple- When you publicly declare the date along with the posters, you also convey a message to your own production team that they have to pull up their socks and now work backwards to meet the milestone. With Salman Khan returning as 'Chulbul Pandey', Dabangg 2 has already been given a stage where it can promise to rewrite records even though the film is 14 months away.


Exactly the strategy that was adopted by the makers of Don 2 as well who worked backwards towards Christmas 2011 release and revealed the film's First Look over six months ago. Results are there to be seen with the film managing to hold on to it's own despite audience's attention being divided due to Ra.One overdrive. In any case, for a movie as big as Don 2, there was no point to hold on till late and now with the second theatrical promo creating a smash impact all over, the film has super success written all over it. In fact the industry is of a very strong view that Don 2 would end up doing for Shah Rukh Khan that Ra.One couldn't do. And no, these are no early days since Farhan Akhtar and Ritesh Sidhwani made a declaration around their seriousness way back.


It also acts as 'speculation killer'


Right through the duration that Agneepath has been in the making; there has been tremendous speculation around whether it would end up matching the prowess and cult of Vijay Deenanath Chauhan. In fact there has been no single conversation with either Karan Johar or Hrithik Roshan where Agneepath hasn't been mentioned. While this has been a big positive for sure, there also have been some annoying rumours that have surrounded the film. Is it in the same mould as Mukul S Anand's vision of the Amitabh Bachchan starrer? Is 'Kaancha Cheena' as deadly as ever? Is this a modern day adaptation being put together? What is Rishi Kapoor doing in the film? Why is a character similar to that of Mithun Chakraborty not in the film? However in one fine stroke, Karan Johar and Co. decided to announce before the world what really is their Agneepath all about. The change in strategy here? Well, the promo was out way back in Eid last year which was good as five months before the theatrical arrival of the film!


Same was the case with The Dirty Picture as well where one continued to wonder if this would be one serious biopic in the making. However, the moment makers decided to reveal Vidya Balan and her enticing ways, audience were left asking for more. The First Look promo was launched around three months ago but that was good enough to keep the film hot even as the full fledged promotional drive has begun only now.


The going will only get bigger and better


If the four page spread of Players in the leading English newspaper of the country is any indication, it is only going to get bigger and better here. Yes, agreed that it was anyways high time for Players to strike, now that it is exactly two months away from release. Still, a loud announcement like this coupled with promo launch by itself making huge headlines for day in advance has pretty much established that the rules of the game are changing. In fact for the first time ever such a massive campaign was designed where a teaser was planned for the launch of a promo! Now that was unbelievable but this pretty much happened in case of Players.


Aamir Khan is anyways known for his path breaking strategies and for Dhuaan, one can be rest assured that lot of smoke would indeed emerge way before the actual fire is seen and heard. Salman Khan may well be seen wearing his 'Chulbul Pandey' hat (or shall we say cap?) to announce his second time arrival for Dabangg 2. Akshay Kumar has already made his intentions clear for Rowdy Rathore and Made In Punjab - 786. Now if his early 'look revelation' of Once Upon A Time In Mumbaai 2 in a launch event is any indication, expect some heat building up en route to the release of this underworld affair.


This isn't all as Yash Raj Films could well be thinking big for their biggies with Salman Khan (Ek Tha Tiger) and Shah Rukh Khan (yet untitled film with Katrina Kaif/Anushka Sharma). In fact former has already made its presence felt with an innovative poster already being launched while Shah Rukh could well have something even bigger in store before the film goes on floors. Same could well hold true for Hrithik Roshan too as there is definite expectation of some massive fireworks on display right through the making of Krrish 2 which brings together the sure shot successful combination of Roshans.


These are some of the few instances that lead me into believing that there are many more innovations in store when it comes to 'striking early'. In the loud noise that those 10-15-20 biggies would be making in time to come, it would require something phenomenal on the part of those 80 odd mid-size or smaller films to register an impact amongst the audience. Ladies v/s Ricky Bahl or Tere Naal Love Ho Gaya may have just shown the way; others need to pull up their socks as well.


It may not just be about budget but then an idea may well come at a premium and reap benefits!
BOLLYWOOD NEWS
Catch us for latest Bollywood News, Bollywood Movies update, Box office collection, New Movies Release & upcoming movies info only on Bollywood Hungama.