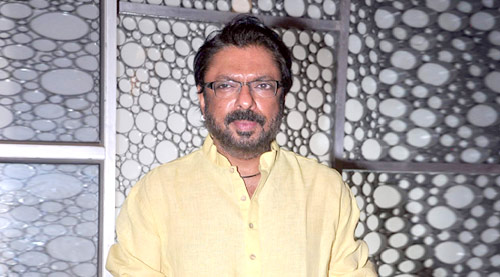 Satyajit Ray in Bengal would compose for his own films. And in Mumbai, it was well-known that V. Shantaram and even more Raj Kapoor would ghost-compose many of their films' hit
tracks, regardless of the official composers. There was also buzz of Subhash Ghai composing a basic framework of a tune or two.


In Mumbai, Kishore Kumar, essentially an actor-singer, would score music too for his own productions that he also directed. And yet, no one quite set a shining precedent as Sanjay Leela Bhansali,
who has directed seven films (one actually without songs!) and scored music for the last three-Guzaarish, Goliyon Ki Ras Leela-Ram Leela and now Baijrao Mastani.


Officially again, Bhansali also composed the serene 'Thode Badmash Ho Tum' in Saawariya. But, as in the case of Shantaram and Kapoor, Bhansali has actually been termed the ghost-
composer of some songs even earlier.


The Musical Filmmaker

But the point here is not to debate on the possible examples of ghost-composing, but to rather spotlight the fact that circa 2015, Bhansali has proved beyond doubt that he remains the most musical
filmmaker around.


Correction: in terms of consistency in track-record (pun intended) he is the only musical filmmaker around-irrespective of whether someone else (Jatin-Lalit and Remo in Khamoshi-The Musical,
Ismail Darbar who was introduced in Hum Dil De Chuke Sanam, Ismail Darbar and a song by Pt. Birju Maharaj in Devdas and Monty Sharma's only score of interest in Saawariya) or
Bhansali himself is scoring the music. For the record (pun intended again), Bhansali also introduced Sharma (in his first major break) as composer, but his standout musical discovery remains
himself! And we are delighted that happened!


One more point: Bhansali's background scores too have always been exemplary, and Monty Sharma, after Devdas and before Saawariya, also composed a beautiful melody-'Haan Maine
Chhukar Dekha Hai' as a part of the BGM after the filmmaker's song-less Black was completed.


Darbar remembers spending seven months on the score of his debut film. "We would take long walks, discuss, fight, lock tunes and then modify them or change them." That creativity was also possible
because Bhansali paid Darbar a higher monthly remuneration than what he was making then as a musician, so that the composer could concentrate on his film and not worry about his dal-roti!
The musical memories are interesting. While Bhanali gave the career-defining song to KK ('Tadap Tadap Ke Iss Dil') in that film, he also introduced the fabulous Shreya Ghoshal in
Devdas after hunting for this talented girl he had watched on a reality show. And till date, no male or female singers have matched these brilliant artistes since!


About ghost-composing earlier, Bhansali is candid. "I do not want to rob anyone of due credit - and that includes me! I did compose one song in Saawariya, but I decided to score the music of
Guzaarish because the subject was close to my heart and the tunes just kept coming! My title-track, which KK has sung, was in fact composed in 2003 for no particular film. But it is still my
favorite from this score because in a way this is how the music of this film began!"


The Magical Musician

Bhansali, a Gujarati, listens to music 24/7. "I am crazy about Marathi music in particular, and I love Gujarati music too besides every other Indian kind. My soul is drenched in Lata Mangeshkar. Of
course, there are others too, from Jaidev, Roshan, Madan Mohan and Pt. Hridaynath Mangeshkar to Laxmikant-Pyarelal and R.D.Burman. I am a layman whose music is just my impression of such greats in
music," he reveals.


During Guzaarish, Bhansali would often devise a song while the screenplay was being written, often after rejecting tunes that came to his head. When a tune would come, words would be written
on-spot, a professional singer would sing them so that Bhansali knew how they would sound and, sometimes, they would be even filmed live, as in the vintage days. 'Zikra Tera', 'Daayen
Baayen' and 'Dhundli Dhundli' were three such examples.


But being a creative perfectionist, Bhansali is also candid enough to state, "A film or the music score may be the director's and composer's vision, but the power of the final product is because of
the strength of teamwork. Without my team, my vision cannot come true on the screen!"


With his latest (and biggest) musical triumph, Bajirao Mastani, Bhansali has proved that if you have the flair and passion, you can improve with every film, which is what-as composer-he has
been doing from first to third movie! His craze for Marathi music-the classical, semi-classical, devotional, folk and more-is patently seen not only in the compositions (and reworking of
traditional songs) but also in their caressingly authentic orchestration. Even the chowghada (a group of four instruments playing together for momentous traditional occasions) is used, while
Priyanka Chopra recently stated how a traditional Maharashtrian lady was brought in to teach the typical steps and gestures in the 'Pinga' dance.


In keeping with Mastani's mixed origins (her mother was said to be a Persian-Muslim) more than just trends today, there is also a sizable use of Urdu (the language representing Muslims that evolved
much later) in the lyrics, with the almost Mehdi Hasan-esque feel of a ghazal in the stunning song 'Aayat'. In that phase (the early 1700s), Marathi as a language was also showing
increasing influences from the Mughals and a lot of that lexicon (including what we know now as Urdu) has lasted till today.


The Fiery Creator

What Bhansali fiercely and accurately believed in 2013 (when he created ... Ram Leela) was that just like "honest, courageous and fearless cinema like Bandini is no longer made with
the excuse that the audience will not like it, the same goes for music too."


Passionately, the man who scored the best music (however unsung) of 2010 in Guzaarish, the most creative score of 2013 (...Ram Leela) and the only musical stunner of 2015 (Bajirao
Mastani), each successively better, fierily comments, "No one is fearless the way our great composers used to be. When you make something substandard, you demean the intelligence of the people.
It is a fallacy that only the educated, well-to-do viewer is intelligent. Neither intelligence nor a sense of aesthetics comes with education or success. I think that one is just born with or
without them!"


And that is indeed a damning indictment on the market forces and the music makers who demean the music buffs despite earning whopping amounts for their "creations". It is a sad state for Hindi
cinema indeed that a filmmaker -minus formal training but with only passionate desire to excel-has created the finest scores in three of the six years of this decade!


But the audience will treasure songs like 'Sau Gram Zindagi' and 'Guzaarish´(Guzaarish), 'Nagada' and 'Ram Chaahe Leela Chaahe' (...Ram Leela) and now 'Aayat' and
'Mohe Rang Do Laal' for a long, long while as they have been made with (he)art rather than with craft or commerce in mind.
BOLLYWOOD NEWS
Catch us for latest Bollywood News, New Bollywood Movies update, Box office collection, New Movies Release , Bollywood News Hindi, Entertainment News, Bollywood News Today & upcoming movies 2020 and stay updated with latest hindi movies only on Bollywood Hungama.