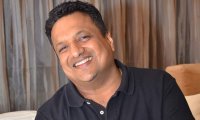 If John Abraham is heard using colourful language and other choicest of expletives and still not feeling uncomfortable in his next gangster-cop drama, he has a lot to thank 'mama bhanja' team of Aamir and Imran Khan. With liberal dose of 'gaali galauj' in Delhi Belly and Censor board giving the film a green signal as well without much fuss, filmmaker Sanjay Gupta is now much more confident about his Shootout At Wadala going unscathed as well.


>
"After seeing how Delhi Belly was passed so easily and then later accepted by audience whole heartedly, Sanjay is not holding on at all in the writing department. He is using free flow of words in the film's dialogues, especially the ones that are mouthed by the gangsters. He may decide to enhance it further or perhaps tone it down while going to sets but as of now he is not allowing language to be a hindrance in his thought process. He has already informed John, Anil Kapoor and others whom he is approaching for the film so that they are prepared in advance", informs our source.


If at all this happens, it would be a first for John as the normally suave and sophisticated actor has hardly been known to use foul language, either in real or reel life.


"Well, you have to adapt as per the film's genre and setting. Gangsters don't talk in a polished board room language. They are supposed to be rough", the source adds.


On contacting, Sanjay doesn't deny the use of language either and says that it is as per 'the script's requirement'. He says, "Delhi Belly has opened the window and pushed the envelope now. Leave aside language, there were so many other things too that were allowed by Censors there. It's good because this reflects that everyone's mindset has opened up."


"Now we are also writing the film accordingly so that it goes with the film's genre. I guess we have fooled ourselves enough by making gangsters talk like us on screen. Aisa asli mein nahi hota hai. Also, when in a frothy adult comedy we can be liberal, then why not in an actual real life story", he further questions.


Hope the Censor Board doesn't counter question.