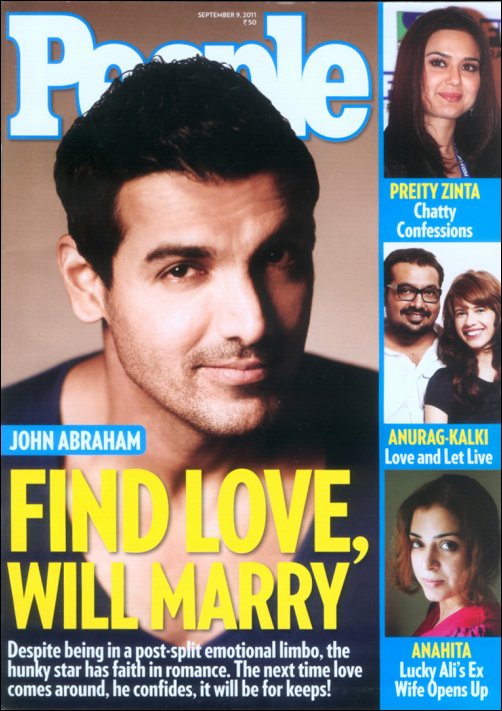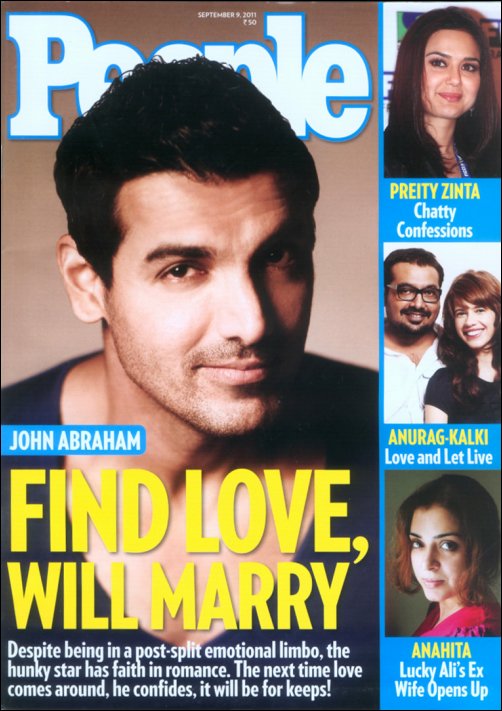 "My (personal) life is a blur in front of me", says the heart throb of millions, John Abraham, in the latest edition of People magazine.
He also adds, "I am working hard and living by the day. I am a machine right now. Heard of cyborgs- half man, half machine?" laughs the India's most eligible
bachelor.


Speaking of success and failures, John says "I don't get euphoric after success, and I don't get depressed after the failure of a film. I move on. I know if
I plan something, it will work out the way I want." And when asked about the most eternal question about his break up with Bipasha, he says, "I wasn't ready
to commit at a point of time when the relationship needed culmination. Today, we both said what we had to and it's done". He also adds that, "At this point,
I am just dealing with my feelings. It's a journey and I probably have to take that by myself". And when asked about the marriages that 'inspire' him, he
said, "That of my parents Abraham and Phiroza. I don't know how many marriages last so many years today. I only hear about people getting divorced. So, I
want my marriage to be utopian. I don't think that I will be able to handle a divorce. I'd rather have a marriage that is perfect".


And about his forthcoming films, he says, "Force is a sensible film that has got raw action like never seen before. It's important for me to stake my
claim as the next action hero." And for those who were dying to know this dude's philosophy in life, here it is ... "I just want to be happy".