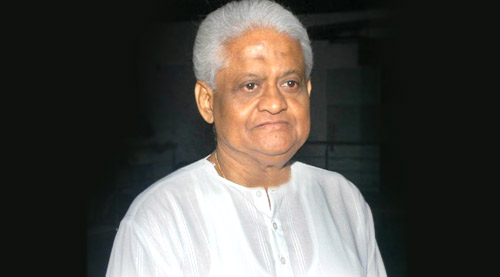 On September 3, Pyarelal Ramprasad Sharma, the second half of Indian cinema's longest-lasting, most prolific and versatile duo Laxmikant-Pyarelal, enters his 75th year.



Beginning as a young boy when barely in his teens, and even playing in a church choir then, besides working in films with almost all legends from Naushad to Kalyanji-Anandji as musician and (later) arranger, Pyarelal is now blending all that unparalleled experience and that of co-composer of over 480 released films, with World Music, imparting his vast knowledge of Indian classical and folk melody, Western music, and the intricacies and uniqueness of dozens of musical instruments to this new and exciting phase of global recognition.



What about films? Pyarelal is no longer keen on arranging songs in a couple of films for juniors, which he did in the last decade, but is open to good work. "Mahesh Bhatt and Subhash Ghai are among three of the biggest names, led by the late Yash (Chopra)-ji, who always told me that we will work together. That never happened, so let us see…" he states mischievously.



The composer is nevertheless proud about two facts - one: that filmmakers who left them after associations of a decade or more needed different composers for diverse films afterwards (as Subhash Ghai has admitted on record, "Today you have to select the music director according to the subject. Every music director is best at certain things. Laxmikant-Pyarelal had the versatility to score every kind of film. They were a complete school of music,") and two: that the maximum numbers of re-created songs in recent years have been their classics.



Yamla Pagla Deewana's title-track from Pratiggya, 'Taiyab Ali' from Amar Akbar Anthony in Once Upon A Time In Mumbai Dobaara, 'Hungama Ho Gaya' from Anhonee in Queen, 'Aaj Phir Tum Pe' from Dayavan in Hate Story 2, 'Ruk jaana Nahin' from Imtihan and 'Yeh Jeevan Hai' from Piya Ka Ghar in Soundtrack, 'Hawa Hawaii' from Mr India in Shaitan and 'So Gaya Yeh Jahaan' from Tezaab in Nautanki Saala! are just some of the examples of many L-P tracks that have been re-used for commercial reasons - a story that began with the use of their 'Aaj Mausam Bada Beimaan Hai' from Loafer in original form in the 2001 Monsoon Wedding.



Says Pyarelal gently, "They don't even come and ask me for consent, but I do not bother about such things. For me, life is about music." Even today, Pyarelal wakes up in the morning, finishes his puja and then sits on his piano to work. "Music is a sadhana," he explains, giving away one of the many secrets of L-P's unmatched innings from 1963 to 1998, with 25 of these years at the very top.



After being for more than six decades into film music, Pyarelal, after his partner Laxmikant's death in 1998, has explored fresh horizons in world music, accomplishing unique feats in that field just as he did in cinema. He has successfully composed two symphonies, 'Om Shivam in A Minor,' which has now passed a very stringent and lengthy protocol of vetting the composition before being registered in New York, and 'Symphony in D Minor', which will be similarly soon approved.
"An official letter about my first symphony tells me, 'Your music is pure.' Because a key requirement for any symphony is that nothing in it should sound like any existing piece of music," says the composer, who is now working on a third symphony.





Obviously, Pyarelal has even incorporated Indian classical elements into each of them. "Indian classical music is unequalled, though Western classical music is almost mathematically precise," he notes.



While occasionally holding 'Laxmikant-Pyarelal Nites' even now in India, Pyarelal's major success last year was a world music festival called Absolute India in Dubai for a global audience. "We also called it Beyond Bollywood and had over twenty artistes and musicians from USA and other countries and 22 Indian greats including Dr L. Subramaniam, Pt. Shivkumar Sharma, Pt. Hariprasad Chaurasia and Zakir Husain. I wrote music pieces for each of the Indian and Western specialists - those who played the violin, oboe, flute and so on. I also told some of the greats that they should perform their own music solo as well, so that they should not feel that I am intruding into their creative space."



A highlight also was 10 songs of the L-P duo performed by singers Kavita Krishnamurthi Subramaniam, Amit Kumar, Sonu Nigam and even composer Jatin Pandit ("He insisted on singing our 'Tere Pyar Ne Mujhe Gham Diya' from the old Chhaila Babu", smiles Pyarelal). "I conducted all the songs, but in five cases, our songs were arranged by the internationally-renowned Kristjan Jarvi," he notes. Jarvi has now booked Pyarelal for a similar joint show in Germany next year. "He wants new music from me. I also want this concept to spread further, and work in India too along similar lines," says Pyarelal.



He goes on, "I have held workshops on music in Indore, Mumbai and Pune so far, and want to do more of them, especially with other eminent musicians participating. It is my dream!"



From 2004 to 2007, Pyarelal had spent some months annually working and teaching at the Trinity College of Music in London, and associating with the Royal Philharmonia (not Philharmonic) Orchestra, which has affiliations to the royal family. It was here that its managing director, David Welton, told him in awe, "Then you must be at least 300 years old!" when Pyarelal informed him of the songs and background music of 500 films that L-P had done! "Your music is like pure gold!"



Pyarelal smiles and reminds us that his original dream was to go abroad in the 1960s with his (now iconic) friend Zubin Mehta and work in Western music before Laxmikant persuaded him to stay on and form a team with him. "Laxmi was a unique man," he says simply. "He told me never to put a name-plate on my door, as we were one entity and I would have to put only 'Pyarelal Sharma' there! He never ever refused anything I told him, even if it meant never working with a singer or filmmaker again after successful work together because of my reservations about them."





Pyarelal adds with an amused expression, "I recall the time we were recording a song for someone else and Raj (Kapoor)- saab, Manoj Kumar and Manmohan Desai were all waiting for us to finish so that we could discuss their songs in the studio itself! I still do not know how Laxmi managed it!"
Pyarelal is a reservoir of memories, especially of their lead singers Lata Mangeshkar ("She even conducted the music for our title-song of Satyam Shivam Sundaram from within the singer's cabin with her arms because of certain needs!") and Mohammed Rafi ("He never attended birthday celebrations of any composer except Naushad-saab, but he came for mine!").



Among lyricists, Majrooh Sultanpuri and Anand Bakshi were closest to him. "On November 14, I will be conducting a unique concert in Mumbai's Shanmukhananda Hall - of songs of Laxmikant-Pyarelal with Majrooh-saab. Our team really got going only after his Dosti, so I thought of doing something special in his honour," he says. "After this, we will do a show about LP-Bakshi."



And Pyarelal's affair with World Music continues. "In 2007, I wrote a Quartet - a music piece to be played by four musicians - with demanding requirements in its writing. It was published by German publishers Schott as Indian Summer, but when it arrived in India, it was largely ignored by Furtado, the music shop."



The Symphony Orchestra of India (SOI), for whose previous avatar Bombay Symphonic Orchestra (BSO) Pyarelal had played as a teenager, plans to present the Quartet along with the composer's symphonies within a few months after their present commitments are through.



And so, 16 years after his partner left us, Pyarelal's music plays on, for legends go down only in history. Besides, Pyarelal's time is now.
BOLLYWOOD NEWS
Catch us for latest Bollywood News, New Bollywood Movies update, Box office collection, New Movies Release , Bollywood News Hindi, Entertainment News, Bollywood News Today & upcoming movies 2020 and stay updated with latest hindi movies only on Bollywood Hungama.