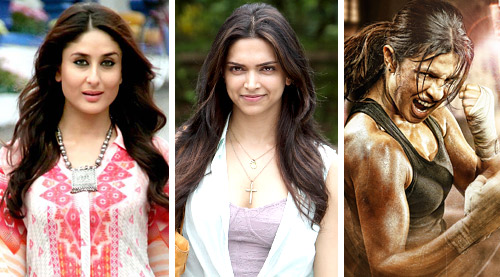 'Why should boys have all the fun?' - And so exclaimed Priyanka Chopra in one of her popular commercials. By the look of things, it is clear that 'women empowerment' was pretty much in her mind. So much so that she has now turned out to be the first ever mainstream Bollywood actress to claim that if at all a leading lady deserves to celebrate a '100 crore success', it has to be 'apne dam par', and not by piggy-banking on one's make counterpart.



Quite a statement from someone who herself boasts of as many as four centuries!



Well, it is indeed graceful on her part to make an admission like this. However, the question that comes to one's mind is - 'An actress may not stake her claim to a 100 crore film but then can a 100 crore film afford not to have an actress worth her salt? In other words, what are the chances for a film to cross the 100 crore barrier, if not powered by the presence of a saleable heroine?'



Let's explore!



The 100 crore game

With Singham Returns being the latest entrant in the century club, Bollywood today boasts of as many as 32 centuries. Out of these, the lion's share (27 centuries) is taken up by actresses like Kareena Kapoor Khan (5), Deepika Padukone (4), Priyanka Chopra (4), Sonakshi Sinha (4), Asin (4), Katrina Kaif (3) and Jacqueline Fernandez (3).



Now each of these is an A-league actress with Jacqueline being the latest entrant. As a matter of fact, the only leading ladies active today (who were unknown entities when their debut film itself entered the 100 crore club) are Sonakshi Sinha (Dabangg) and Asin (Ghajini). Now this pretty much establishes the fact that when most of these 100 crore affairs were designed, the idea was to make it a package that was complete enough to warrant some good footfalls, hence leading to some massive inflow of moolah.



No one thought of just putting together a film with just the hero driving the show. Heroine was also a part of the deal, and most of the times good investment was made to rope in a saleable name which brought in the audience.



Can a heroine be dispensable?

'But then a heroine didn't have anything to do?' - Now that's a common refrain one comes across when a hero led film goes on to be a huge success at the box office. Fair enough, point accepted. But then does that mean just about anyone could have fitted in the slot. The answer is no. If that was the case, producer Ramesh Taurani wouldn't have persuaded Deepika Padukone to rejoin the cast of Race 2 when she had come close to opting out. Or Rohit Shetty wouldn't have convinced Kareena Kapoor Khan to be a part of Singham Returns even though it was an Ajay Devgn show all the way.



The need of the hour was to get a top league actress. Yes, hypothetically speaking, Katrina Kaif could have come in place of Deepika Padukone while Sonakshi Sinha may have walked in place of Kareena Kapoor Khan. However, by no means could the makers have afforded to bring on a lesser actress who was short on either box office standing or talent.



A face is dispensable, not the stature!





Let's look at the exceptions

Yes, Daisy Shah was an entirely new face when Jai Ho hit the screens. However, let's agree to the fact that with a much more saleable entity, the film would have only benefitted further during the promotion leading to the release. Better songs would have further helped the entertainment that Salman Khan had to offer on screen with his leading lady. Resultantly, Jai Ho could have covered a tad extra distance for sure.



And for those who feel that even Sonakshi and Asin were new in their very first film, they had their pedigree to boast of. Shatrughan Sinha's daughter being launched and heroine (Asin) of original Ghajini making her debut in a Hindi remake (after being well established down South) are certainly newsworthy and hype-worthy announcements!



The future isn't looking any different

Let us pick up forthcoming all-set-to-be-100-crore films in the current year. Bang Bang, Happy New Year, Action Jackson, PK - Now each of these has a usual suspect as the leading lady. Katrina Kaif, Deepika Padukone, Sonakshi Sinha and Anushka Sharma are the ones in question. If it was just enough to have a male lead drive a film, names like Hrithik Roshan, Shahrukh Khan, Ajay Devgn and Aamir Khan would perhaps have been enough.



Still, producers kept a chunk of moolah aside to rope in a top actress. Why didn't they just opt for someone lesser? Couldn't they have just rolled out the offer to a rank newcomer? Wasn't Hrithik's charm, Shahrukh's stardom, Ajay's action and Aamir's perfection good enough to make a film run on its own?



Well yes, they would still have been successful. However, the quantum of success is directly proportional to the entire packaging. So while one waits to see how much of a contribution does Katrina, Deepika, Sonakshi and Anushka have to make for the success of these films, let us not forget to give them the credit for the distance that is covered here.



Meanwhile, with Priyanka Chopra expected to hit it out of the park with Mary Kom, it would indeed be time for double celebration if she managing to score a first ever female-centric 100 crore success to have come out of Bollywood.



Fingers crossed!
BOLLYWOOD NEWS
Catch us for latest Bollywood News, New Bollywood Movies update, Box office collection, New Movies Release , Bollywood News Hindi, Entertainment News, Bollywood News Today & upcoming movies 2020 and stay updated with latest hindi movies only on Bollywood Hungama.