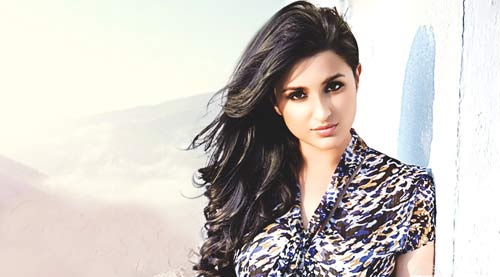 Something was missing in Daawat-e-Ishq?

Maybe the audience was looking for a different film with me and Aditya Roy Kapur in the lead. The film dealt with an issue. It was very realistic. Maybe audiences wanted a younger cooler film with the two of us in the lead. With every film it's that way. Some like it some don't. My mother and her friends really liked it.


But that is not demography our films look for?

I agree. We put forward an issue and it wasn't appreciated as much as we thought it would be. Every film has its own destiny. And timing is important. Maybe at this given time audiences don't really want to see an issue-based film. Every film teaches you what works and what doesn't. So a lesson learnt.


Sonakshi Sinha recently raised the question-not to mention her middle finger-regarding her disdain for Size 0. You've always been against the weight policing?

Actually I have not been against it! I needed to lose weight when I came in to the movies. At that point of time I was definitely not the size that a Hindi film heroine should be.


But why should the heroine be of a particular weight?

Because there are only a handful of heroines in Hindi cinema. And we are addressing a global audience.


So do we see a globally acceptable Parineeti Chopra in Kill Dil?

I am definitely looking better than I did in my earlier films. Then again being an actor I can never say I am satisfied with the way I look or the way I act. In Kill Dil I am glamorous. I've tried a different look. You know I've done an Indian look in only three films. But somehow I am associated with the desi look. It was time to change my look. I play a cool westernized girl in Kill Dil. But I am not sporting a bikini or shorts. Haven't gone to that comfort-level with my weight as yet. But it's important for my looks to be suited to the character I'm playing. In Kill Dil I am playing an urban girl who is comfortable in Western clothes. So I have to be suitably slim.


You mean, if you're in a saree you can afford to look healthier?

Yes, the weight issue should not be an issue at all. What Sonakshi meant to criticize was the uniform code of assessment applied to the weight issue. When Sonakshi has done roles that required her to wear Indian clothes she has looked beautiful in them. The day she decides to wear a bikini she would require a different body shape. What she was saying, and I agree with her, is ... don't judge us about our weight all the time. We are actors. We will look the way we are required to for every role.


You object to the fashion policing that has come into fashion in a section of the media?

Yes! I don't mind being constantly judged for my performances. Call them sh.t if you like. Or don't like. But stop judging our physique and clothes all the time. And if you have to judge our clothes and looks all the time then there are kinder ways of doing it. Sonakshi is a very beautiful girl. Why try to make her conscious of her physique all the time?


Okay, what was it like to work with Govinda in Kill Dil?

It was great fun. But I wish I had more scenes with him. We got to work together only for a few days. I want to do a film now where the two of us have a full script to share. Kill Dil is more the boys' film.


So what are you doing in a boys' film?

It's not just the boys' film. The girl is also important.


6 films old, do you feel a sense of belonging in the film industry?

I certainly do. But I don't feel I am six films old. I feel I've just started. I don't even keep count. I still feel very nervous. I feel I am just starting out. Even the most accomplished actors are always looking for that one perfect role.


You are 26, and still no steady boyfriend?

Arrey, I am not bothered about it...My parents are quite cool about. In fact they don't want unnecessary male attention in my life. As far as I am concerned I am open to a relationship any time. I am not like one of those actresses who says, 'I'm concentrating on my career right, so I can't think of falling in love right now.' I believe one can have a career and a personal life simultaneously. They are the two complementary aspects of your life. You are incomplete without both. I'd love to have someone in my life.


What is the one thing that you wish for?

I should keep evolving as an actress. But I shouldn't change as a person. Also, I'd love to sing professionally. But only when the time and tune are right.


Have you signed anything new?

No I haven't. I want to see how Kill Dil performs at the box office. I had signed four films together-Hasee Toh Phasee, Daawat-e-Ishq, Shuddh Desi Romance and Kill Dil. I was working round-the-clock on these films. Now I want to wait and see the way Kill Dil goes.


How would that determine your future?

It wouldn't determine my future. I just want to ascertain what sort of a film I should do next. Not that I am confused about what I want to do. I am very clear about the directors and projects I want to work with.
BOLLYWOOD NEWS
Catch us for latest Bollywood News, New Bollywood Movies update, Box office collection, New Movies Release , Bollywood News Hindi, Entertainment News, Bollywood News Today & upcoming movies 2020 and stay updated with latest hindi movies only on Bollywood Hungama.